TN MOVING STORIES: Transpo News Links from Around the Web
Monday, July 07, 2014 - 08:05 AM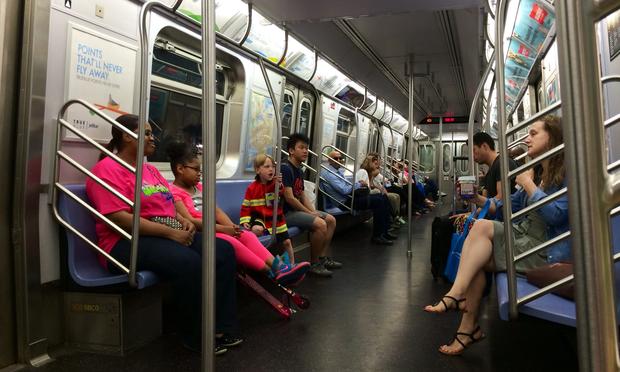 (Kate Hinds/WNYC)
 TOP STORIES ON TN:
Citi Bike Bailout Not Till End of Summer (link)
MONDAY LINKS:
First order of business for lawmakers returning after the holiday weekend: dealing with the soon-to-be-broke Highway Trust Fund. (The Hill)
How soon will it run dry? August — and the president is warning that if the fund goes broke, 700,000 jobs evaporate. (Marketplace)
Chicago transit, which just transitioned to a new payment system, is overcharging teens. (WBEZ)
Clayton County (GA) is one step closer to restoring public transit: town leaders voted to put a one penny sales tax on the ballots in November. (AJC)
Indianapolis's bike share program is surpassing expectations. (Courier-Journal)
A NYC policeman was seriously injured when he was struck by a children's bike thrown from a fifth-floor window. (NYDN)
A NYC graffiti artist was electrocuted by the third rail in a Brooklyn subway station. (NYP)
Boston is getting solar-powered benches that charge your devices. (Fast CoExist)
Extra security measures are in place at overseas airports. "The TSA said it is requiring some overseas airports to have passengers turn on devices such as cellphones before boarding. It says devices that won't power up won't be allowed on planes, and those travelers may have to undergo additional screening." (AP via NPR)
The U.K.'s Network Rail has been fined more than £50m by regulators for causing trains to run late. (Guardian)
You can no longer use cash to board a bus in London. (Qz)
Record confirmed: Six British tourists did indeed set the record for visiting all 468 New York City subway stations. Time: 22 hours, 26 minutes and 2 seconds. "For good measure, just a few days later they visited the entire Staten Island Railway." (WPIX)
Behold Arlington County, the suburb of the future. The population is up — and the traffic is down. "In essence, Arlington has shown that the mistakes of American suburban development can be corrected within a few decades." (Salon)
Tweet of the day:
eyes on screens= anti-social commutes?-history repeats. @wired @TechCrunch @TransportNation @transportgooru @WTS_Org pic.twitter.com/FTT21SA5iA

— Tim Papandreou (@timpapandreou) July 7, 2014
Kate Hinds covers transportation for WNYC News.