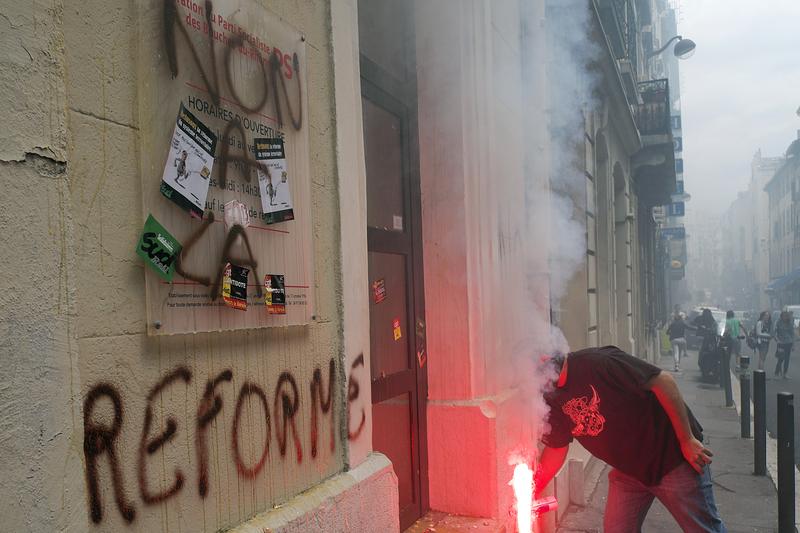 TOP STORIES ON TN:
Speed Limit Bill Alive in Albany (link)
Silver Line Commuters, Start Your Engines (link)
NYC Precincts Stepping Up Ticketing For Dangerous Driving (link)
NYC DOT: Public Plazas Should Be Everywhere — Not Just Manhattan (link)
WEDNESDAY LINKS:
California's high-speed rail line scored a big win: Governor Jerry Brown convinced state Democrats to allocate a stable source of funding for it in the budget. (Contra Costa Times)
Meanwhile, Detroit's streetcar project is in financial jeopardy — and needs an infusion of federal cash. (Detroit News)
It's week two of the French rail strike, and no resolution is in sight. And: the protests are turning violent. (France 24; NPR)
Why was Carmageddon a non-story? Because the people of Los Angeles were well-informed. (The weekend helped, too.) (Access)
Welcome to Beirut, where driving is an extreme sport. "According to the World Health Organization, road accidents in Lebanon claim an estimated 22.3 lives per 100,000 in population, a poor record that appears to be getting worse. A third of those fatalities are pedestrians." (Pulitzer Center)
It's been six months since Houston's Red Line rail first opened to passengers, and locals already love it so much that the painful memories of its construction have almost been wiped away. (Houston Chronicle)
Residents of Clayton County (GA) have been without transit since 2010, and now there's a chance it could be coming back. (WABE)
A state audit found Boston's transit agency wasted $11 million on three station renovation projects. (AP via WBUR)
Once your Mercedes SUV has been stolen, you're probably not going to see it again. (Bloomberg)
Thousands of ducks blocked a street in Thailand. Yes, there's video. (NYDN)
Swiss scientists have developed an electric bus that can charge in 15 seconds — meaning it can power up at bus stops. (Smithsonian)
An Onion commentary that's hard to dispute: if Sonny Corleone had EZ-Pass, he'd still be alive today.
NPR's got your summer transpo-themed summer reading list right here.
And, of course, we have a suggestion for a transpo-themed summer movie outing: Snowpiercer is set in a future in which the "last members of the human race live on a train with a perpetual-motion engine." (Imagine if Speed collided with The Polar Express, then hurdled into Elysium and sideswiped The Taking of Pelham One Two Three.) Coming to a theater near you June 27th. (NYT)