TN MOVING STORIES: Transpo News Links from Around the Web
Thursday, June 12, 2014 - 07:58 AM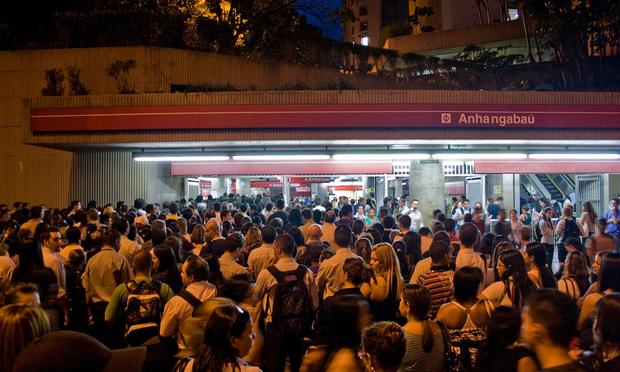 (Fernando Stankuns/flickr)
TOP STORIES ON TN:
NJ Transit: We're Doing What We Can with the Port Authority Bus Terminal (link)
MTA Security Program Almost $300 Million Over Budget, Years Overdue (link)
Stop Studying Dangerous Intersection and Take Action, Say Capitol Hill Residents (link)
THURSDAY LINKS:
Sao Paolo subway workers WON'T be striking today -- the opening day of the World Cup. "We get the feeling that maybe we aren't as prepared for a full confrontation with police on the day the World Cup starts," said a union official. (AP via Yahoo)
The country's most dangerous city for pedestrians is trying to get a handle on its streets. "Orlando's road system was largely built in the '60s, '70s and '80s, after Disney and other theme parks turned this city into a family entertainment destination. It was a time when pedestrians were an afterthought for road planners." (NPR)
No, you cannot e-smoke your e-cigarette on Chicago transit. (Tribune)
St. Paul's new light rail line opens this Saturday -- and city leaders hope a St. Paul renaissance isn't far behind. (Star Tribune)
Houston's city council delayed on vote on whether to allow rideshare services like Uber and Lyft operate in the city. (HPM)
Meanwhile, the battle over rideshare is heating up in Los Angeles. (LAist)
Well, really, the battle over rideshare is happening in cities all around the world. (NPR)
Sampling of complaints about the Port Authority Bus Terminal from last night's town hall meeting in Teaneck, NJ: lines, hot and crowded, long lines, delays, long lines, rude employees, and long lines. But don't worry, commuters, the floors are shiny! (The Record; NJ.com)
Go on, just try to pin down D.C. transit officials on an estimate for when the Silver Line will open. We dare you. (WaPo)
Why did Philadelphia set up a detour around one local road? To help toadlets get to the other side. Toad crossing! (AP)
Train operators in France went on strike Wednesday -- the same day cabbies in Paris staged a walkout. (France 24)
Defensive urban design is on the rise, and it's not just about spiking windowsills anymore. One city installed pink lights in an underpass to prevent teenagers from using it as a hangout. Why pink? It highlights pimples. (Guardian)
Kate Hinds covers transportation for WNYC News.