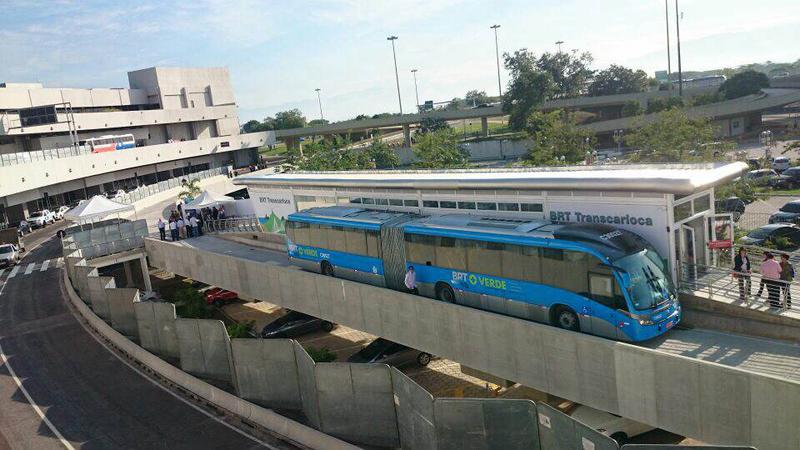 TOP STORIES ON TN:
How Many Deaths Does It Take to Redesign an Intersection? (link)
Speed Cameras Switch Off When Crashes Are at Their Highest (link)
MONDAY LINKS:
The co-owner of the Philadelphia Inquirer was among seven people killed in a Massachusetts plane crash. (Inquirer)
Metro-North was fined $2,000 for the 2009 death of a worker struck by a train. (Stamford Advocate)
World Cup, here we come: Rio de Janiero formally opened its Transcarioca bus rapid transit system, designed to swiftly bring people from the airport to the city's subway stations. Meanwhile, "protesters gathered to complain about a lack of spending on education, and teachers threatened to strike if the government didn't increase their salaries." (AP via ABC)

Car sharing service Car2go has shut down in the U.K. (AutoblogGreen)
San Francisco police are using 'bait bikes' with GPS to catch bike thieves. (CBS)
One in five NYC high school students has a commute longer than 45 minutes. (Chalkbeat)
Sign up for TN's daily headlines via email here.
Things being pondered since Google unveiled its self-driving car: it could lower insurance rates, lead to the end of car ownership, and/or dramatically lower motorists' interactions with police.
Jersey City is planning to turn one downtown street into a pedestrian plaza. (Jersey Journal)
A toddler and nanny hit by a taxi a year ago in Greenwich Village still recovering -- and the family is battling with the taxi's insurance company over medical bills. (DNA Info)
Residents of a working-class neighborhood in Los Angeles are worried about gentrification, now that one local realtor is holding bike tours. (KPCC)
An ash cloud from an Indonesian volcano is disrupting air travel in Australia. (news.com.au)
Last week, over 5,000 people used NYC's Franklin Street #1 train subway station. One of them was Mariah Carey. (Gothamist)