TN MOVING STORIES: Transpo News Links from Around the Web
Wednesday, May 28, 2014 - 07:56 AM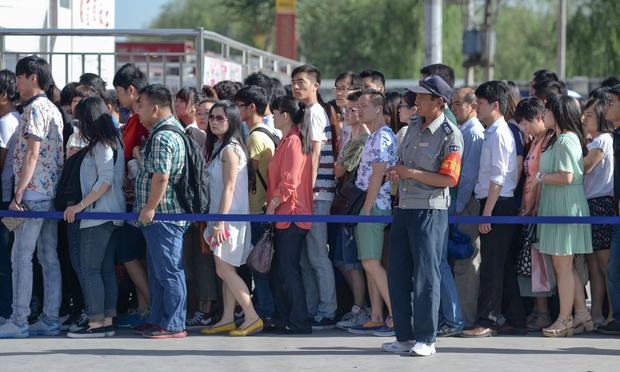 (STR/AFP/Getty Images/Getty)
TOP STORIES ON TN:
Massimo Vignelli, Designer of Iconic NYC Subway Map, Dies (link)
Metro Takes Over Silver Line; Summer Opening Date Planned (link)
Select Bus Service Comes to 125th Street — Sort of (link)
Citi Bike Celebrates Anniversary With Cupcakes and Complaints (link)
WEDNESDAY LINKS:
Streetcar gut check: D.C.'s Council may vote today to scale back both the budget and the revenue stream for the city's proposed streetcar system. (WaPo)
The Port Authority board will vote today on a funding package for 3 World Trade. (Capital NY)
Beijing's subway is seeing staggering lines after introducing new anti-terror security checkpoints at major stations in the wake of recent bombings in China's northwest. (RT)
Wichita is weighing sales tax for transit funding. (KWCH)
A crackdown on bad biking behavior in Manhattan is renewing calls for the city to adopt the 'Idaho Stop.' (NYDN)
Sign up for TN's daily headlines via email here.
TSA backscatter machines are being repurposed in prisons. (The Hill)
A Northern Virginia woman who took 11 trips on the 495 Express Lanes is being charged more than $10,000 in tolls, administrative fees, court costs and civil penalties. (WTOP)
Getting rid of Detroit's abandoned homes, retail spaces and factories could cost the city $2 billion. (Freep)
Further proof walking is good for you: when older people walk now, they stay independent later. (NPR)
Check out San Diego's new seven-mile bike loop. (KPBS)
South Korea is creating 'women only' parking spaces "which are longer, wider and marked with pink outlines." (Independent)

Hey look: Google is becoming a car manufacturer (NPR). And the next generation of Google car doesn't have a steering wheel, accelerator pedal, or brake pedal, "because they don't need them." (Google Blog)
Kate Hinds covers transportation for WNYC News.