TN MOVING STORIES: Transpo News Links from Around the Web
Tuesday, May 27, 2014 - 08:04 AM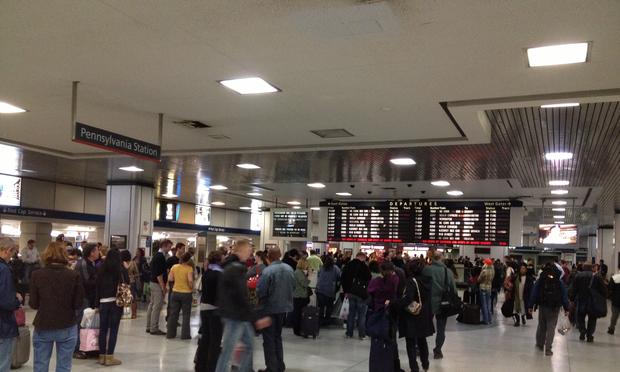 (Kate Hinds/WNYC)
TOP STORIES ON TN:
Happy Memorial Day Weekend, Beartooth Pass Drivers (link)
Over 4,800 Drivers Caught Speeding in NYC -- In Two Days (link)
Jersey City Sues the Port Authority (link)
No Bus Lane On 16th Street Northwest Until 2016 At The Earliest (link)
TUESDAY LINKS:
New York's Penn Station is trying to 'upgrade' its retail tenants. Out: KFC, Pizza Hut, and Knot Just Pretzels. In: Duane Reade. But buried in the story is this: "Amtrak will also replace its outdated schedule board in the main waiting area with a flat LED display board, similar to those used in airports, and add schedule monitors throughout the building." (Crain's)
Chicago's Divvy bike share set a single-day ride record: 16,259 trips logged on Sunday. (Trib)
NYC wants Citi Bike to pay for lost parking revenue. (WSJ)
2015 is projected to be the first year where gun deaths surpass traffic fatalities. (Daily Beast)
D.C. Metro says real-time bus information signs will be installed at bus stops this year. (WaPo)
Big transit changes are coming to the Twin Cities, where a new light rail line will affect nearly 20 bus routes. (MinnPost)
Following a spate of pedestrian deaths, the speed limit in Sydney's central business district will be lowered to 40km/h (roughly 25 mph). (Sydney Morning Herald)
One survey links Wisconsin "Brain Drain" to a lack of transportation options. (WRN)
Less than two years after opening, over half of Mexico City's new Golden Line subway stations have been forced to close. "Over elevated stretches, the trains went slower and slower, because engineers were afraid they might derail and plunge to the street below." (NYT)
Goodbye, plans for a new train station in Allston, MA. "I went home from the previous meeting thinking, 'Wow, this is really going to transform this community in a great way,'" Whelan said. "So it was disconcerting to hear that it was sort of a fantasy." (Globe)
Bike not on the sidewalks of the Upper West Side, cyclists, lest ye be ticketed. But: "It is important that we don't lose sight of priorities," said Councilman Mark Levine. "Motorists should be targeted the most." (NYDN)
This week is Hurricane Awareness Week. Think of it as the calm before the storms. (Marketplace)
Kate Hinds covers transportation for WNYC News.