TN MOVING STORIES: Transpo News Links from Around the Web
Monday, May 12, 2014 - 08:00 AM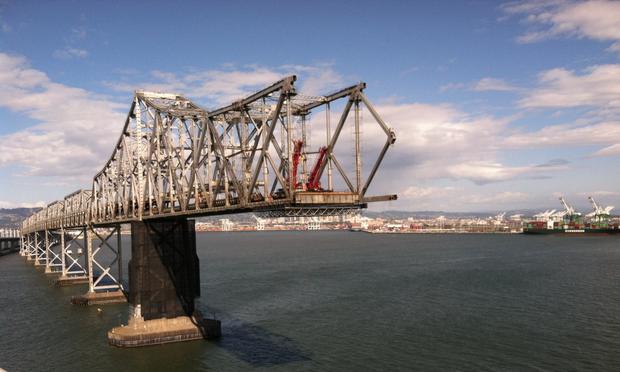 (Julie Caine/KALW)
TOP STORIES ON TN:
See the San Francisco Bay Bridge Being Dismantled, Piece by Piece. (link)
Last Call for the Bar Car. (link)
MONDAY LINKS:
Three people died Sunday when the hot air balloon they were riding in caught fire and crashed. Federal regulators say oversight of the growing commercial balloon flight industry is lacking. (LA Times)
The Obama administration is talking up highways and bridges this week, as government infrastructure funding heads towards a "transportation cliff."
A drone and a passenger plane almost collided over Florida last month, it turns out. "A lot of people already fly [drones] without rules and regulation. It's almost a free for all," according to a drone trade group. (WSJ)
Since Philly's transit system installed surveillance cameras on buses and trains, injury and damage claims are way down, and the city is saving millions - $11 million last year. (Philly.com)
Step aside, Select Bus Service - it looks like full-fledged Bus Rapid Transit is coming to New York City, starting in Queens. (Daily News)  
Four teenagers died Saturday on Long Island when their car veered into oncoming traffic, apparently while drag racing. (NY Post)
Hundreds of undocumented men, women and children headed to the U.S. have been stranded in Mexico, after a railroad cracked down on stowaways. "According to activists, train cars overloaded with migrants have been unhitched and left idle."  (NY Times)
For the second time in three days, a plane had to make an emergency landing at New York's LaGuardia airport Saturday after a bird was sucked into its engine.  (Daily News)
Thirty-six people died and 42 are still missing after a boat carrying North African migrants capsized off the coast of Libya. More than 100 people have died in the crossing from Libya to Italy in the past two weeks. (The Guardian)
Downtown Denver's gorgeous new bus and rail station opened Sunday. For fans of Battlestar Galactica, there's something Caprica-esque about it. (Gizmodo) 
And here, listen to people sing an ancient Icelandic hymn in a German train station. (Whatever)
Kat Aaron is a reporter for WNYC, where she is part of the Data News team.