TN MOVING STORIES: Transpo News Links from Around the Web
Wednesday, May 07, 2014 - 07:51 AM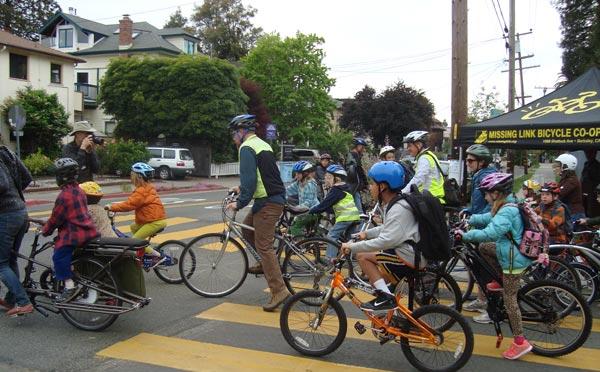 (Bike East Bay/flickr)
TOP STORIES ON TN:
Governors Name a Panel of Insiders to 'Reform' Port Authority (link)
SunRail Exceeding Ridership Expectations: Officials (link)
NYC Subway Service is Either 'Deteriorating' — Or Not (link)
FRIDAY LINKS:
Would you like to raise the gas tax, or reduce spending on transit by 65%? The Congressional Budget Office has laid out some options to resolve the nation's transportation funding crisis. (WaPo)
On today's Brian Lehrer Show, a member of NYC's Families for Safe Streets talks about trying to convince Albany to let the city lower its speed limit. (WNYC) 
A Staten Island politician is taking aim at a local bus lane because he thinks the select bus service has been a "failure." P.S.: the lanes are ugly.  (Capital NY)
Missouri is testing long-range acoustic devices to warn drivers to slow down for work zones. (NPR)
Speed cameras are catching fewer violators in D.C. -- which could be a sign drivers are slowing down. (WAMU)
"Now you're going to start to feel the pain." The Los Angeles International Airport renovation is about to get serious. Officials say it's needed, because right now LAX is "nine unrelated buildings connected by a traffic jam." (AP via ABC)
Boston is testing plexiglass partitions on buses to protect drivers from passenger attacks. Like being punched or spit on. (Ed. note: PEOPLE, WHAT IS WRONG WITH YOU?) (Globe)
Meanwhile, Detroit's new Transit Police force is starting to ride buses to reduce transit crime. (Detroit News)
Chicago and Uber are battling over airport pickups. (Tribune)
Motorcycle fatalities are decreasing across the country -- but not in Texas. (Houston Public Media)
Kate Hinds covers transportation for WNYC News.