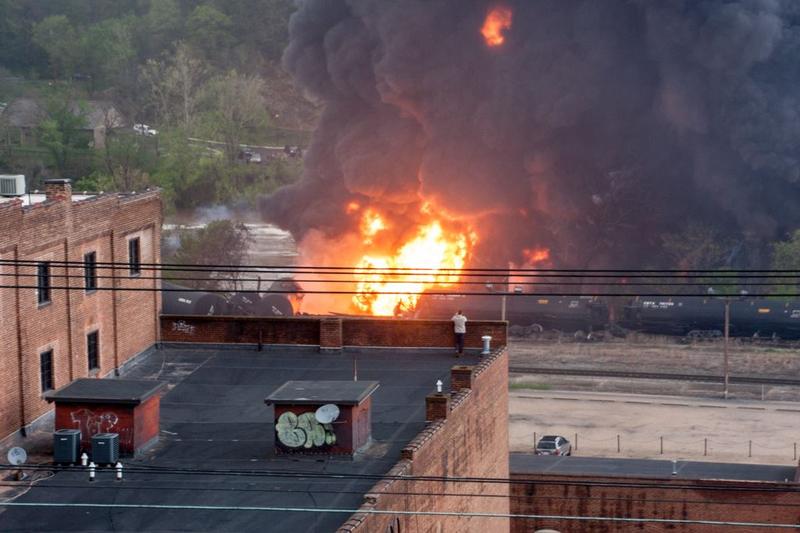 ON TN:
MTA Preparing LIRR Strike Contingency Plans (link)
Longtime Long Island Rail Road President Replaced (link)
THURSDAY LINKS:
A computer failure at an air traffic control tower grounded flights around LAX. (NYT)
A CSX train hauling crude oil derailed in Lynchburg, VA, forcing the evacuation of a large part of downtown near the James River. "Within an hour, the fire was contained on land, but crude still burned in the river."  (WSJ)
Torrential rain is disrupting the commute in the Northeast: a mudslide in Yonkers buried a section of Metro-North track, flooded roads and damaged NJ Transit tracks are affecting N.J, and roads are closed in the D.C. region. Did we mention the street collapse in Baltimore?
In Philadelphia, passengers had to be rescued from the roof of a flooded SEPTA bus. (Philly.com)
Sample weather-related tweet:
You have GOT to be kidding me @nbcwashington pic.twitter.com/b0l2lT3ba2

— Adam Tuss (@AdamTuss) May 1, 2014
In a $12.5 million sponsorship deal, Chicago's bike share system, Divvy, will be accepting advertising from a health insurance company — giving the system money to expand. (Tribune)
How car safety standards differ between Europe and the U.S. "If I'm a pedestrian hit by a car, it's probably better to be hit by a car on the European standards than it is one of these American cars over here." (NPR Planet Money)
Where the exercisers are: the world's most popular running and biking routes, mapped via GPS. (Fast CoExist)
One manual to rule them all: how NYC's subway signs became standardized. The answer, as always, is Vignelli. (New Yorker)
San Francisco's city supervisor wants to narrow streets to make them safer for pedestrians, but he's getting pushback from the city's fire department. (CBS SF)