TN MOVING STORIES: Transpo News Links from Around the Web
Monday, April 28, 2014 - 08:00 AM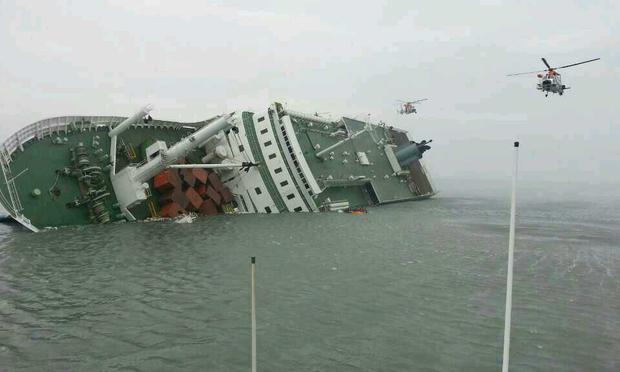 (The Republic of Korea Coast Guard/Getty)
TOP STORIES ON TN:
Queens Man Dies at "Dangerous" Richmond Hill Intersection. (link)
NYC Gets Federal Pedestrian Safety Grant to Target "Young Men." (link)
MONDAY LINKS:
South Korea's Prime Minister resigned Sunday as details emerge of "loopholes in safety measures and lax regulatory enforcement" (NY Times)
Settlements are starting between Metro-North and people injured in the railroad's fatal December derailment. The agency has "made overtures" to all the plaintiffs, a spokeswoman said. (NY Post)
Two bridges over Detroit's I-94 expressway are among the "most structurally deficient" in the country - and they carry close to 300,000 people a day. (Detroit Free Press)
The trucking industry might join the digital age with a switch from paper records to electronic ones. (The Hill)
A woman was struck and killed by a 6 train Saturday afternoon, as she leaned over the platform edge at New York's Astor Place station. (NY Daily News)
More subway riders could buy MetroCards with pre-tax dollars under a new bill at the New York City Council. (DNA Info)
A "concrete trench for future tunnels" is being built under the Hudson River connecting New York and New Jersey, the latest effort to alleviate train congestion heading into Manhattan. (ABC News)
Chicago train riders say goodbye to their old fare cards, as the CTA switches to a system "plagued during its rollout late last summer by technical glitches and poor customer service in resolving problems." (Chicago Tribune)
Mass public transit is gaining ground in the Middle East and North Africa, as delegates from 25 countries gather in Dubai to share plans and projects. (GulfNews.com)
Turns out people are happy to let their car insurers track their mileage, braking, and speed - if it saves them money. (CNBC)
A French woman flying to America was barred from entering the country - maybe because her name sounds like Al-Qaeda. (Jezebel)
Reading this at your desk? Might be time for a stroll: "People generate more creative ideas when they walk than when they sit." (LA Times)
And a new map shows apartment and home prices near every stop on the London Underground, to help commuters balance commute and affordability. (Atlantic Cities)
Kat Aaron is a reporter for WNYC, where she is part of the Data News team.