TN MOVING STORIES: Transpo News Links from Around the Web
Thursday, April 03, 2014 - 07:39 AM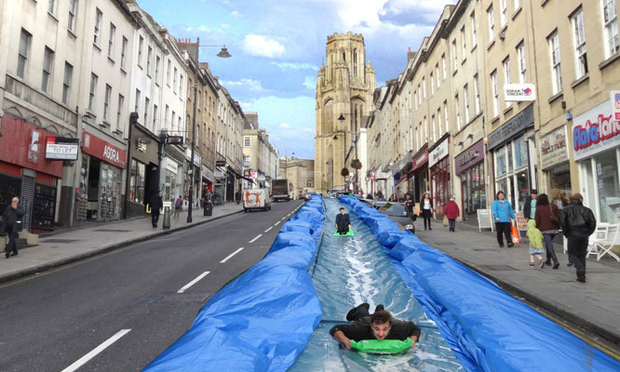 (via Luke Jerram)
TOP STORIES ON TN:
Fixing the Port Authority: Here's What's on the Table (link)
D.C. Regulators to Focus on Rideshare Apps -- and Drivers (link)
THURSDAY LINKS:
L.A.'s Westside Subway extension survived a legal challenge brought by Beverly Hills High School. (L.A. Times)
The Koch brothers are funding opposition to a bus rapid transit line in Nashville. (Salon)
Tesla is challenging New Jersey's ban on direct car sales. (Bloomberg)
The head of General Motors faced a furious Senate hearing. But despite some predictions ("I think it is likely and appropriate that G.M. will face prosecution"), it may be hard to build a criminal case against the automaker over safety violations. (NYT)
Chicago Mayor Rahm Emanuel on a state task force recommendation that the city's transit system go regional: "This is what happens when you lock up a lot of propeller heads in a room for a short period of time." (Tribune)
San Francisco's dynamic parking pricing program has cut cruising for spaces by 50 percent. (Next City)
TN could be in your in box right now. Sign up here.
It may be your day off, but it turns out that if you're a New York MTA employee, you still can't take part in the annual No Pants Subway Ride. (NYDN)
North Carolina may start taxing drivers by the mile -- instead of by the gallon. (News Observer)
Over the protests of the mayor of Minneapolis, local leaders endorsed a plan to sink part of the Southwest Corridor light rail line in a tunnel. (Star Tribune)
Why Delta cancels less flights than other airlines. (WSJ)
A NYC school bus driver caught cheating in a DMV test-taking scam turned himself in -- by parking his bus in front of the Manhattan D.A.'s office. (NY Post)
Cycling in Texas is "on fire" -- in part because traffic is so bad. (NPR)
The 'School Bus of the Future,' unveiled recently in Dallas, looks a lot like the School Bus of Today, but it has a 'pedophile finder' camera.  (Dallas Observer)
A British artist is setting up a 'park and slide' -- a 300 ft. long water slide linking two streets in Bristol, England. (Huh)
Remember the halcyon days of yesterday, when a protest against Google's tech buses involved futuristic clown costumes and yoga balls? How quickly things have devolved. (SF Gate)
Kate Hinds covers transportation for WNYC News.