TN MOVING STORIES: Transpo News Links
Tuesday, March 11, 2014 - 08:00 AM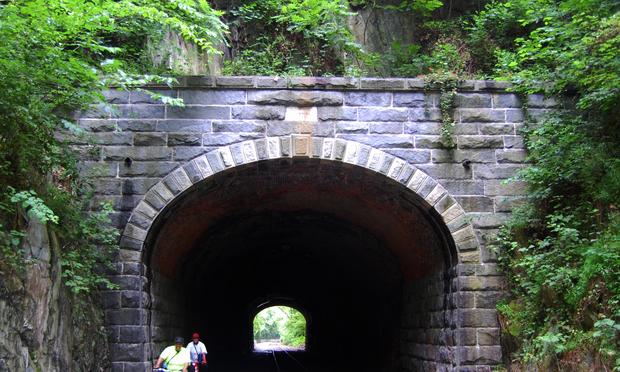 (UGardener/flickr)
TOP STORIES ON TN:
Metro-North Track Worker Killed; NTSB Investigating (link)
NYC Leading Nationwide Transit Boom (link)
New York Fines Peer Ride-Sharing Service (link)
TUESDAY LINKS:
A Supreme Court ruling could jeopardize the federal "Rails to Trails" program, which transforms abandoned rail lines into public bike paths. (USA Today)
New York state Assembly Democrats want to block Governor Cuomo from taking $40 million out of the MTA budget. (NYDN)
NJ Transit and the NFL skipped a New Jersey Assembly hearing about the transit agency's performance at the Super Bowl -- but one lawmaker was ready to be diplomatic: "It seems clear that NFL dictated a lot of what was happening in all of the respects with logistics and that NJ Transit had to deal with what they were given." (Star-Ledger)
Welcome to New York! And be sure to enjoy your cab ride with this 14 foot Burmese python! (Gothamist)
Two drivers involved in a Los Angeles-area car crash each suffered hundreds of bee stings after one of the vehicles hit a tree and disturbed a hive. (KPCC)
Sign up for TN's headlines via email here.
A Boston Green Line train derailed, injuring 10 people. (Globe)
An 11-year-old Brooklyn boy ran away from home and lived on the subway for five days. (NYT)
The new CEO of Houston's transit agency is in D.C. to push lawmakers to re-up transit funding. (KUHF)
Check out these failed designs for highway interstate signs: road signs that look like lobsters, and eagles reminiscent of "Game of Thrones." (WLRN)
Parking rules are for the 99 percent: at a luxury building on Central Park West, the no-parking zone in front of the building has been illegally transformed into a holding pen for chauffeured vehicles. (NYT)
Please, please let this be true: the next season of True Detective may involve "hard women, bad men and the secret occult history of the United States transportation system." (HitFix)
The NYPD is making double-parking a safety issue:
Don't be the cause a collision, injury or death of somebody's loved one. #VisionZero pic.twitter.com/f1QMgzL64c

— NYPD NEWS (@NYPDnews) March 10, 2014
Kate Hinds covers transportation for WNYC News.