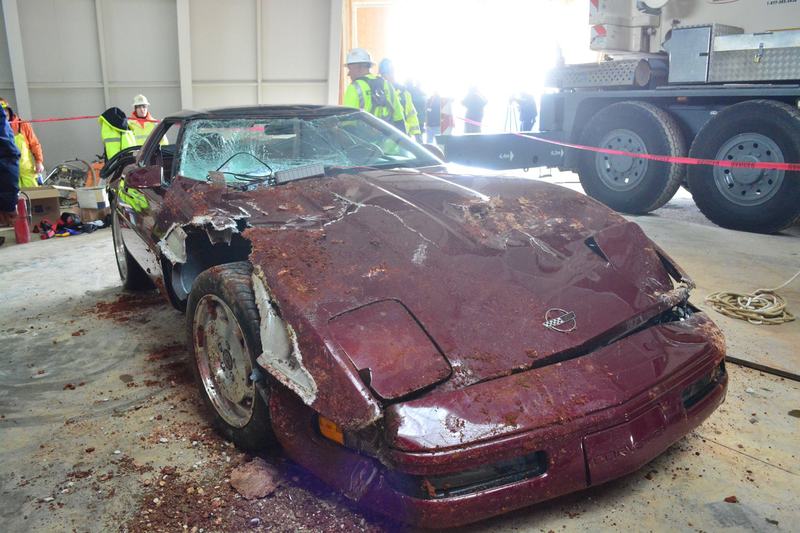 TOP STORIES ON TN:
High Speed Rail Hearings Start in New York State (link)
Now NY Prosecutors Will Know if Your 'Broken Tail Light' Was Actually a Speeding Ticket (link)
TUESDAY LINKS:
Flagging down taxi drivers to sign up for Obamacare: it's happening in Chicago, Philadelphia and Austin. (NPR)
The Corvettes are starting to be retrieved from the vehicle-swallowing sinkhole that opened up in the National Corvette Museum. (Bowling Green Daily News)
Your daily dose of despair: two men robbed a Maryland woman in labor as she and her partner were preparing to drive to the hospital...and then stole her car. (ABC13)
ExxonMobil will pay $19.5 million in grants to the Brooklyn neighborhood of Greenpoint as part of a settlement for the neighborhood's gigantic underground oil spill. (NYT)
Severe winter weather cost U.S. airline passengers $5.3 billion in expenses and missed workdays as carriers cancelled and delayed record numbers of flights. (Dallas Morning News)
Amping about the Amp: take a look at the tsouris surrounding Nashville's proposed bus rapid transit line. (Atlantic Cities)
Check out this future map of Twin Cities transit. (Twin Cities Daily Planet)
Buses will roll again in D.C. today following yesterday's snowstorm.
Heads up! ALL Metrobus routes resume at 7 a.m. w/ snow detours to keep buses off of hilly terrain, narrow side streets, etc. #wmata

— Martin Di Caro (@MartinDiCaro) March 4, 2014
San Francisco's ABC affiliate investigated the spike in pedestrian deaths...and determined pedestrians are at fault. (ABC)
For the first time, legislation opening the door for an expanded mass transit system in Central Indiana has cleared both houses of the General Assembly. (Indy Star)
Coming up this morning on the Brian Lehrer Show: Would you be comfortable with technology in your car that stores information about how you drive? Discuss. (WNYC)
Sign up for TN's daily email here.