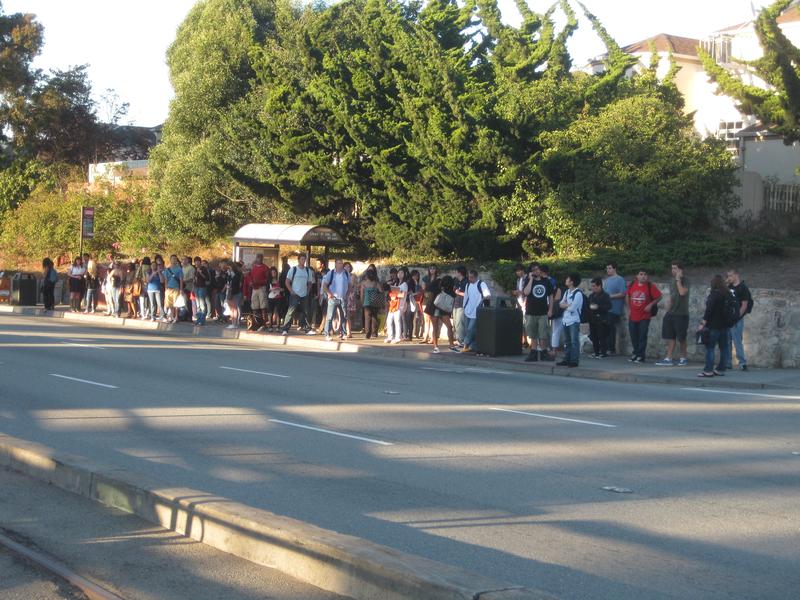 TOP STORIES ON TN:
Delta Changes Frequent-Flier Program, Social Media Erupts (link)
D.C., Maryland and Virginia Pledge $75 Million For Metro Upgrades (link)
Queens Business Owners Dreading 7 Train Service Changes (link)
FRIDAY LINKS:
D.C.'s Capital Bikeshare won't be expanding into College Park because a major equipment supplier filed for bankruptcy. (Washington Post)
Google will pay $6.8 million to provide free transit passes for San Francisco kids. "The donation, the largest ever from a nongovernment entity to the San Francisco Municipal Transportation Agency, will fund an existing pilot program that allows low- and middle-income San Francisco kids ages 5 to 17 to ride Muni for free." (SF Chronicle)
California's governor wants the state's high-speed rail project to be funded in part from cap-and-trade revenue. (L.A. Times)
As investigators dig into Wednesday's cop shooting, one fact stands out: Brooklyn's B46 has the most incidents of any bus line in the city. (WNYC)
Two dogs jacked a truck in Oklahoma and went on a joyride. (Fox23)
Pedestrian fatalities are sharply rising in the Dallas area. (Dallas Morning News)
A section of West 97th Street on Manhattan's Upper West Side will be renamed for a four-year-old girl killed there last year. (NYDN)
New Jersey state police broke up an international carjacking ring that sent stolen luxury cars from the NY-NJ area to West Africa. (Star-Ledger)
Get TN's daily headlines delivered to your inbox each day. Sign up here.
How did Sweden reduce road deaths so dramatically? A Vision Zero explainer, from The Economist.
A 91-year old Holocaust survivor was killed by a school bus in Maryland. (WaPo)
Kevin Bacon: actor, New Yorker, transit rider. Likes: subway musicians. Dislikes: weekend schedule changes. (AM NY)
Discuss: Americans are driving less. Should we stop building new roads? (Atlantic Cities)
How an old law caused a salt shortage in New Jersey. (NPR)
Houston's Metro finally has a permanent CEO. (KUHF)
A Connecticut man is suing NYC and Citi Bike for $15 million after crashing on a bike share bike. It's probably the bike share system's first personal injury lawsuit. (NYDN)
True confessions from a man who spent a week as an Uber driver, and witnessed, well, pretty much what most taxi drivers see. "It's an understanding, arrived at with no words: We'll never see each other again, therefore you may act like an animal." (GQ)
Elevated bicycle roundabout. In the Netherlands, of course. (h/t Treehugger)