TN MOVING STORIES: Transpo News Links from Around the Web
Thursday, February 20, 2014 - 08:21 AM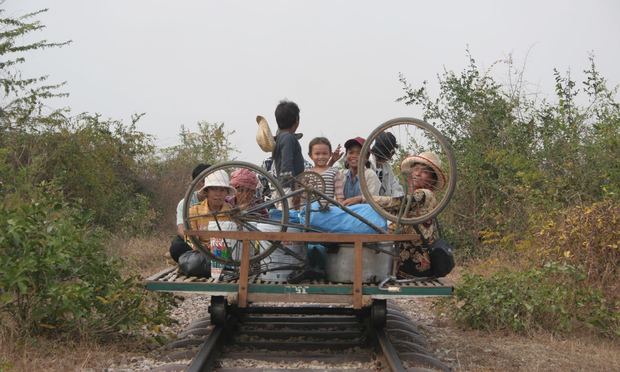 (Kirk Siang/flickr)
TOP STORIES ON TN:
Here Are the 63 Ways de Blasio Wants to Eliminate Traffic Deaths (link)
NTSB to Metro-North: Put Cameras on Train Operators (link)
Port Authority: "We Apologize" For Bridgegate (link)
THURSDAY LINKS:
Twelve members of New York's Congressional delegation are trying to avert a possible LIRR strike -- and want the MTA to soften its demands. (NYDN)
Due to weather, Chicago's commuter rail line has very few 'spare' cars. Now it needs to rent extra train cars from other transit agencies. (Tribune)
Now California's Democratic lieutenant governor, Gavin Newsom, is pulling support from the state's high-speed rail project. (Chronicle)
Following three pedestrian deaths at night on one Houston roadway, police are advising pedestrians to wear light-colored clothing and carry a flashlight. (KUHF)
The Detroit area's leaderless Regional Transit Authority has decided to delay its request for public funding until 2016. (Detroit News)
Sign up for TN's daily headlines via email here.
Bus riders in L.A. are protesting fare hikes. (LA Times)
Nothing to see here -- just a naked man trying to board a NJ Transit bus. (NYDN)
In California, hydrogen-powered cars are gaining in popularity. But the fuel is highly flammable, and there have been problems with the hydrogen infrastructure nationwide. And regulation? Not so much. (Pro Publica)
A beautiful railway line damaged by flooding in the U.K. won't be repaired until April. (Guardian)
Phnom Penh, Cambodia's capital city, didn't have a public transit system--until now. The city is dipping its toes into mass transit with ten city buses, and they already carry 3,000 people a day. (NYT)
Meanwhile, in the countryside, people ride creaky trains made of bamboo. (WSJ)
Kate Hinds covers transportation for WNYC News.