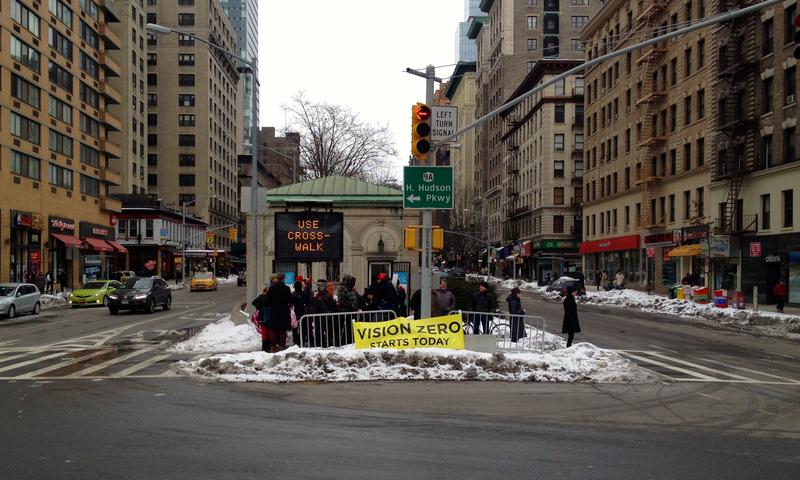 TOP STORIES ON TN:
Trying to Ratchet Down NYC's Street Tensions With Love -- and Valentines (link)
Come On and Touch Me: MTA Rolls Out Interactive Info Screens (link)
Slush Lakes: An Explainer (link)
TUESDAY LINKS:
NYC Mayor Bill de Blasio is expected to announce his traffic safety plan this afternoon at P.S. 75 in Manhattan -- located just a block away from an intersection where three people have been killed so far this year. @KateHinds will live tweeting. We'll dig into the plan later on today.
And: on Friday, Bill de Blasio (along with NYPD head Bill Bratton and DOT chief Polly Trottenberg) met with families who lost people in traffic crashes. (Flickr)
Jim Weinstein, the embattled head of NJ Transit, "appears to be on the way out." (The Record)
When we contacted NJ Transit about this, the response from spokesman John Durso: "I do not and will not comment on unnamed sources and rumors."
But when we asked Durso if Jim Weinstein would be at the next agency board meeting, scheduled for March, our emails were met with...silence.
Following a winter in which Atlanta traffic was paralyzed by storms, Georgia officials might be taking another look at funding MARTA. Because the transit agency "gets no direct state money right now." (WABE)
The head of the Port Authority has asked the agency's Inspector General to investigate the involvement of some PA police officers in the Bridgegate lane closures. (The Record)
President Obama will direct federal agencies to set new fuel efficiency standards for medium- and heavy-duty trucks by 2016. (Detroit News)
Sign up to get TN's daily headlines via email here.
Late fees from drivers who flout the Golden Gate Bridge's all-electronic toll collection system could land the city $15 to $22 million in revenue. (SF Chronicle)
Rio is transforming its infrastructure in advance of the upcoming Olympic games -- but the people who need transit the most aren't getting it. (NPR)
Workers at a Volkswagen plant in Chattanooga, TN, voted not to unionize. Now, there's a chance workers could set up an alternate form of representation -- and establish the U.S.'s first 'works council.'(NYT)
The Detroit area's new(ish) Regional Transit Authority lacks leadership -- and risks losing momentum. (Detroit News)
Weather-related flight delays that piled up last week as snow closed airports on the East Coast could have cost airlines more than $80 million. (The Hill)
Only 15 percent of the roughly 92,000 rail cars that transport flammable liquids meet new safety standards. (Marketplace)
Light fixtures at Newark Airport are watching you. "Using an array of sensors and eight video cameras around the terminal, the light fixtures are part of a new wireless network that collects and feeds data into software that can spot long lines, recognize license plates and even identify suspicious activity, sending alerts to the appropriate staff." (NYT)
Does transit need merely to be useful -- or should it strive to be fun? Discuss. (Salon)