TN MOVING STORIES: Daily Transpo News Links
Monday, February 10, 2014 - 08:24 AM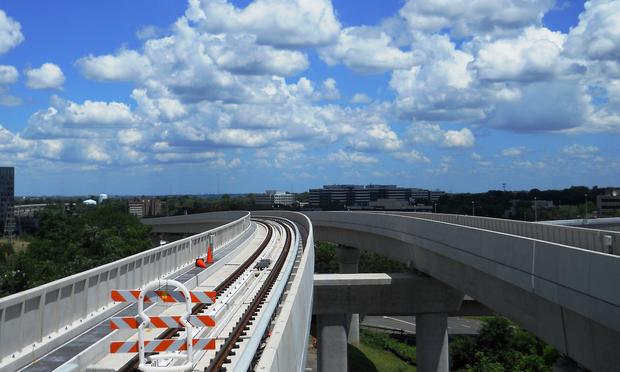 (Stephen Barna / Dulles Corridor Metrorail Project/flickr)
TOP STORIES ON TN:
How Has Cuomo Short-Changed Transit? Let Us Count The Ways (link)
Cyclists Push For Repairs On Rock Creek Park Bike Trail (link)
Anyone Know Why Super Bowl Transit Was So Bad? (link)
You Can't Get There From Here — Not on Unshoveled Sidewalks (link)
MONDAY LINKS:
California's governor, Jerry Brown, is trying to will the state's high-speed rail line into existence. (Politico)
The overwhelming majority of NYC cabbies who killed and maimed passengers and pedestrians in the past five years are back behind the wheel. (NY Post)
Meanwhile, statewide, drivers were charged with vehicular manslaughter or aggravated vehicular homicide in about 5% of the 4,801 fatal crashes from 2008 to 2012. (WSJ)
The homeless population in NYC's subway has soared 90% since 2009 -- and now the city is about to kick off a massive outreach program. (NYDN)
Pilots heading to wrong airport -- not as uncommon as you might think. Interesting fact: "A particular trouble spot is San Jose, Calif." (AP)
D.C.'s Metro could take control of the new Silver Line this month. (WaPo)
Soon it will be legal to drive 80 MPH on some highways in Utah. (Deseret News)
San Francisco's Sunset Boulevard: no stranger to pedestrian deaths. (SF Chronicle)
FastCompany released its list of the 50 most innovative companies. Number 49? Alta Bicycle Share. (link)
Kate Hinds covers transportation for WNYC News.