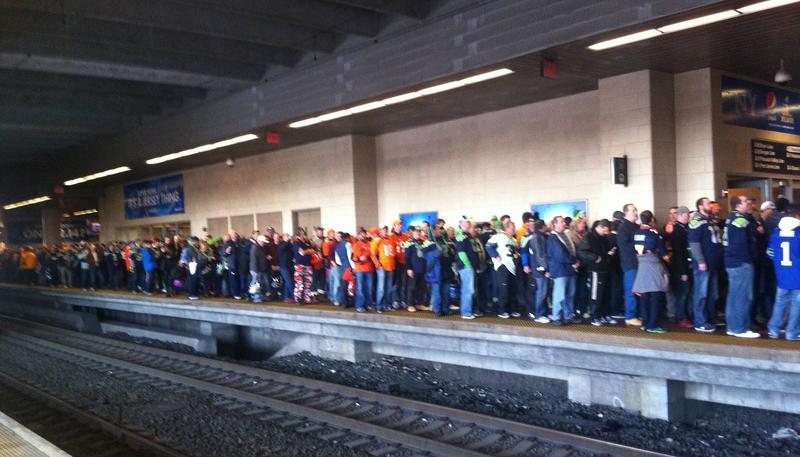 MONDAY LINKS:
More than 28,000 Super Bowl fans took NJ Transit to the Super Bowl, far more than the 12,000 to 15,000 the railroad anticipated. Many waited hours in Secaucus, with some reports of passengers fainting due to overcrowding, which NJ Transit disputed. After the game, NJ Transit had to call in 50 buses to relieve the crush at MetLife Stadium.  (nj.com, nj.com, AP)  
Fans at the game missed the many, many car ads shown to people watching at home. (Detroit Free Press)  
The first wave of subpoenaed documents related to the George Washington Bridge lane closures will be handed over to investigators today, three days after new allegations that Governor Christie knew about the events as they happened. (NY Times, NY Times) 
A tractor trailer crash on the George Washington spilled oil on the roadway and closed inbound traffic for 90 minutes Sunday. (NY Daily News)
A cyclist was hit by a car near Prospect Park Sunday, and was in serious condition. (Gothamist) 
Four people were injured Saturday by a hit and run driver at a bus stop in Woodside, Queens. (NY Daily News)
Traffic moves so fast on Florida's I-95 express lanes that highway patrol can't safely get out of their cars to give tickets. (Miami Herald)
Sign up for TN's daily headlines here.
Londoners face a 48-hour Tube strike tomorrow, with workers protesting the planned closure of all station ticket booths. (Londonist)
A serious pilot shortage is coming for U.S. airlines, thanks to mandatory retirement rules, low starting pay, and training than can run up to $250,000. (Philadelphia Inquirer)
And in extreme air travel, you can now watch a skydiver free fall to earth from 24 miles up. (LA Times)