TN MOVING STORIES: Transpo News Links from Around the Web
Tuesday, January 28, 2014 - 08:04 AM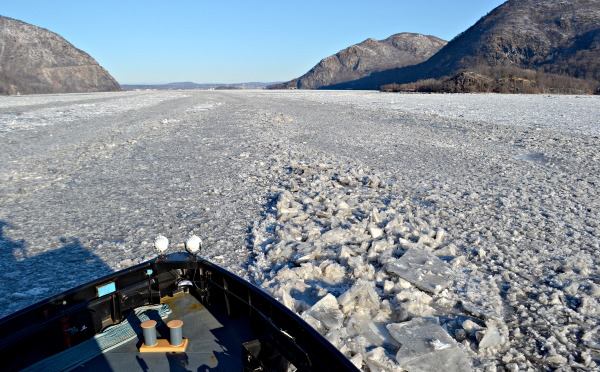 (Jenna Flanagan, The Innovation Trail)
TOP STORIES ON TN:
Breaking the Ice on the Hudson (link)
NY MTA's Biggest Projects: Over Budget and Behind Schedule (link)
TUESDAY LINKS:
Welcome to hell, which is apparently icy cold: so far today, 2,858 flights have been cancelled, and 3,329 more are delayed. (Flight Aware)
Meanwhile, as much of the U.S. freezes, the price of natural gas is on the rise. (Marketplace)
And how cold is it? Amtrak is running a modified schedule in Chicago to "reduc(e) exposure of Amtrak passengers, crews and rail equipment to extreme weather conditions." (Amtrak)
Even Houston is preparing for a rare onslaught of icy weather. (KUHF)
In other news: tonight is the State of the Union. Get a preview of the president's speech on this morning's Brian Lehrer Show. (WNYC)
Get TN's daily headlines sent to your inbox. Sign up here.
Former NYC DOT commissioner Janette Sadik Khan leaves a mighty legacy. Will Mayor de Blasio keep it going? (Capital NY)
Public hearing today: should the NJ Turnpike privatize toll collection? (NJ101.5)
Bertha, Seattle tunneling machine, will begin digging again today after being idle for nearly eight weeks. (Seattle Times)
Your mass transit tax benefit is so very 2013. (Wired)
Ridership is up on New York's commuter railroads -- with Metro-North hitting an all-time high. (NYDN)
The family of a six-year old girl killed by an Uber driver is suing the company, putting it squarely in the middle of a legal muddle. "Is it a taxi company or a technology platform? Are the drivers employees, as some are arguing in court, or "partners" — that is, freelancers — as Uber maintains?" (Boston Globe)
Hillary Clinton hasn't driven a car since 1996. (The Hill)
Kate Hinds covers transportation for WNYC News.