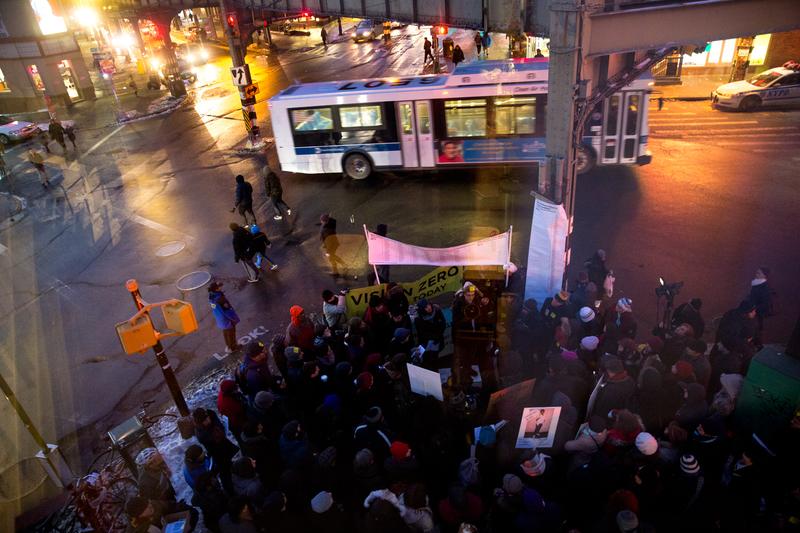 TOP STORIES ON TN:
Another Albany Push to Stop Traffic Fatalities (link)
Federal Funds To Help Sandy-Swamped Subways (link)
"It's Hard to Say" if U.S. Bike Share Systems Will Survive Bixi's Bankruptcy -- Reporter (link)
MONDAY LINKS:
California Governor Jerry Brown has asked the state's Supreme Court to overturn two lower court rulings that have slowed down the state's high-speed rail project. (Fresno Bee)
The parents of a Brooklyn boy killed by a car last year are channeling their grief into activism. (NYT)
And in Queens, a vigil was held at the site where a woman was struck and killed by an MTA bus. (News12)
Long Island Rail Road workers will punch in via biometric time clocks. (NYDN)
Think it's easy to put in a traffic signal at a dangerous intersection? In Cambridge, it can take years -- and tens of thousands of dollars. (Boston Globe)
Humorist Calvin Trillin explains the 'study' behind the Bridgegate lane closures.  (NYT)
Wild swings in temperature this winter are beating the hell out of Chicago's roads. (Tribune)
Get TN's daily headlines sent to your inbox. Sign up here.
A rival car service is accusing Uber of dirty tricks--and Uber admits its tactics went overboard. (CNN)
Meanwhile, Google has been granted a new patent for a free taxi service paid for by advertising. Or, as Venture Beat puts it: "The patent involves a combination of self-driving cars and algorithms that automatically compare the cost of transportation and the potential profit from a completed transaction to determine if such a ride will be lucrative to the business."
On why ticketing jaywalkers isn't good street safety policy: "punishing pedestrians without first targeting bad drivers is the opposite of Broken Windows—instead of deterring bad driver behavior, it enables it, by teaching walkers that they must expect drivers to drive badly." (City Journal)
Since it will apparently never be warm in the Northeast again, here are four tips to winterize your bike ride. (Gizmodo)
Tesla is betting big on China -- and says sales there will match U.S. levels next year. (SF Chronicle)
Why did Governor Christie kill the ARC tunnel--and how did the Port Authority play into it? Steve Kornacki breaks it down on MSNBC, with TN's own Andrea Bernstein. Two words: Macy's basement.