TN MOVING STORIES: Transpo News Links from Around the Web
Thursday, January 23, 2014 - 08:00 AM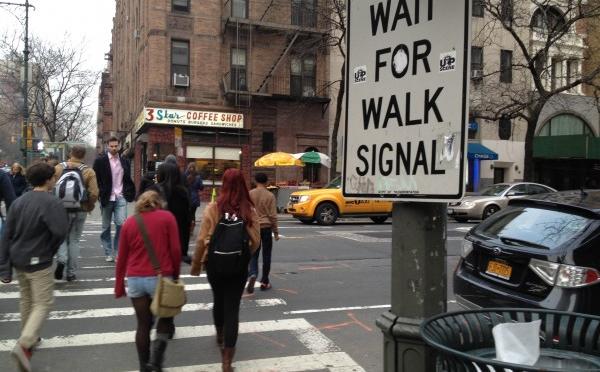 (Kate Hinds/WNYC)
TOP STORIES ON TN:
Bankruptcy of Bike Share Company Will Not Immediately Affect Systems in U.S. Cities (link)
So Why Are Meter Rules Always "In Effect"? Some Answers. (link)
THURSDAY LINKS:
The southern leg of the Keystone XL pipeline is now operational. (KUHF)
The cold weather cracked D.C. Metro rail this morning. (WaPo)
Chicago's red light traffic camera program was built on a $2 million bribery scheme--which may the company's M.O. in other states and cities. (Chicago Tribune)
And a 'secret audit' of Baltimore's speed cameras found they probably charged motorists for thousands more erroneous tickets than previously disclosed. (Baltimore Sun)
Grueling read: an emergency room doctor describes the typical injury pattern of pedestrians hit by cars. "First, the car bumper hits the pedestrian's pelvis and legs, shattering these bones...(then) the impact with the windshield causes traumatic brain injury...the driver at this point typically stomps on the brake, which throws the pedestrian to the ground at a great speed, causing a second set of brain, skull, neck and pelvic injuries." Point: Vision Zero is "a moral necessity." (NYDN)
Pedestrian safety and Vision Zero: front and center on today's Brian Lehrer Show. (WNYC)
Neither snow nor rain nor heat nor gloom of night will keep TN's headlines away from your inbox, if you sign up here.
Governance of the Port Authority of New York and New Jersey was originally "supposed to prevent local politicians from putting their friends in charge"--but Governor Christie "added a new passion, you might say, to have patronage appointees at the agency." (NPR)
Governor Jerry Brown wants California to lend the state's bullet train agency $29 million to keep the project moving. (LA Times)
Will NJ Transit's website be able to handle all Super Bowl traffic? (The Record)
The department policing Chicago's commuter rail is "antiquated," according to a blistering investigative report into the agency. "Early in the assessment it became very clear that the department was deficient in many areas, including weapons qualification." (Chicago Tribune)
The Twin Cities' newest rail line, the Central Corridor, will begin running on June 14. (Pioneer Press)
Texting while walking is bad for your posture and makes it less likely you'll walk in a straight line. (WSJ)
Kate Hinds covers transportation for WNYC News.