TN MOVING STORIES: Transpo News Links from Around the Web
Friday, January 03, 2014 - 08:06 AM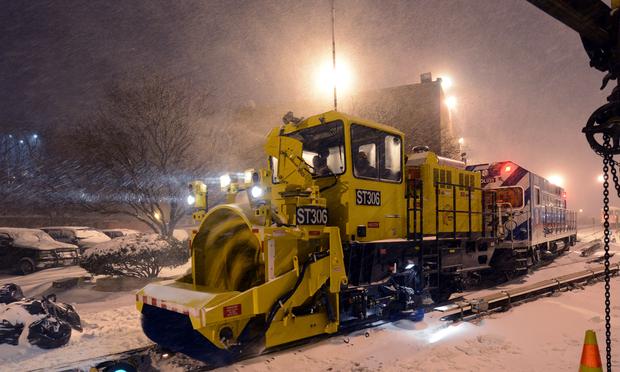 (Marc A. Hermann / MTA New York City Transit/flickr)
TOP STORIES ON TN:
Live in the NY area? Here's the latest on your snow commute. (Link)
Mayor de Blasio: Traffic Fatalities "A Huge Public Safety Problem" (link)
FRIDAY LINKS:
The big storm in the northeast has brought travel problems, but transit in NYC and Boston is running, albeit a little slower than usual. But airlines...not so much. (MBTA, MTA, NPR)
China's gridlock problem, in a nutshell: "There are too many people. Public transportation is far from sufficient to satisfy demand." (WSJ)
We just can't quit you, you conceptual 137-mile elevated London bikeway. (Wired)
Port Authority officials are bristling at the environmental review process to hoist the Bayonne Bridge. "We're not proposing to build a nuclear plant on a pristine mountain lake." (NYT)
Schoolbuses in Montgomery County, Maryland, are now equipped with cameras -- the better to issue tickets to cars who illegally pass them. (WJLA)
Houston's medical center area is getting a major pedestrian upgrade. (KUHF)
Photos: the lost subway stations of ... London. Check out the posters dating back to WWII. (BBC)
Kate Hinds covers transportation for WNYC News.