A Foot of Ice on the Hudson? It's a Good Time to Go Ice Yachting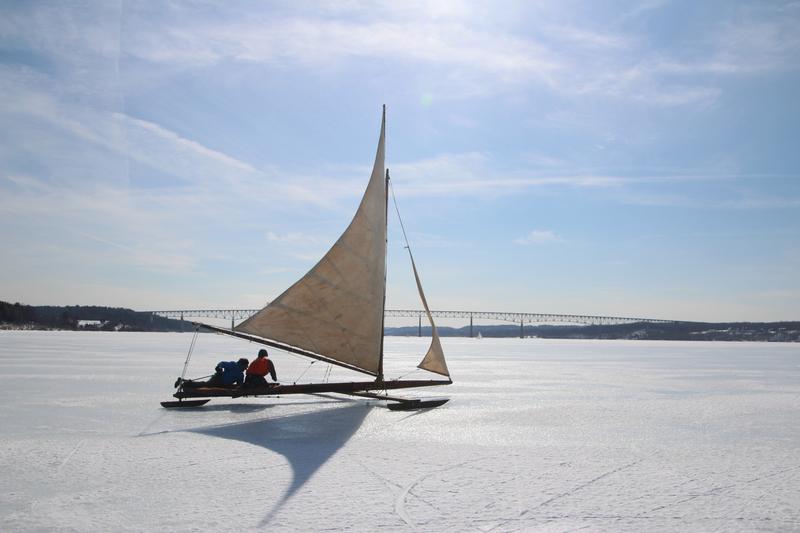 You might be ready for winter to end, but travel up the Hudson River and you'll find a hearty band of people who are loving this late freeze: Members of the Hudson River Ice Yacht Club.
An ice yacht is like a sailboat that has been crossed with an ice skate, built to glide over the ice at great speeds—as fast as 80 miles per hour.  
In the late 1800s, ice yacht races regularly drew huge crowds to the frozen Hudson River. The sport faded out as the 20th century rolled on, but the Hudson River Ice Yacht Club is still committed to restoring and sailing these antique wooden boats.
After several years with little or no sailing on the river, early March 2014 has brought the perfect conditions—a foot of smooth ice, extending for miles, from North Germantown to Rhinecliff. Ice like this hasn't been seen for a long, long time, and one recent afternoon, it drew a fleet of ice yachts to Astor Point, just north of the Kingston-Rhinecliff bridge.
The scene was festival-like, with hundreds of spectators, children, dogs, kites, even a motorcycle. The North Shrewsbury Ice Boat and Yacht Club from Red Bank New Jersey showed up with their own boats.  In all, there were nearly 30 yachts on the ice, from small one-man scooters to 50-foot-long boats.
Anyone who wanted a ride was given one, and for John Sperr, a member of the Hudson River Ice Yacht Club, that's what it's all about: enchanting the next generation of ice boaters.
So, if you want to become an ice yachtsman, or yachtswoman—or just want to go for a ride—stop wishing for an early spring and pay attention to the weather.  It's rare for this sport to last far into March, but if the polar vortex makes one more appearance, there could be sailing until April. 
For more information on ice yachting on the Hudson, including up-to-date conditions and sailing activity, visit John Sperr's website, www.hriyc.org
This piece grew out of Winters Past, a project by Isaac Kestenbaum and Josie Holtzman that uses audio to evoke how winters once were. www.winterspast.org
The Vixen, an antique ice yacht once owned by John A. Roosevelt.
The ice-yachting scene near Astor Point in early March.