Review: Three Great Shows, Back Off-Broadway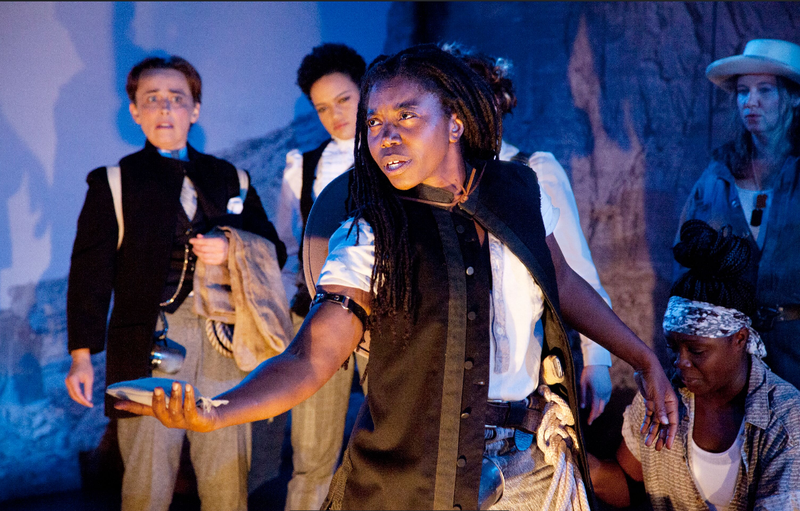 Once an Off-Broadway production has closed, it's usually gone forever. But three excellent productions — all from female playwrights — have been remounted this summer, thanks to popular demand.
Men on Boats (photo above)
By Jaclyn Backhaus, directed by Will Davis
From Clubbed Thumb, at Playwrights Horizons through Aug. 21.
This adventure story follows the real-life escapades of the John Wesley Powell expedition through the Grand Canyon after the Civil War. Except here, all 10 male characters are played by women. It's not a dig at masculinity, exactly, but a look at how masculinity is something that's performed, not something that's inborn. That sounds serious — and there are some serious aspects. But mostly, this is a delicious romp across the Southwest with contemporary bite.
By Bess Wohl, directed by Rachel Chavkin.
From Ars Nova, at Pershing Square Signature Center through Sept. 25.
Seven people gather at a silent meditation retreat in the woods. But this show is loudly expressive. The character communicate with each other through gesture and expression, showing us how words can fail to express what we really mean — and how they can get in the way of real friendship, love and community. This is a beautiful look at human frailty and one of the most moving shows I've seen this year.
Adapted by Kate Hamil, directed by Eric Tucker
From Bedlam, at the Gym at Judson through Nov. 20.
We don't think "madcap" when it comes to Jane Austen, but this is indeed a madcap take on the romantic trials of Elinor and Marianne Dashwood. The cast members double as crew, flinging tables across the stage, and pressing in close to hear private conversations. This is a society where gossip is all powerful, and Tucker's staging helps us feel its claustrophobia, as well as its small-minded daffiness.