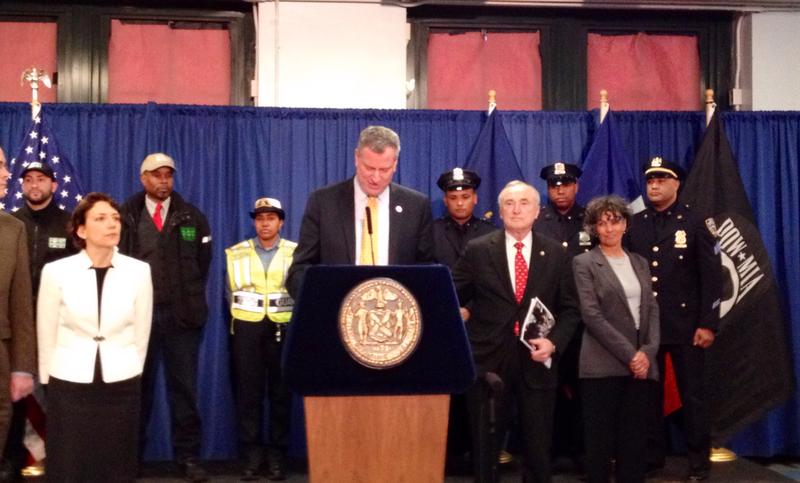 A week after Mayor Bill de Blasio released details of his 63-point plan to eliminate traffic deaths, a blitz of Vision Zero events are coming up.
On Sunday afternoon, parents, children, partners and siblings whose loved ones were killed or maimed by cars will gather in City Hall Park to urge rapid action on the Vision Zero plan. The newly-formed group, called Families for Safe Streets, wants each task force agency to announce specific targets for death and injury reduction.
Monday, those family members will be among the people testifying at the City Council's first hearing on Vision Zero, a joint hearing by the Transportation Committee and the Committee on Public Safety. Also scheduled to appear are representatives from the NYPD, the city's Department of Health, and the Taxi and Limousine Commission. 
The DOT will be represented by Commissioner Polly Trottenberg, who said Friday on WNYC that in addition to the infrastructure and policy changes of the Vision Zero proposal, the city needs to shift its culture of rushing.
"I can tell you, I think part of the culture change has to be, 'you know what, it's not worth getting to that meeting on time if we're going to speed and drive in an unsafe manner.' So we're all going to have to change our thinking," she said.
And Tuesday night, the Vision Zero focus continues with a town hall forum at John Jay College. The event is convened by State Senator Brad Hoylman, and is co-sponsored by a slew of other Manhattan elected officials.