SchoolBook
For Three Bronx Middle Schools, How Much Progress is Enough?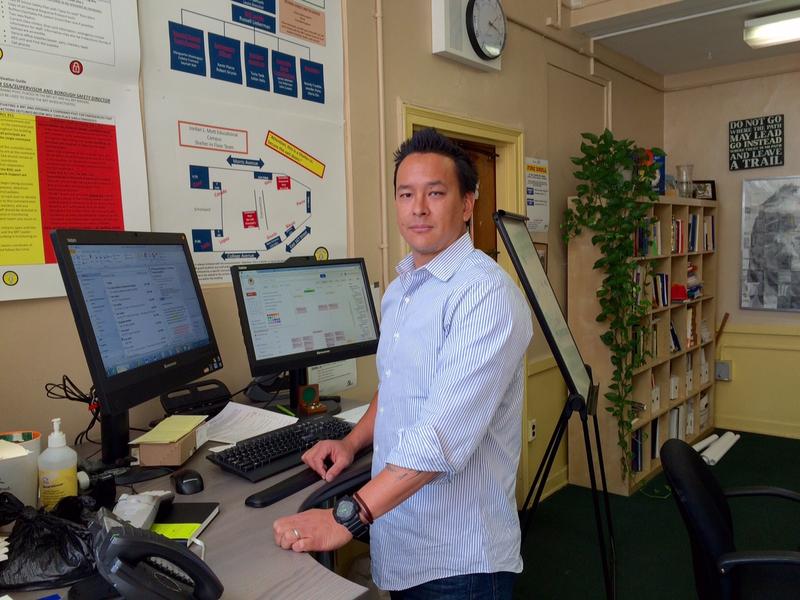 Just weeks before the start of a new school year, three schools in the South Bronx are still waiting to learn whether they made enough progress to avoid being taken over by a state-appointed receiver.

The schools are M.S. 22, which WNYC has been covering since last fall, as well as I.S. 117 and J.H.S. 162. They're on a list the state calls Persistently Struggling Schools. They are located in high poverty neighborhoods and serve a disproportionately high number of students with special needs and those who are still learning English.
In determining whether they've improved enough to get off its list, the state education department will consider more than the latest math and English test scores. It also looks at science tests, attendance, teacher ratings and other indicators. If the schools don't meet their benchmarks, they'll be taken out of the city's control. An independent state-appointed receiver can be an individual, a non-profit or another school district. Officials at the state education department declined to say when it would issue its decision.
Devora Kaye, a spokeswoman for the city's education department, said, "We have high expectations for continued growth and are proud of the steady gains we've seen." But she said there is "real urgency" to continue helping students achieve.
At M.S. 22, principal Edgar Lin said he's trying not to worry about what the state will do as he gears up for the fall.
"I can't control when those numbers are going to come out and when that report's going to be made," he said. "But I can control what I do today and what I do tomorrow."

This year, almost 10 percent of students at M.S. 22 were proficient in English. That's low, but it's double the percentage it was last year. The school made less progress in math, however, rising from a proficiency rate of almost 3 percent to 5.1 percent.
Lin acknowledged that's nothing to boast about, but he said he was "heartened" by those gains, especially when looking at his eighth graders. 
"Eighth grade killed it," he said, noting that almost 18 percent were proficient on the English test this year compared to less than 4 percent when they were seventh graders in 2015. He attributed their success to being paired with the same teachers they had in seventh grade.
The school focused intensely on vocabulary and reading, because most of its students entered sixth grade reading far below grade level. But Lin wasn't sure why his math scores didn't go up as much (a statewide phenomenon). He said the new common core standards require a different style of problem-solving that involves more reading, and said there was still room for his teachers to improve.
Educators also look at whether students are moving up on their tests, even if they aren't proficient. Last year, about two thirds of M.S. 22 students were at the lowest level in English and more than three quarters were at the lowest level in math. This year, those numbers declined to 65 percent in math and 50 percent in English.
Lin called that an encouraging sign. But he acknowledged some of the gains could have been due to removing the time limit on this year's tests. This has led to many questions about whether it's even fair for state and city officials to crow about progress this year.
At M.S. 22, Lin pointed to other encouraging signs. Student attendance this year climbed by about two points, to 92 percent. He credited the city's community schools program, in which M.S. 22 was partnered with the Sheltering Arms agency. It provided an additional social worker and two social work students.
M.S. 22 is also part of the city's renewal program, which extended the school day for an hour. Critics have noted that some renewal schools, especially high schools, are making very little progress and that their enrollment has declined.
But Lin said his enrollment is holding steady for September. He also said the renewal program has forced principals in District 9, which includes many low-performing schools, to talk to each other more than usual.
The other two persistently struggling schools in New York City made varying degrees of progress on this year's state English tests, but the percentage of proficient students declined slightly at I.S. 117 from 5.1 percent last year to 3.1 percent this year. Attempts by WNYC to reach their principals were not returned.