SchoolBook
Thousands Rally in Brooklyn for More Charter Schools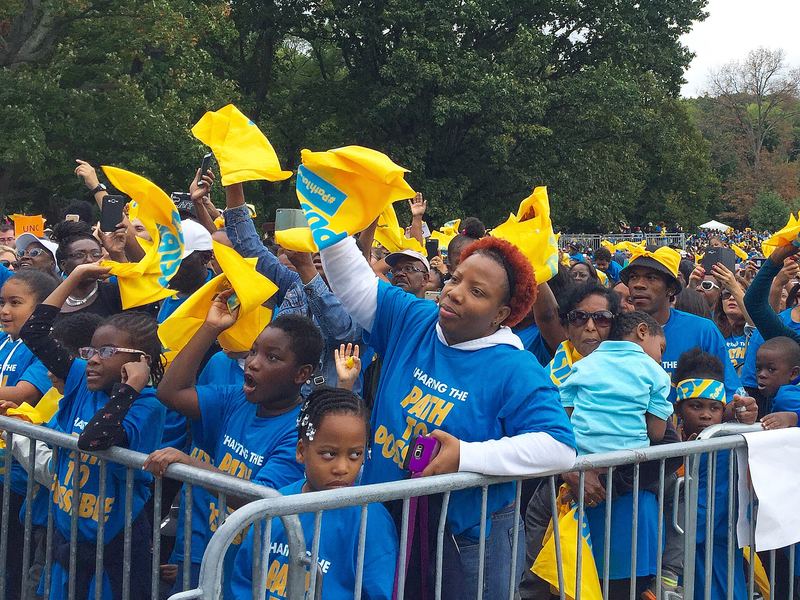 With charter schools now serving 10 percent of all New York City public school children, totaling 100,000 students, leaders of the movement and elected officials staged a rally Wednesday aimed at doubling their numbers by 2020.
The Brooklyn event, which featured a performance by the rapper Common, was held at Prospect Park. It drew thousands of parents, teachers and students who had taken the morning off from class. It was organized by the charter advocacy group Families for Excellent Schools, with the slogan #PathtoPossible.
"The same education rich kids have, middle class kids, we want poor kids and working class kids to have also," said Donna Guillaume, who has one daughter in a Success school.
The group F.E.S. is closely aligned with the Success Academy charter network headed by Eva Moskowitz, who's had a difficult year in the press. The New York Times ran a series of stories about disciplinary issues at her schools. She also lost a court battle with the city over funding for her pre-k program. There are no hot-button issues now facing the charter sector except its desire for continued expansion.
When asked if the city could accommodate 200,000 students in charters schools, Mayor Bill de Blasio told WNYC's Brian Lehrer that he will continue to work with charters to "learn how we can best serve our kids." But he said he was more focused on improving the city's regular district schools because they serve 90 percent of all public school kids.
"The much bigger question is how we fix our schools fundamentally," he explained, referring to initiatives such as pre-k for all. "We're going to work to get every kid to reading level by third grade – that's never been attempted in the history of New York City. That's not something that can be achieved through an increase in the number of charter schools. That's a systemic thing we have to do across all of our public schools — that's where our focus is."
Charter leaders claimed their rally had the support of 23 public officials, including two potential challengers to de Blasio: Brooklyn Congressman Hakeem Jeffries and Bronx Borough President Ruben Diaz, Jr. 
Families for Excellent Schools wouldn't say how much it spent on this year's rally. An event in Albany in 2015 cost over $700,000. But charter leader Moskowitz won a shout-out from Common, who sang, "I'm truly a believer, that's why I had to support my girl Eva."