Thompson Ends Bid for Mayor, Endorses de Blasio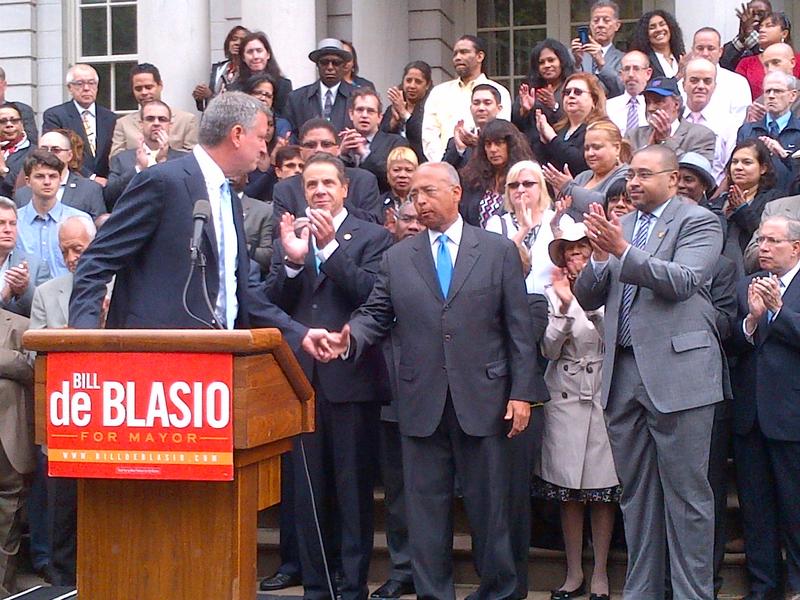 Former City Comptroller Bill Thompson has ended his bid for mayor and endorsed Bill de Blasio. At a unity rally on the steps of City Hall, where the two men were joined by Governor Andrew Cuomo, Thompson said it was important to return a true "progressive" to City Hall and that "the path to getting there depends on Bill de Blasio walking through those doors."
Thompson had said he wanted to wait for a canvass of voting machines.  But over the weekend, sources told WNYC, Thompson made his decision, even before a vote count had been announced. 
"We share the same values," Thompson said at the rally.  "That's bigger than either one of us.  The best way to improve schools and jobs is to come together."
De Blasio, who like Cuomo and Thompson sported a blue tie, said Monday "there is nothing more beautiful than Democratic unity," adding "I'm profoundly humbled to receive the support of Bill Thompson and his extraordinary coalition."  But then de Blasio immediately pivoted to his own theme of addressing inequality, referring to "the tale of two cities" he says New York has become under Bloomberg. 
De Blasio himself was upstaged by Gov. Andrew Cuomo, who delivered his own forceful stump-style speech.  The move was a not-so-subtle reminder of who runs the Democratic Party in New York. 
Before endorsing de Blasio, Thompson took several whacks at the Board of Elections.
"A week after the vote we don't know the outcome of the election," he said.  "It's a disgrace"
Republican mayoral hopeful Joe Lhota responded to Thompson's news by saying said he looked forward to running against de Blasio. "I think Bill de Blasio's change is radical. My change is practical. It's straightforward. It should be able to build upon what we've done, not tear down what has happened," he said.
In last Tuesday's primary, Public Advocate Bill de Blasio won 40.3 percent of the votes, with Thompson just edging past 25 percent.  But Thompson, who was the Democratic nominee four years ago, didn't concede, saying he wanted to wait for the official count. 
Speaking to reporters after the rally, Thompson acknowledged that it was hard to call off the campaign after so long on the trail. 
"I've been out there speaking to New Yorkers for months and months and months, and this is kind of the end of that," Thompson admitted.
"This was a very emotional thing for him," a source working on the de Blasio campaign said.  "We respect that. He spent a lot of his life dreaming about being mayor.  Sometimes these things just take time." Other sources said the historical resonance of African-American disenfranchisement strengthened Thompson's resolve to wait it out as ballots were counted.
But other than marching in the African-American Day parade in Harlem over the weekend, Thompson did not campaign after Tuesday's primary, and supporters began peeling away to de Blasio, who won wide support, including winning in 80 percent of African-American majority precincts.
Thompson's campaign chairwoman, Merryl Tisch, said on Wednesday that de Blasio's victory had been "decisive."  Several unions who had backed City Council Speaker Christine Quinn for mayor, including the influential 32BJ, which represents doormen and building maintenance workers, jumped immediately to de Blasio.  So did Assemblymember Karem Camara, who was close to some members of Thompson's brain trust. 
Other Thompson supporters, including Michael Mulgrew, the president of the United Federation of Teachers, and Congressman Charles Rangel, publicly encouraged Thompson to hold out.  
On Thursday, Thompson met with top supporters at UFT headquarters.  Afterwards, Mulgrew told reporters: "I'm glad everyone came together and said this is the path we all agree to follow and that's what we're going to do and I think we started with 'we want to see the results of the canvass.'"
Thompson has had a long career in politics, serving as a deputy Borough President in Brooklyn, president of the former Board of Education and City Comptroller before running against Mayor Michael Bloomberg in 2009. In that race, Thompson did unexpectedly well, prompting a round of derision from Thompson and his supporters who argued that if the media had taken Thompson more seriously then he would have been able to defeat Bloomberg.
Throughout this year's primary, Thompson argued the polls "were wrong" this time as well, and that he had a clear path to victory. Thompson backers also told WNYC this week that they never expected to get much more than 25% -- but that they expected Christine Quinn to do a lot better.  At the end of the day, Quinn's vote collapsed, contributing de Blasio's unexpected high vote count.
Even some top de Blasio supporters were surprised there wasn't a run-off.  "We need to be prepared to vote three times," actor Cynthia Nixon, a prominent de Blasio support said at a rally two days before the primary.
With additional reporting by Brigid Bergin