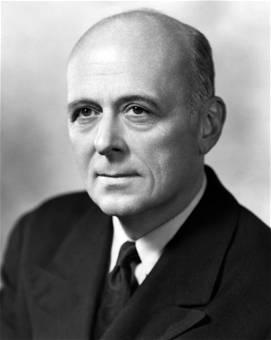 Summary
This episode is from the WNYC archives. It may contain language which is no longer politically or socially appropriate.
Jay Nelson Tuck moderates.

Guest is Thomas K. Finletter, Lawyer and Statesman.

Panelists include Jim Farrell, Ed Stover, and Geraldine Ferraro.

Questions.
Finletter does not believe that the US should pull out of the Formosa Straights. He is also asked about Eisenhower's reasoning for defending Formosa and the islands nearer China. This is a military move to protect the United States. Finletter does not believe that US national safety depends on the Camuy Islands as Eisenhower has said. He goes on to discuss the instability in the Middle East. He believes that the US should go before the UN to aid Israel. The discuss the handling of the Aswan Dam.

Finletter speaks in favor of the Democratic party.
Audio courtesy of the NYC Municipal Archives WNYC Collection
WNYC archives id: 72156
Municipal archives id: LT8245
Transcript
This is a machine-generated transcript. Text is unformatted and may contain errors.
Should the U.S. pull out of the Formosa Street one of the issues of an entire campaign will the current crisis all require more in much to erupt into a major war with communist China for the answers to these and other questions listen now to your city stations campus press conference in this discussion the editors of college newspaper as QUESTION A prominent personality in the news Jay Nelson talk well known newspaper man and critic is the moderator Good evening with all the money problems that concern us today certainly to our outstanding They are the great questions of war and peace of our relationship with the rest of the world and the Question of the place of liberalism in our politics our guest on campus press conference today is an expert on both payors Thomas case and latter lawyer author and I think most people would agree statesman Mr fan letter practices law here in New York he is a former secretary of the Air Force and a few weeks ago he was a leading candidate for the Democratic nomination for the United States Senate strongly supported by the Liberal Democrats and by the Liberal Party here today to question Mr fan letter of three college newspaper editors they are Jim Farrel at Starbucks and Gerry Ferraro all of the Fordham lexigram and John has the first question when was the ventilator a few days ago earlier this week Democratic senators Humphrey of Minnesota and Clark of Pennsylvania I don't get a policy of negotiation with Red China wherein we might possibly conceive of withdrawing from certain areas in the Formosa straight should the U.S. pull out of the Formosa story. No I don't think we should I think what we should do is this I think we should recognize that we have assumed the position in the Formosa Strait all by ourselves. With only the support of the Nationalist Chinese and this position is first to defend foremost on the adjacent islands secondly to taken to ourselves the right to decide the Eventually sovereignty of these islands now this we should not be doing around for various reasons in the first place is not right we have no particular right to do it and the second place it is extremely dangerous because it's raises the possibility that we may find selves alone but no major allies with only the Nationalist Chinese at war with the two great communist empires of Russia and China what we should do I believe is to turn over both these responsibilities to the United Nations this is not pulling out this is putting the job of defense and of decision that the sovereignty where these decisions are wrong Jerry it has been said that if the Chinese on the mainland are to take Mansome Kamil it will have to be by war as Newsweek put it in their latest edition quote few of America's allies believe that the nationals held offshore islands are worth fighting for what in your opinion is the reason for President Eisenhower stating that we descended all cost. If I remember President Eisenhower broadcast to the nation and which he explained this he put this on the grounds another terror a necessity and he said that it was necessary to defend those islands of the masses and came allies group which across into the Chinese mainland in order to prevent the Red Chinese from conquering from itself and he says for most a itself was indispensable and then the sensible part of the island chain in the Pacific which would include the Japan Formosa and the Philippines and that being since this chain of islands was this chain of islands was indispensable to the security of the United States itself that is the best that is what the way the president put it is I can best remember. This is a military question I'd be very glad to express my opinion on the merits of this is a military matter if you want. But I do not believe that the president could quite of intended said that the defense of these calls insure our islands. To protect they came I could be necessary for the defense of the United States itself I just don't think that that is kind of a what I meant I think that there are two kinds of Defense that real estate that we would engage in running is defense of the United States territory itself and there we plainly will fight if anybody touches and a part of our territory the other is the defense of other parts of the world and each of those has to be taken up on its own merits and I don't think that Kamal is from the military point of view. I think there are other reasons why Formosa in the surrounding islands should not be allowed to fall to a Chinese Communist aggression but not on the basis of military necessity. Said Mr Finn mother Madam chunk in a recent interview regarding the defense of Kemo in Matsue As a matter of principle do you agree with her view right up quite understand the principle you have suggested right that principle as. I understand it they have got to differentiate sharply between the Kamal isn't massive On the one property and foremost and the Pescadero the surrounding islands on the other there's never been any doubt about the fact as I understand it that came more as a matter that were part of the Mainland China whereas for most and the pesky Doris' are in a wholly different legal situation they are to be regarded as a unit and they were a part of the Japanese empire from eight hundred ninety five to the end the World War two and therefore are in a wholly different legal position. Well sir I believe when she mentioned the term principles she referred to the fact that the communist Chinese government on the mainland has never had actual control over these two islands and therefore she doesn't. Seem to believe that they have a valid claim to them at the present time. But no I I can't accept that there's any principle there at all in the masses and Kamal is are the only part of the Mainland China which was not recaptured during the civil war between the communist Chinese and the Nationalist Chinese I don't see exactly what this proves I don't see what the principle involved. Yes Jim in the matter of fact I think that a much stronger case for the defense of a mouse and the casket Ari and for the reason that I just gave because that that was part of Japan until that the signing of the peace treaty at the end of World War two. Jim so you believe that I might be defensive career the defense of the morning not to require the direct bombardment of the Chinese mainland due to the fact that the type of bombardment that the Chinese are now executing is directed from the mainland by sure guns and I think that's correct the technical military situation is quite quite different the question in Korea was whether or not defending troops of the United Nations would bomb over the yellow which is not only over the immediate point of attack but over the All itself which is an over the northern extremity Korea at the present time the artillery bombardment which is brought caving came on is directed from the mainland itself so any defense of Kamal is apt to add up in an attack on the mainland do you believe in any defense of what is likely to wind up by bringing rusher into a war tobacco with mutual defense treaty with Red China and I think it's very dangerous. Very possible that this might be the case and once more crew chef and his most recent letter to President has now said that there were red Russia would do exactly that would back up Red China. Mr Fenn later Kimora not so distracted us momentarily at least from the Middle East which boils up virtually What do you think our policy should be there. Well that's a tremendously broad question. And I'll try and however I'll try to answer it in and superficial from which is the only way I can answer that without taking to wrong and that is this I think our policy and the Near East ought to seek to establish conditions of law and order and of economic and social stability now those sound like pious phrases but they aren't that tall in the case of Iran No what I what I mean is there ought to be and then the do all the various types of actual aggression and threatened aggression for example is easy the basic one which has never been. Is a continuing threat to the peace and strength of actually making war by the United Arab Republic and other Arab states against Israel now here this is a continuing menace and in my opinion not until you get rid of that one are you going to be able to do establish any stability in the area and of course there are other threats as we know there's a constant barrage of propaganda inciting the violence from radio Cairo against fellow Arab governments and you can't you can't have anything approaching decent conditions and there yet where there's a constant threat of war and subversion and internal and external violence what do you think the single most effective thing the United States could do to help decrease that threat against Israel but I think the we have a great weapon here. Protons are a weapon that we have never used and that is the our ability to go before the United Nations General Assembly and in that forum to appeal to the world opinion for an end to something which the world regards as wrong the world really disapproves of all will or indirect or otherwise and of incitement to war and incitement to murder and I think we have never made our case properly before the United Nations General Assembly on this as to both these two at. Types of threat and aggression first against Israel and secondly by the United Arab Republic again for their fellow Arabs will do you think perhaps the reason for that is that we're afraid of offending Myans and losing time to allies against Russia and I don't know what the reasons for it is I think that I doubt a great. Desire not to offend the Arab states including particularly those where there are large oil deposits and then American interests and British interests in the oil and out of play that has been a powerful factor and are never going to strengthen policy but I would suggest that there's another reason too and that is a failure to realize the enormity tower that we have in appealing to realm of the pinion when we are right in our foreign policy and then to downplay of seeing to it at that we are right and jump to the green and secretary nominee is an issue to go if you usually do return on mounting on Mt The UN's one down was responsible for forcing awesome animal nutriment camp into the Soviet bloc now I think that's an oversimplification I think that they negotiate the sudden term a nation of the. Of the as one of them the go to geisha it was a question the question of Leon was but as I understand the situation the British as well as the American government had decided that for various reasons which may have been valid it was necessary for us to withdraw our support our commitment to provide the money to build the as one band I think where we made them the sake was and moving so fast and so suddenly and it's in a way as well as to make it amount to a public slap in the face of NASA I think but the. Follow up I'm assuming as a commercial go is it is suddenly nine hundred fifty and we had a Democratic secretary of state in office what was the first step be of this Democratic secretary of state with General Nasir in an effort to change things in the Middle East in our favorites and. Even world peace I think the one I was talking about a minute ago and that is still with have our case right to base our case on the family abroad and order. To be willing to do aid in the economic development of the area to try to do something provided you can get on our way to lead a family's decent conditions of living from the present miserable conditions that now exist at the front the whole case before the bar while the pagan in the United Nations General Assembly Gerry Ferraro and a former secretary of the Air Force need to send letters but do you consider the future of our military air force if that is the air arms of the Army and Navy as distinguished from the separate branch of the Air Force What do you think they're going would be in a national emergency since guided missiles seem to be able to do as much with atomic warheads extent or as a man plane I think a quick answer to that very difficult question would be that we are about to enter a say and what you or I have both the missiles and the manned aircraft they will both be an. Air Force for some time to come. Jim on US military points or do you believe in the science or reason point theory on the on three do you think that I'm controlling money and no one can tell the final result and not ration does not make sense that nobody would actually start now I very definitely do not believe in that I believe that that is a kind of thinking at the purpose which I realized or not it's already facing up to the issue which is that ban kind of deputy has to control these vital weapons of war of mankind if that survives. That leads to a question which is concerned we must find whatever whether there is any point in further armament on either side this is a big argument advanced by some of the British that now each side has the capacity to destroy the other and you can't be any better. A dud What's the sense of building any new weapons I have think that that's a fast on argument which. Fails to recognise the basic fundamental truth. Which is this that we are and I weapons race and wish the weapons of our offense on the weapons of defense both the racing and had a fantastic speed and it is quite possible to achieve a sudden technological breakthrough which for example would give the superior completes a very already for a while to the defense substantially complete but much more dangerous that we get a sudden breakthrough which would create a sudden overwhelming superiority in the Afghans. And then that case he who made that technological breakthrough that would be the Russians for example would have the other side which would be us and them I say sorry that we had them when we first discovered the timing of the right so I don't think we want to get the idea that it is just like doubling up more and more infantry divisions and this in a sense as the race for a superiority and qualitative at the say the kind of weapons rather than the number of weapons that kind of carry are. Still sir I would like to switch briefly to the political scene Mr Leo Egan of the New York Times explained your rejection for the senatorial nomination as quote a deliberate decision to limit the growing power of the parties and you can see how would you comment on that yes I would comment that's why. I recently accepted the chairmanship said it's in the pending citizens committee and for Harman. I would not have accepted that chairmanship if I did not believe that. What you call the egghead which I. Called a liberal is on the rise and the national interest must be on the rise and it is my purpose to do everything I can to try to increase t