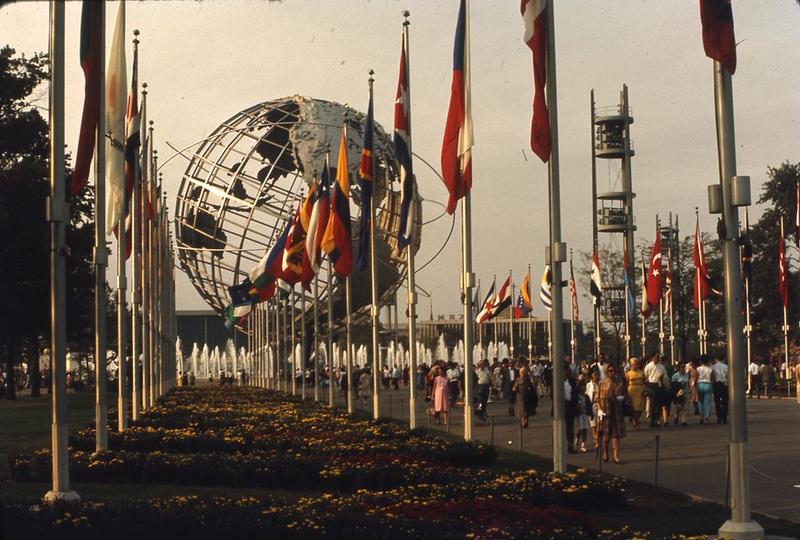 Summary
This episode is from the WNYC archives. It may contain language which is no longer politically or socially appropriate.
Jay Nelson Tuck moderates.
Guest is Thomas J. Deegan, Jr., Chairman and President of the New York City World's Fair Corporation. He discusses the proposed 1964 World's Fair.
Panelists include: Jack Parker, Stan Siegel, and Barbara Benmolche.
Questions:
Deegan explains why New York is especially suited for the World's Fair - as opposed to the other US cities that have filed (Washington D.C. and Los Angeles). Deegan explains that thirty businessmen have joined together, using their own resources, to promote New York City as the location for the World's Fair. No City money will be used. Federal money already earmarked for roads will be used to build out the area around Flushing Meadows. Deegan describes the role of the president in filing a World's Fair proposal with the international World's Fair committee.
Small businessmen also have opportunities to help by emphasizing that the site is already ready - and that New York can accommodateb huge crowds.

Audio courtesy of the NYC Municipal Archives WNYC Collection
WNYC archives id: 72076
Municipal archives id: LT8861
Transcript
This is a machine-generated transcript. Text is unformatted and may contain errors.
Thank you well no York City be the next host for the World's Fair What kind of the world who will pay for the fare for the answers to these and other questions listen now to campus press conference every Sunday at this time editors of college newspapers question a newsworthy personality our moderator on campus press conference the noted newspaper man and editor Jay Nelson talk now to introduce the panel and today's guest here is Mr Tuck Good evening. If many of our leading business men have their way in one thousand nine hundred sixty four New York will once again be the scene of a respondent whirls fat as planned stand now the fat will rise in Flushing Meadow Park on the same site West at the fair of one nine hundred thirty nine and one nine hundred forty once again the nations of the world and their leading businesses will be invited to show their finest Where's if the fair is held as planned our guest tonight probably will be more responsible for it than any other one man he is Thomas J. Dagon Jr chairman and president of the New York World's Fair cooperation who has been the project most active promoter Mr Begin as a public relations man by profession for many years he handled the public relations of the late Robert our young the railroad tycoon and he was formally a vice president of the New York Central Railroad Now Mr day going to head his own firm of Public Relations Council here tonight to question Mr Deacon our Barbara Ben Moshe the Hunter College R.-O. Stanford a girl of the N.Y.U. square Journal and Jack Parker of the Fordham student bar association Jack would you lead off. Mr Dagonet present time there are three cities vying for the honor of hosting the next World's Fair or do you think New York will achieve the honor of having it here I have every confidence Jack that New York will be the same of the nine hundred sixty four fair what we do believe that they're well New York compared to the other two cities who have filed. Applications for a fair Los Angeles and Washington D.C.. Obviously has the abundance of facilities to accommodate what may very well be forty or fifty million persons in a period of six or seven months Barbara Well perhaps on listeners would like to know how one goes about getting the world to be how. A particular city and how you get it so that it's not conflicting when you sign on the city you might like to have the World's Fair at the same time good question Bob or there's a bureau in Paris it's called the Bureau of expositions and it's nothing more than a clearing house and it serves a useful purpose there are twenty two nation members of that euro the United States not being one of them nor was it in one nine hundred thirty nine when I last for I was held here applications are filed by cities all over the world who may be desirous of having a fair and the merits of these applications which are filed by the laymen the civilians the business people who are interested. Are then evaluated after the heads of government of those countries where they are seeking applications for it. Have through diplomatic channels advised the bureau that affair is desired in their country. Stan Mr Duke and what sort of facilities are presently necessary in New York in order to have a World's Fair on nine hundred sixty four stand we start right off with the. Fundamental question where is it going to be and New York the day after Mayor Wagner announced this which was about five or six weeks ago. The very next day commissioner was is. Offered Flushing Meadow Park which was the side of the last World's Fair and is now a going concern with all the utilities involved in view in view of the growth in population and the growth of the use of roads in New York and do you think that additional transportation facilities might have to be provided for that so I. Can see the plan in commissioner mousers announcement at that time he pointed out some feeder roads which would have to be constructed. To. Form an inverse an address to the roads which now are directly feeding into Flushing Meadow Park and just let me add a thought there in the thirty nine forty New York fair they vehicular transportation was excellent well in what is now twenty years and will be twenty five years when the fare takes place the transportation by car hasn't improved infinitely over one hundred thirty nine year throughways Connecticut New York freeways feed into the Whitestone your Long Island Expressway has been developed since then and many additional methods of getting to a fair by car. Barbara well to this point. Having to make new rounds cost the taxpayers money and if so which I assume I want since I came on the roads will be used afterwards how will the fare coming to New York help the small person I don't mean big business but I mean everybody who has to pay taxes and well first of all let me make it clear that so far as the city of New York is concerned it will cost the city of New York and its taxpayers zero they said in New York is pledged only to contribute the site Flushing Meadow Park the additional feeder road that I just referred to in which Commissioner losers' announced when he offered a special middle part already most of them were programmed whether there would be a fair or not just for the development of the city and the area surrounding the city they figure on new roads which will be federal appropriation which I suppose trickles down in turn to taxpayers in the city of New York will be roughly twelve million dollars but it's a federal appropriation and not a city of New York nor a state of New York Jack a long line of finances Mr Dagon How will our project of this magnitude be financed whether the financing will be done just as it was done in one hundred thirty nine thousand nine hundred forty and as it is done in most worlds failures by the floating of a bond issue by the. World's Fair Corp the bond issue will be sold to the interests who'll be exhibiting at the fair. They will be sold to the business interests in New York City in Greater New York who stand to benefit from the influx of many millions of new people with purchasing power and that is where they will get their their real returning hotels restaurants. Amusement centers taxi cabs in the way. And. I'm sure there will be some attractive girl. In other words then isn't as you get the approval and that New York has been selected as a site for the next World's Fair you will be able to proceed with these puns Jack the answer is yes but timing wise. We require a neighboring legislation by the New York state legislature which can convenes the first business day of January nine hundred sixty and they have to approve a charter for the corporation which which permits them to float bonds for such a purpose now where since Governor Rockefeller has publicly and validly expresses enthusiasm the two leaders of the legislature sent of the Mahoney in the Senate and Assemblyman Carlino the speaker of the Assembly we have little doubt that a breeze through probably in the first week on this point must begin of the bonds are seldom repaid in full it's not generally the past experience that has been the experience in something as now for example last year the Brussels player made money they made money over all expenses and paid. A return on the bonds to the investor so I can't quote the for you but they came out in the black the New York Fair and thirty nine and forty did not pay out the full value of the investors. Money in bonds they paid out thirty cents on the dollar. I want to make a point here however when we are ready through our finance committee of leading bankers in New York to float the bond issue we intend to make it crystal clear that investors in World's Fair Barron's don't buy them with the intent of making a profit on them hopefully they will break even on them but they buy them and I describe the type of people who will be buying them. To help something as a business builder for their own visibility their own stimulates your naturally we hope to come out in in the black through certain efficiencies learning from the experience of the past it's time for us to do you can use park of the World's Fair corporations what is the nature of this corporation who charted who are stockholders and directors and so on more proposed Yes well. The genesis. Very quickly is that this all started with Mayor Wagner who. Last March. Talked to me. And indicated a great interest in having a World's there in New York in one nine hundred sixty four because among other reasons New York observes three hundred ten a very sweet that year. He asked me if I would sound out big business interest and financial interest which I did with about. Thirty men who were the bellwethers the key men they were greatly influenced about the idea that I reported this to him and he said Well now what would you think of bringing them all together and have them express themselves in each other's presence. And I agreed to do this but I said at that point that I thought the city should now be represented I have been doing this just as an individual and he had Charles prosody the city administrator attend this meeting and we had the thirty man attend we had one hundred percent attendance The meeting lasted one hour and I laid out the plan to them again and it was like a room full of extroverts they knew they were all on the ready they were all set to go we then. Incorporated into a New York State nonprofit membership corporation these thirty men and an additional fifty business leaders broadening our base the first thirty men formed the first board of directors they are the directors now the board of directors undoubtedly will be expanded. With reasonable proportions or to reasonable proportions. These men meet as a board twice a month. Presently we have no funds everything is being spent is being spent out of our own pockets telegrams telephone calls we using the facilities of our own offices to do this and no one is receiving any remuneration our expenses when the fair is funded we will be in a position to hire the necessary original personnel. To hire a managing director if you will or whatever title is decided of harm to give him who is a professional fair male who's done this in other countries and perhaps in this country we don't know who this man is at the at the moment this man then will develop his staff and will progress Accordingly the board will set the policy and the concept of what the fair should be. BARBARA Well I was wondering how will the fair help the ordinary New Yorker and women only inconvenience him by crowding his transportation and his They're all fast Well the ordinary New Yorker will benefit in these waves from the practical side unrelated to his even going to the fair. He works in one way or another for a commercial interest in New York and when you bring. New purchasing power in such value coming from perhaps forty or fifty million new people coming to the city. The business he works for can only benefit and in benefiting logically he as an employee or officer or owner of a business can't help but get some of the scale of that new purchasing power of John. Mr Dagonet to get back to actually getting the fare and into New York City you said before that the president would have to file with the bureau elect of exposition has this been done yet no it has not been has not been done jack Mayor Wagner wrote to the president officially asking him to indicate to the bureau that New York among other cities. Is interested and prepared to have a fair Governor Rockefeller did the same thing. This therefore became two official requests Senator Keating and Senator Javits also did the same thing from their past years in the federal government. All of the letters had been acknowledged by the president with the comment that the matter was going to be given serious consideration and they would be advised accordingly. Perhaps that's just a formal type of reply and simply an acknowledgement and I'm not suggesting that it's anything more than an acknowledgment but we have. At least a hope if not the reason to believe that the president will so far out and it does not preclude his doing the same thing for Washington or Los Angeles or snowshoe Minnesota and it in fact helps the president because it takes the burden of selection off him. How soon must this filing take place by the president well that the timing is getting important now this bureau meets twice a year May and November at the November meeting this year next month they will decide what city what country and in turn What city is going to get the fair. Therefore it is important that the president. Do this as promptly as possible. Project is there anything that small businessmen who are interested in getting this fare to New York City can do to achieve this yes I think that small businessmen just as citizens of this city and knowing its facilities and knowing the opportunities that it would provide for them as citizens and businessmen in New York could address themselves to the president. And emphasize the fact that we have the site ready. We have the business and big financial interests which is a very important point. Deeply interested and that we have the facilities and that's the key to it all that we New York can accommodate huge crowds but this connection has to do you can use this November meeting would decide what country gets the foreign competitors for sixty four I can answer that Mr Tuck I don't know the only ones I do know. From direct personal observation is that two of my city was in addition to ourselves have fun but you don't know whether Ecuador or Ghana is in there but you know so I don't know Stan first to do you can you mention Flushing Meadow Park as the proposed site of a nine hundred sixty four World's Fair What do you propose new stadium for the continental league. Get in the way of the World's Fair being in Flushing Meadow Park Stan I'm delighted you asked the question because Bill Sherrie who's chairman the mayor's committee on bringing the ball club to New York and who with Commissioner mouses has examined the parking area out at Flushing Meadow Park is one of my close associates and we went out there together with Commissioner Moses and the mayor and if you can just visualize for a moment the parking area which is now owned by the city. And it's a huge parking area. Would be the side of the stadium with with parking around it and then the elevated line and the Long Island Railroad come in between and all of the remainder is Flushing Meadow Park the old New York fair and that would be where the ferries so if anything they'll share a in the mayor's commission immersing myself felt that one would feed the other. You might go to a ballgame the afternoon and spend the evening at the fair or if it were a night game you go to the fair in the daytime and go