Third Party Palooza: Presidential Candidates Jill Stein and Gary Johnson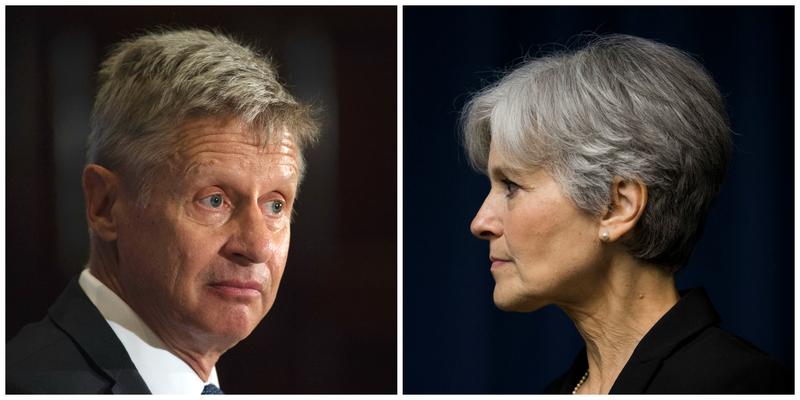 Polls indicate that nearly twenty percent of Americans don't support either major party candidate. That leaves those voters with two main options: Jill Stein, the self-described "Bernie Sanders on steroids" running as the Green Party candidate, and Gary Johnson, the former New Mexico governor who's running as a Libertarian.
Here are the top 3 takeaways from our interviews with each candidate:
On healthcare: Stein calls Obamacare a failure in comparison to her proposed "Medicare for all."
On international relations:

 Stein proposes a policy that would withhold aid from countries that are actively committing human rights violations, naming Israel, Saudi Arabia and Egypt as culprits.

In a response to a question about reparations from Erica Garner, daughter of Eric Garner, Stein says she supports a congressional bill that would fund a study on how to implement reparations.
Hear Jill Stein's full interview below.
Full disclosure: Stein had spotty reception on her phone for the first 5 minutes of the interview, so feel free to skip ahead.
On economics: Johnson dismisses wealth redistribution and supports the removal of many government regulations which he believes subsidize corporations and "crony capitalism." 
On international relations: Johnson is skeptical about intervention, stressing that any plan to deal with ISIS would emphasize transparency.
On civil liberties: Johnson says that he supports religious freedom, but is opposed to discrimination against people because of identities such as sexual orientation, even when justified by religious doctrine.
Listen to Johnson's full interview below.