Think Private Homes Are Safe to List on Airbnb? Think Again.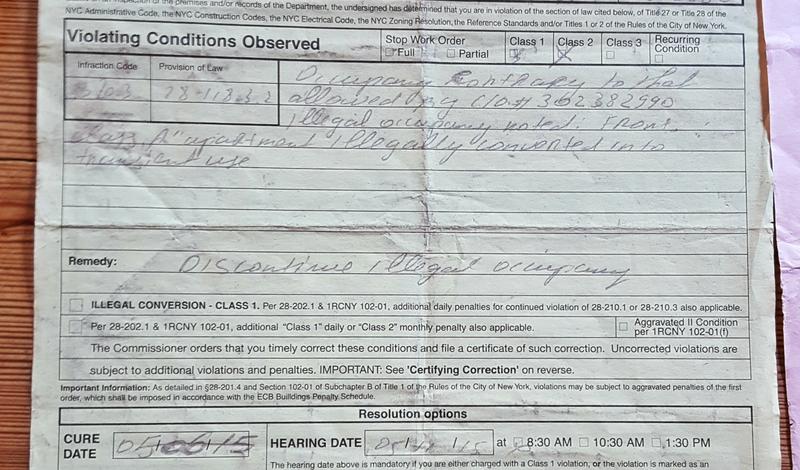 In New York City, it's illegal in many cases to rent out your apartment to travelers. Yet one group of dwellings is widely believed to be exempt from enforcement: one- and two-family homes. WNYC has learned that belief is mistaken: New York City has quietly been invoking decades-old codes to fine private homeowners who use home-sharing services like Airbnb.
Geoffrey Freeman is one those people who was fined. He owns an 1860s carriage house in Clinton Hill, Brooklyn. When Freeman's tenants asked to list the building on Airbnb, he didn't say yes right away.
"I did a lot of research. I did research on state law 225, on local law 45.... Everywhere I looked and every law I looked at said it was legal for one- and two-family homes to rent, short-term," Freeman recalled.
Conventional wisdom says he's right. On the Leonard Lopate Show in 2014, State Senator Liz Krueger, a well-known critic of Airbnb said, "If they own a single- or double-family home it is not illegal."
In a 2015 City Council Hearing, Councilman Jumaane Williams asked Alex Crohn, General Counsel for the Mayor's Office of Criminal Justice, how many violations have been issued to one- and two-family homeowners.
Crohn responded somewhat incredulously: "I mean, I think, as the Council Member noted, the one- and two-families are exempt from the multiple dwelling law, so those violations should not be issued."
So Freeman told his tenants they had his blessing to put the carriage house on Airbnb. And they did.
But within a few months, Freeman received two violations and fines of thousands of dollars. The conventional wisdom appeared to be wrong.
So what happened?
"The city has made it very clear that if you are using the building contrary to your certificate of occupancy, you're subject to receiving a violation," said Christian Klossner, executive director of the Mayor's Office of Special Enforcement.
Klossner's view is that tourists do not belong in one- and two-family homes. He said inspectors have often found unsafe conditions, like a one-family home on Staten Island that was divided up into eight rooms, each with its own individual online listing.
"These present significant safety risks to both the guests and the neighbors. And we take appropriate action," Klossner said, adding that city inspectors have issued 90 violations for private homes since 2014.
Klossner acknowledged that many homeowners may not know that they are at risk.
Yet the legal basis for the fines is not nearly as clear as the 2010 update to the Multiple Dwelling Law, which explicitly forbids short term rentals in apartment buildings, when the main occupant is not present.
Instead, the city relies on its own codes to issue fines:
The relevant certificate of occupancy for the building in question.
The 2014 building code which defines rooming houses as "residential  buildings  or  spaces  occupied,  as  a  rule,  transiently,  for  a  period  less  than  one  month"
Several attorneys told WNYC that Environmental Control Board judges have upheld the city's reasoning.
Geoffrey Freeman is still fighting his fines. "I don't understand the argument they've made and I've looked at this from every which angle," Freeman said.
Most Airbnb hosts are not like Geoffrey Freeman. They live in apartment buildings, and they know the legal risks — or they ought to.
But if you have a Park Slope brownstone or an Astoria row house, and you've heard it's all right to rent out your home to tourists, consider yourself warned. You too could get a knock on the door from an inspector, followed by an expensive ticket.
Update: An earlier version of this story linked to the 1968 building code as part of the city's basis for enforcement. It is not relevant in every case.