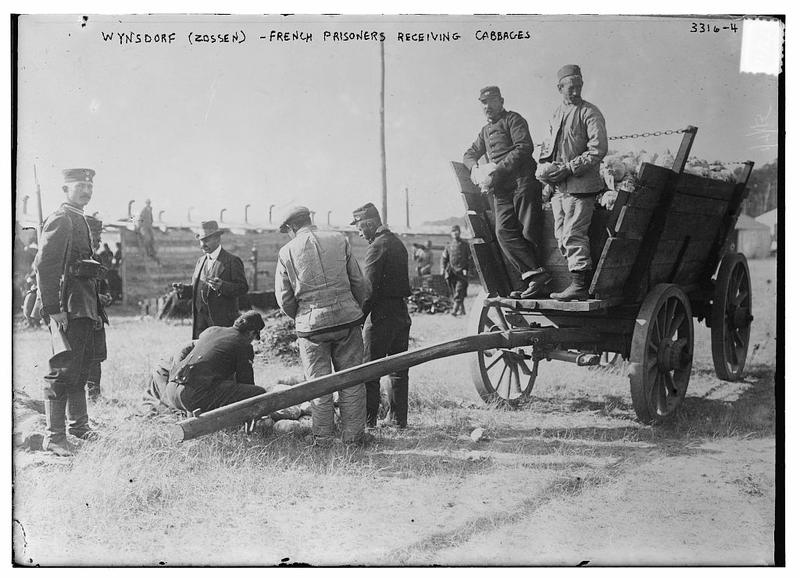 Summary
This episode is from the WNYC archives. It may contain language which is no longer politically or socially appropriate.
"Yes, we soon learned to separate the real truth from the propaganda," says the character Robert, narrating his life as a French prisoner of war in a German camp.

The statement is somewhat ironic, given that the radio drama itself was a weekly program produced by the U.S. government to help Americans to "understand the character of the enemy we are fighting."

The play is structured as the memoir of Robert Gerland, though it is narrated by a man with an American accent. All of the French prisoners sound American, in fact, in contrast with the thick German accent adopted by the somewhat amusingly named Corporal Gefeiterhinteruber.

Robert speaks about the conditions of the camp—the harsh hours, the starvation rations, the cramped quarters. Much of the play, though, is devoted to reenactments of various German breaches of international law.

The Germans also fail to release the prisoners, despite an armistice signed with France. Corporal Gefeiterhinteruber assigns many men (sick with rheumatism or members of medical terms) to forced labor, despite international mandates to the contrary, and trick non-commissioned officers into doing the same by threatening them with worse assignments later on, or making their camp lives miserable with fatigue tasks.

"But the non-coms held on," says Robert, as the music swells, "Rather than help strengthen the German war machine, they would go on digging useless holes forever."

The men are forced to parse German radio broadcasts—the propaganda mentioned earlier—for news. Eventually, however, they are released, since they are too starved, maimed, or sick to be of any use to the Germans. The play enters with their triumphant return to France, where they are greeted by the Marseillaise.

Audio courtesy of the NYC Municipal Archives WNYC Collection
WNYC archives id: 69642
Municipal archives id: LT778
Transcript
ANNOUNCER: The United States government presents: This is Our Enemy!
Tonight the UN go forward with the determination to win this war and bring about a just and enduring peace. But we cannot win our war, or make our peace, unless we understand the character of the enemy we are fighting. That is why your government is bringing these programs to you. Later, we shall hear "Behind the Enemy Lines," a special war report by Matthew Gordon. Tonight, a dramatization of "They Who Wait," by Robert Gerland. A story of French prisoners of war in Germany.
(music… swelling)
NAZI: Alright, everybody off the train. Come on. Get moving. Line up on the platform, by fives! Columns by fives. Order! March. One two three four.
(music)
ROBERT : Dogs. Bayonets. A road that never ends. A heavy rain pours steadily down. The ground is soaked and turns into bottomless mud beneath our feet. A huge gate before us. Barbed wire and entanglements.
We stand before a huge signboard, brilliantly lighted. Carved in the wood we see the figures of French soldiers, brilliantly lighted. They are disarmed, in rags. The caption beneath the signboard reads, "Nach Berlin." To Berlin. For the first, we become fully conscious of our situation. We are prisoners of war. More than prisoners. Symbols of defeat.
(music)
ROBERT: I am Robert Gerland, a French soldier. I was held prisoner of war by the Nazis. This is my story.
Our camp is somewhere in Germany. Our barracks is a room 200 feet long and 30 wide. From top to bottom and end to end, it is filled with a curious maze of scaffoldings. Three platforms, one on top of the other. Each of these platforms is a bed for 4 men. 416 men will live in this barrack for years.
(trumpet)
To begin our new life as French prisoners of war in Germany, we get up at six o'clock. 400 men gather around a single water spigot, for the privilege of washing without soap and brushing teeth without toothbrushes. At 7 o'clock, the daily bread ration.
ALEX: What is this stuff?
ROBERT: It's bread, my friend.
ALEX: It feels like a lump of clay. Well, is it edible, do you think?
ROBERT: If it isn't, we're going to starve. We'll get nothing else until tomorrow.
ALEX: Nothing at all?
ROBERT: Nothing at all.
ALEX: I don't think I can get this stuff down.
ROBERT: You'll learn to, Alex. So will we all.
(music swells)
ROBERT: Yes, we got it down alright. In fact, before the first food parcels from France arrived months later, our last thought before sleeping and our first thoughts on waking were of this daily bread ration. Soon after our arrival in our prison camp somewhere in Germany, we met our new master, Herr Gefeiterhinterhuber, a Bavarian corporal.
CORPORAL GEFEITERHINTERHUBER: Now listen to me! All of you. You're French prisoners of war. That means that you are defeated soldiers under my charge. And I don't mean to let you give me any trouble. Discipline will be strict, and you must learn the rules. It is forbidden to leave the barrack buildings between 12-6 and 2-8. It is forbidden to go to bed, except between 6 in the evening and 6 in the morning. It is forbidden to be sick without a certificate from the camp doctor. It is forbidden to smuggle letters out of the camp. It is forbidden to read newspapers other than those issued by the camp. This will be easy for you if you observe the rules. Remember, you're in a prisoner's camp, and not a hospital. If the regime doesn't appeal to you, it's too late to complain about it. You should have thought about it before you declared war on Germany. Dismissed.
(music)
ROBERT: Those first few weeks were terrifying. Hunger plagued us from dawn to dusk and would often keep us from sleeping at night. We spent our days in the cramped barrack quarters. We were forbidden to lie down. We talked of food. And freedom. And France.
When the armistice was signed between Germany and France, hope flared up amongst us. According to the armistice, we were to be set free, or so we thought. Some of us brought the matter up before the German guards.
ROBERT: We'll be going home soon, eh, Mueller?
ALEX: Well, according to the terms of the armistice, we'll be released immediately, eh, Mueller?
MUELLER: I don't think you'll be released just yet.
ROBERT: Why not? We're prisoners of war, and the war is over for us!
MUELLER: Yes, but the terms of war say that you'll only be released after the peace. That's what they say. After the peace.
ALEX: What peace, Mueller? Do they mean the end of whole war.
MUELLER: Yes, perhaps.
ALEX: But-you can't keep us here! It's a violation of the international law.
MUELLER: Oh is it now? (chuckles?) I wouldn't know about that. But it's not our fault. It's the fault of the English.
ROBERT: What do you mean, the English?
MUELLER: As long as they are so stubborn, so stupid as to fight the war that can only end with their complete destruction, there can be none of the peace our Fuehrer speaks of.
ALEX: Go on. You don't expect us to believe that, do you? It's true, you can't keep us forever-
MUELLER: Oh, it might not be so long as you think.
ROBERT: Might be longer than you think.
MUELLER: You French! You really think the English can hold out? Why, the Luftwaffe can reduce England to a rubbish heap. But there is a point about France. Perhaps is France behaves herself now she has been subdued, if there is no sabotage, or helping the enemies of Germany, the Fuehrer might wink at the terms of the armistice. As a favor he might liberate prisoners according to their race.
(music)
ROBERT: Yes, a moment of mass hysteria ran through the camp. A few of us rushed to the fence, cheering every stroke of lightning. Wanting to believe, even though we knew in our hearts it was false, that we were watching the dropping of bombs on a German village. But after the Germans installed their radio in the camp, we heard German news reports at 6:30 every evening. They were broadacst in French, and naturally gave the Nazi propaganda line. But the result of this mass broadcasting was altogether different from what the Germans expected.
ANNOUNCER: The English, misguided by this man Churchill, who is responsible, more than anyone else, for the continuation of the war, still think they can resist the overpowering might of Germany. They will soon know differently. That concludes our news broadcast for tonight.
ROBERT: Did you hear that? They're not in England yet!
ALEX: All his attacks against Churchill and BBC reports give the game away! Did you hear what they said about the arrest of saboteurs in France? That means they're not having things their own way.
ROBERT: And when they say the RF, they're not making minor damage over Germany. That means there must be air raids all the time!
ALEX: Oh, thank god. The British are standing firm.
ROBERT: Now at least we know what's going on.
ROBERT: Yes, we soon learned to separate the real truth from the propaganda. The Germans themselves gave us the key. These broadcasts also went to the people of occupied France, and by hearing of resistance to the enemy, we took new heart. In Germany today, there are over a million and a half French prisoners of war. Of this number, at least 80% are scattered across the country, working along fortifications and railroad tracks, and in factories. According to international agreement, there are numerous classes of prisoners that should be exempt from forced labor. They were the sick, the non-commissioned officers, the medical corps, and foreign volunteers. But the Nazis soon found ways to get as much labor from the camp as they possibly could.
CORPORAL GEFEITERHINTERHUBER: Name?
MAN: Demoulez.
CORPORAL GEFEITERHINTERHUBER: Why don't you want to go on the work party?
MAN: I'm an ambulance driver.
CORPORAL GEFEITERHINTERHUBER: Of the medical section?
MAN: I was attached to an infantry regiment —
CORPORAL GEFEITERHINTERHUBER: You were a private, weren't you?
MAN: That's right.
CORPORAL GEFEITERHINTERHUBER: So you weren't with a medical section, but with an infantry regiment. Well then, if you were only a private and not attached to the medical section, you had no right to be doing medical work.
MAN: But corporal, I was assigned to the medical—
CORPORAL GEFEITERHINTERHUBER: Didn't you hear what I said? You leave in the morning. Get out. Next. Name?
MAN 2: Arman. I'm sick, corporal. The doctor vouched for me.
CORPORAL GEFEITERHINTERHUBER: The doctor vouched for you… Barrack commander! Let me see the sick list. Hmm… here we are. Arman. Rheumatism. Rheumatism! What kind of a complaint is that? What do you think this is, the old ladies' home?
MAN 2: But everybody knows I have several rheumatism! Sometimes, I can hardly move.
CORPORAL GEFEITERHINTERHUBER: Well, we'll see if we can't cure you. You're fit for work. Just malingering, that's all! You're no sicker tha I am, report tomorrow. Next!
MAN 3: Morrow. Sergeant Morrow.
CORPORAL GEFEITERHINTERHUBER: Sergeant! Who says you're a sergeant? Show me your service certificate.
MAN 3: It was taken from me when we were rounded up.
CORPORAL GEFEITERHINTERHUBER: You expect me believe that.
MAN 3: It's true. You went through all our personal things. I asked to have my certificate returned to me.
CORPORAL GEFEITERHINTERHUBER: Ah, that's a lot of nonsense. Let me see your sleeve!
MAN 3: There, you see? Sergeant stripes.
CORPORAL GEFEITERHINTERHUBER: You lie! You found those stripes. You stitched them on yourself, huh? I can see by the stitching. Fit for work. Report tomorrow.
(music)
ROBERT: With those non-commissioned officers whose papers were in order, they had a different technique.
CORPORAL GEFEITERHINTERHUBER: You are non-commissioned officers. At present, you can't be compelled to work, for the Germans respect international conventions. But one of these days, France will be a signing a document to void all privileges for non-coms. When that happens, you'll be sent to work in the Ruhr mines. It won't be nice there. Dirt. Floods. Constant bombings. You'll do better to volunteer to work in this country.
ROBERT: Out of some 150 non-commissioned officers in that group, they got 80. But soon, stories about the conditions in forced labour parties got back to camp.
ALEX: They're constructing an army camp in East Germany. They work fourteen hours a day. The temperature often goes down to thirty below. They jam 800 frenchmen into a few tiny huts. You know what I heard from a doctor? There's a laborer's camp up north right next to a soldier's camp. All day and night, artillery maneuvers are going on. Real shells fly over the prisoner's huts. Sometimes, they land in the camp.
ROBERT: To counteract the effect of these stories on the non-coms, the Germans decided to make things so miserable for them that they'd prefer work parties to staying in camp. And so they reduced food rations to a bare minimum and compelled me to dig holes one day, so that they could have the job of filling them up the next. They devised all sorts of fatigue tasks, but the non-coms held on. Rather than help strengthen the German war machine, they would go on digging useless holes forever.
One night, from every observation tower in the camp, the search lights made a blinding circle on one point on the main road. Here, 250 prisoners stood huddled together. Surrounding them were the dogs and armed soldiers, for this was the big night: the night of departure. The overlords must be certain that no gatecrashers had joined the numbers of soldiers they had regretfully given up because there was nothing more they could get out of them. These were the men who had been worn down by hunger and work parties, whom barrack life had sapped of vitality. They were the tubercular, the mortally ill, the psychical wrecks. No, the Nazis would lose nothing by releasing them.
CORPORAL GEFEITERHINTERHUBER: First 50 men, forward march! Halt! Prepare for identification and search. Name.
PIERRE: Pierre Dablon.
CORPORAL GEFEITERHINTERHUBER: Dablon, Pierre. Ah, here we are. Age 30, brown hair. Brown eyes. Lost left hand in planning machine in factory. Search him. Next!
VICTOR: Victor Dublanc.
CORPORAL GEFEITERHINTERHUBER: Dublanc, Victor. Hmm. Tubercular, both lungs. Age 28. Black hair, blue eyes…
ROBERT: Files. Index cards. Photographs. Then the search. We were forbidden to carry letters, papers, printed matter of any kind. Under close guard, we are marched to the train and then, miraculously, we are off. The camp as we pass it looks like a gigantic grey spider in a web of barbed wire. On we go, through the bleak stations of Germany, and then, in France, people gather along the railway lines and throw flowers at us. Sometimes storm troopers chase them away with sticks. We are greeted by a French general. A band plays the Marseillaise.
(music)