Studio 360
They Found Shakespeare's Dictionary on eBay (or So They Say)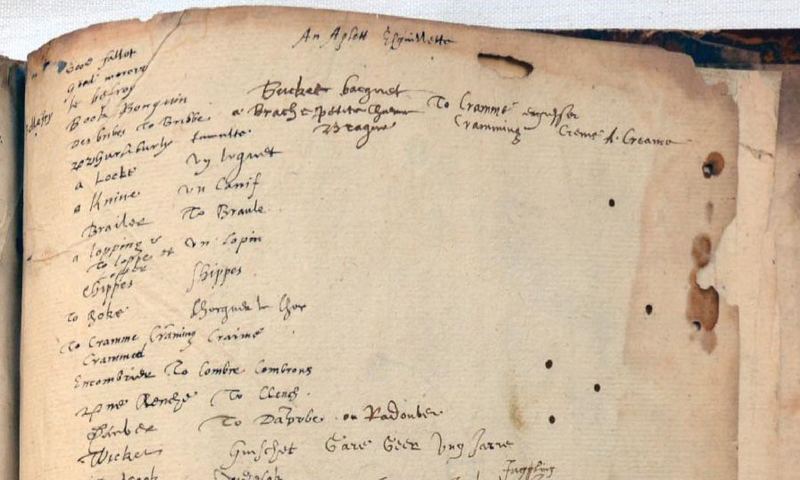 William Shakespeare's plays and poems are the first sources for scores of our present-day words, from 'archvillain' to 'watchdog' (though recent research has called some of our etymologies into question). For decades, scholars have speculated that Shakespeare's go-to reference book was a popular late 16th century dictionary in four languages, John Baret's Alvearie.
Now two antiquarian booksellers say they've discovered Shakespeare's own copy of the Alvearie, annotated by the Bard himself — and they found it on eBay. To support their claim, the booksellers put the entire thing up online, pointing out numerous marginal annotations that highlight unusual words Shakespeare used in his writing. Also, whoever owned the book seems to have had a thing for the letters "W" and "S," which appear repeatedly in fancy script in the margins.
Daniel Wechsler is one of the book's owners. He tells Kurt the evidence pointing to Shakespeare built up gradually as he went through the annotations one by one. But on the blank back page, he and his partner found a dense "word salad" — a mixture of French and English words, some of which ended up in plays like Henry IV, The Merry Wives of Windsor, and Henry V. "If there was a smoking gun, it was this trailing blank [page]," he says.
Naturally, the claim has generated plenty of skepticism from academics and historians. The Folger Shakespeare Library, which holds the world's largest collection of Shakespeare-related materials, issued a measured statement about the discovery, arguing that a lot more research will be necessary before they weigh in.
Wechsler doesn't expect the controversy to settle quickly. "If you announce to the world that you found Shakespeare's own personal dictionary on eBay, the first problem you're going to have is that nobody's going to believe you," he tells Kurt. "We certainly think that a scholarly process needs to take place."
Music Playlist
The Dictionary Song

Artist: Don Robertson

Label: RCA