These Homes Took a Licking and Kept on Costing Taxpayers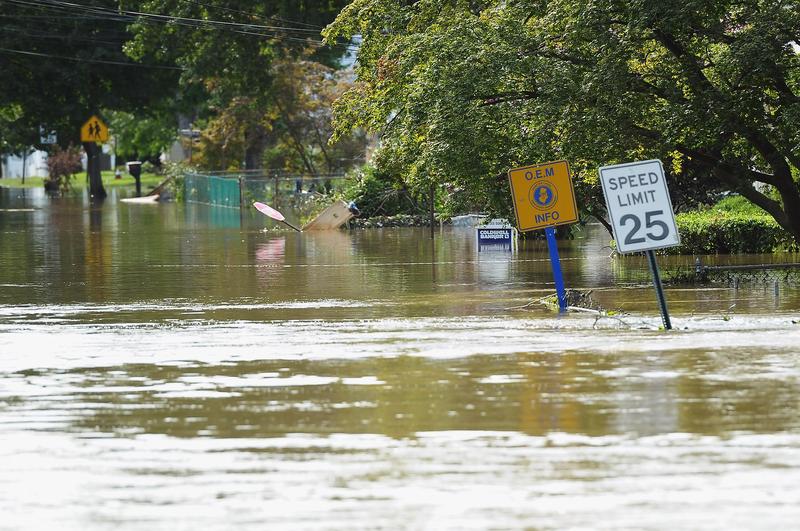 One house in the northern New Jersey town of River Vale has been flooded at least 15 times in the last 36 years. And each time, the taxpayer-supported National Flood Insurance Program has paid to repair the damage for a cumulative total of $1.35 million, according to data from the Federal Emergency Management Agency.
Another house in Pompton Lakes, N.J., about 20 miles west of Manhattan, has flooded even more often: 20 times. It has received $650,000 in flood insurance payments.
These two single-family homes are extreme examples of how the flood insurance system keeps putting money into repairing properties that are at risk for flooding again. But they are far from the only ones.
Some 4,700 homes and businesses in New York and New Jersey are classified as "severe and repetitive loss" properties by the government, meaning they flooded at least twice over a 10-year period and suffered extensive damages. All told, according to a WNYC analysis of the data , the flood insurance program has paid out more than a billion dollars to fix them, for an average cost of about $213,000 per property.
Homes in N.Y. and N.J. with the Most Damage from Repeated Flooding

Property Location
Flooding Incidents
Total Paid
Avg. Payout per Incident
River Vale, N.J. 07675
16
$1,350,723.03
$84,420.19
River Vale, N. J. 07675
8
$1,221,890.00
$152,736.23
Hampton Bays, N.Y. 11946
10
$973,326.84
$97,332.68
Sayville, N.Y. 11782
8
$905,404.10
$113,175.51
Rye, N.Y. 10580
7
$891,298.43
$127,328.35
Rye, N.Y. 10580
6
$890,422.36
$148,403.73
Massapequa, N.Y. 11758
14
$871,497.01
$62,249.79
Rye, N.Y. 10580
3
$859,853.74
$286,617.91
Spring Lake, N.J. 07762
4
$823,056.30
$205,764.08
Stockton, N.J. 08559
4
$816,337.25
$204,084.31
Stockton, N.J. 08559
3
$800,234.74
$266,744.91
Massapequa, N.Y. 11758
6
$793,540.09
$132,256.68
Sayville, N.Y. 11782
3
$789,774.72
$263,258.24
Lindenhurst, N. Y. 11757
7
$766,820.34
$109,545.76
Rye, N.Y. 10580
9
$745,095.69
$82,788.41
Copiague, N.Y. 11726
13
$739,645.63
$56,895.82
Hillsborough, N.J. 08844
6
$726,291.33
$121,048.56
Babylon, N.Y. 11702
6
$725,937.59
$120,989.60
Rye, N.Y. 10580
4
$724,319.12
$181,079.78
Massapequa, N.Y. 11758
11
$705,642.40
$64,149.31
Long Branch, N.J. 07740
6
$703,389.28
$117,231.55
Quogue, N.Y. 11968
5
$699,196.03
$139,839.21
Lindenhurst, N.Y. 11757
13
$699,159.23
$53,781.48
Massapequa, N.Y. 11758
6
$683,762.59
$113,960.43
Massapequa, N.Y. 11758
12
$677,976.39
$56,498.03
Massapequa, N.Y. 11758
4
$676,258.19
$169,064.55
Babylon, N.Y. 11702
4
$675,886.50
$168,971.63
Massapequa, N.Y. 11758
3
$671,610.15
$223,870.05
Massapequa, N.Y. 11758
9
$665,319.32
$73,924.37
Pompton Lakes, N.J. 07442
20
$656,834.74
$32,841.74
Source: FEMA, National Flood Insurance Repetitive Loss Program
And yet, generally, the properties' owners are not required to make any long-term improvements to prevent flooding from happening again. 
"In some of these houses, you are talking about 14 times, 16 times, that some of them have been flooded," said Steve Ellis, vice president of Taxpayers for Common Sense and a critic of the flood insurance system. "This is something where history is trying to teach both the taxpayer and the homeowner a lesson that they are going to be repeatedly flooded and it's going to cost a lot of money."
The National Flood Insurance Program began paying claims in 1978. It was created by Congress as a means to insure high-risk properties that the private insurance market was often unwilling to venture. Although property owners pay premiums into the system, the program went into the red when hurricanes Katrina and Rita hit in 2005. Since then, the U.S. Treasury has loaned the program $24 billion to keep it soluble. 
The data that FEMA provided to WNYC did not include the addresses of the homes or businesses suffering repeated floods, only the towns and zip codes. So it was impossible to interview individual homeowners about their circumstances and motivations. But in some cases, the flood insurance program has paid some of the owners enough money over two or more floods to have bought the building outright.
Many of the repetitively flooded properties are located not along the coast — which is susceptible to catastrophic damage by hurricanes — but instead in inland areas, such as Wayne and Pompton lakes. That means that each flooding incident may be minor, amounting to a few thousand dollars, which in turn decreases the incentive to invest in a long-term solution. In addition, reimbursement for each claim is limited to the homeowner's coverage, which currently tops out at $250,000 for the building and another $100,000 for contents. (The chart above lists total damages for contents and buildings. The data covers the number of claims paid since each property was enrolled in the flood insurance program, which could have been any time since 1978.)
Homeowners are required to elevate their properties above the flood plain if the damage to their house is greater than half of its market value.  But if the damage is less, homeowners can use the flood insurance awards to make repairs, only to be hit again from the next heavy rain or storm. Until now, owners of these properties did not necessarily pay higher premiums than their counterparts in other flood hazard areas. That began to change with insurance renewals that went out last October, and was one part of the 2012 Biggert-Waters Flood Insurance Reform Act that withstood a legislative rollback earlier this year.
In conjunction with FEMA, both New York and New Jersey have bought out properties in the past that experienced repeated flooding. (The FEMA data lists flooding claims made by policy holders since they enrolled in flood insurance; it does not include properties that have been bought out.)  The two states have undertaken new initiatives with money from the federal Sandy aid bill for additional buy-outs. But the assistance is only expected to reach a portion of the nearly 5,000 properties in the two states that have been repeatedly flooded.