Transportation Nation
These Are the Domain Names Purchased by the Former Christie Appointee to the Port Authority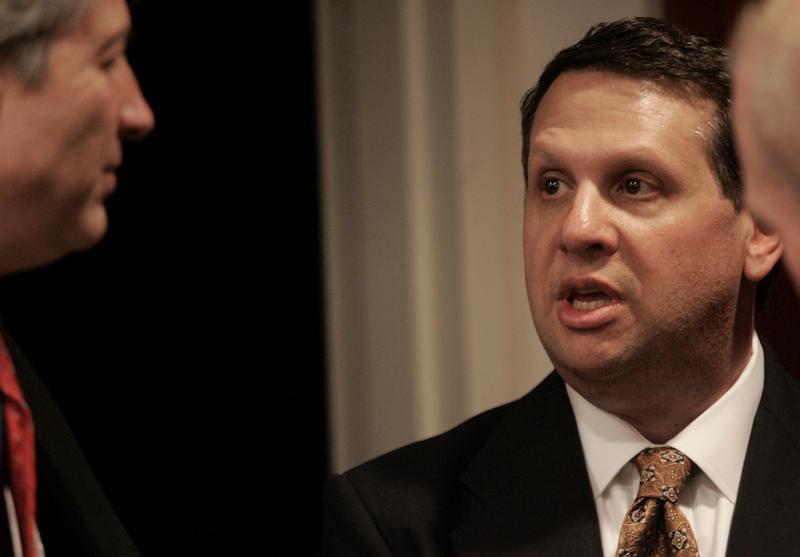 A former Port Authority official who allegedly ordered the mysterious lane closures at the George Washington Bridge has purchased over 50 internet domain names, including those of Governor Andrew Cuomo's top appointee at the Port Authority and a board member appointed by Cuomo. (The list is at the end of this post.)

David Wildstein resigned earlier this month in the fallout from the lane closures -- which have been the subject of two state Assembly hearings and no small amount of press. Wildstein commandeered the ploy, which he carried out in secret -- and instructed underlings to do the same, sworn testimony last week revealed.
Many of domain names David Wildstein purchased revolve around New Jersey Democrats. Barbara Buono was New Jersey Governor Christie's democratic opponent in last month's gubernatorial race, and Milly Silva was her running mate. Fulop2017.com presumably refers to the current mayor of Jersey City, and Bob Sommer is one of Fulop's advisors. Wildstein also purchased the name of the New Jersey Record reporter who first had the story - Shawn Boburg. Governor Christie's team is denying any knowledge of the domain name, and Wildstein hasn't commented.
(Meanwhile, the mayor of Jersey City was perplexed:)
Resigned executive at the #portauthority buys websites with my name. Not sure what I did to him 2b involved here. http://t.co/VIDcOyXj6I

— Steven (Steve) Fulop (@StevenFulop) December 16, 2013
The mystery surrounding the domain names adds another layer of intrigue to Wildstein's behavior, which included blogging for years under the pseudonym "Wally Edge" for NJ Politicker.  All this has led those who know to describe him, variously, as "Prince of Darkness." Political jihadist," and "Henchman."

Wildstein is one of two Christie officials who recently resigned. But Democrats want to know why Wildstein told hardly anyone in advance about the closures, and if his order was some sort of act of political revenge.
Also Monday,  Cuomo didn't shed much light on what conversations did -- or didn't -- occur between the governors. "The governor and I have a good relationship," Cuomo told reporters. "The issue of the traffic study was primarily a New Jersey incident. Our basic operating agreement is that when it has to do New Jersey, Governor Christie handles it. When it has to do with New York, I handle it. If it's a management issue, dealing with the Port itself, we do it jointly."
He added: "But I'm sure it is as Governor Christie says it is."
And weirdly, Governor Cuomo's brother, Chris Cuomo did a a segment on what he called "bridgegate" on CNN this morning. "Let me advocate for the Governor, for a second," Chris Cuomo said, referring to Christie. "Do we have any proof linking it to him in any way?" Cuomo asked, before answering his own question, "No." Then he added: "Many people who like him say, no he's not a bully, he fights against you people in the media and those who are unraveling agendas for their own needs and he won't take it and that's why we love him."
The full list of domain names purchased by Wildstein, which WNYC obtained  from Domain Tools, is below.
barbarabuono.co
bobsommer.com
bobsommer.net
bobsommer.org
boburg.com
boburg.net
boburg.org
buonoforgovernor.co
buonoforgovernor.net
buonoforgovernor.org
buonosilva.com
buonosilva.org
christafornarotto.com
christieguadagno.com
davidgarten.com
davidwildstein.com
davidwildstein.net
davidwildstein.org
dtrt.me
dwpolitics.co
dwpolitics.com
dwpolitics.net
fulop2017.com
haroldstassen.com
jamiewildstein.com
kelseygrayson.com
millysilva.com
millysilva.org
palmettoandcannon.com
patfoye.com
politicker.co
politickernj.co
politickernj.net
politicsdw.co
politicsdw.com
politicsdw.net
politicsdw.org
samuelwildstein.com
samwildstein.com
scottrechler.com
shawnboburg.com
shawnboburg.net
shawnboburg.org
spencergrayson.com
tmg-studio.com
walteredge.com
wildstein.net
wildstein.org
wolfsamson.com
zacharyroginsky.com
zacharywildstein.com
zachroginsky.com
zachwildstein.com