The Takeaway
Is There a Rift Growing Between the U.S. & Poland?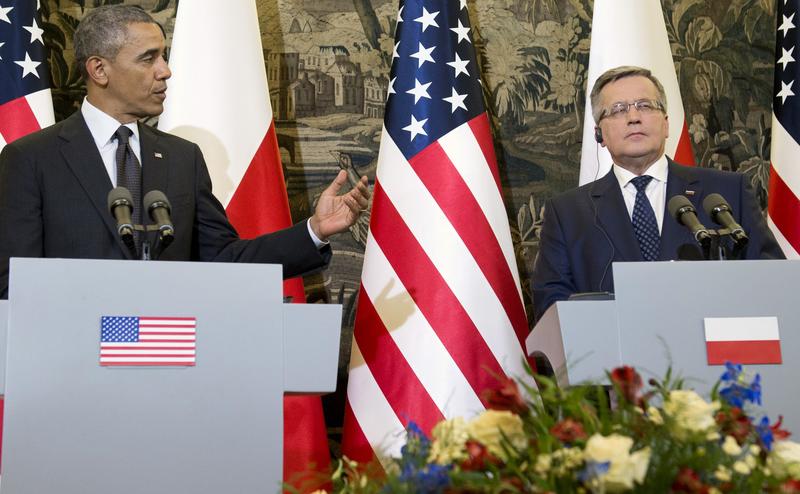 President Obama is traveling to Poland this week to celebrate the nation's 25 years of political independence from the Soviet Union. But the Poland he arrives in is much cooler about its American ally than was the case a quarter century ago.
Polish analysts quoted in advance of Obama's arrival in Warsaw say that Poles are much more concerned about Europe than they are America, and Poles are less likely to rely on U.S. promises of support in the Ukraine crisis.
Is there a subtle but growing divergence of interests between Poland and the United States?
Anne Applebaum, foreign affairs columnist for the Washington Post, says that Poland's relationship with the U.S. is going through a natural readjustment. 
"The Poles get tens of millions of Euros every year from Europe for development in the form of trade, and their relationship with the U.S. is a little bit more distant, both naturally and geographically," says Applebaum. "The Poles are waiting for a more concrete commitment from the United States to the security of the region."
While symbolic gestures are appreciated, Applebaum says that Poland is looking for something more substantive. 
"I think people would really like to see a permanent base of U.S. troops in the region," she says. "It doesn't have to be Poland, it could be Estonia or it could be Romania. [Poles want] some indication that NATO, and particularly the North American piece of NATO, understands that the calculus of geopolitics has changed."
Applebaum says that the Polish desire for an American military commitment comes partly because Poland provided support to the U.S. during the Iraq and Afghanistan wars. In Afghanistan, Poland committed troops the the U.S. effort, and actually ran a sector of Iraq.
"Other nations in the region also felt that they've supported the U.S. several times in the last couple of decades, and they would like to know what that means—is there a return for it, does the United States still feel committed to peace in Europe?" says Applebaum. 
Though the purpose of Obama's trip is to celebrate Poland and commemorate D-Day, Applebaum says this visit does set up some expectations for the future. 
"I don't think there's a negative tone to the meeting, but I do think now and over the next few months, people are expecting an American and a higher-level European commitment to this region," she says. "We now have a different set of security issues in Europe, and I think Europeans and particularly central Europeans would like the U.S. to shift its policy to reflect that."