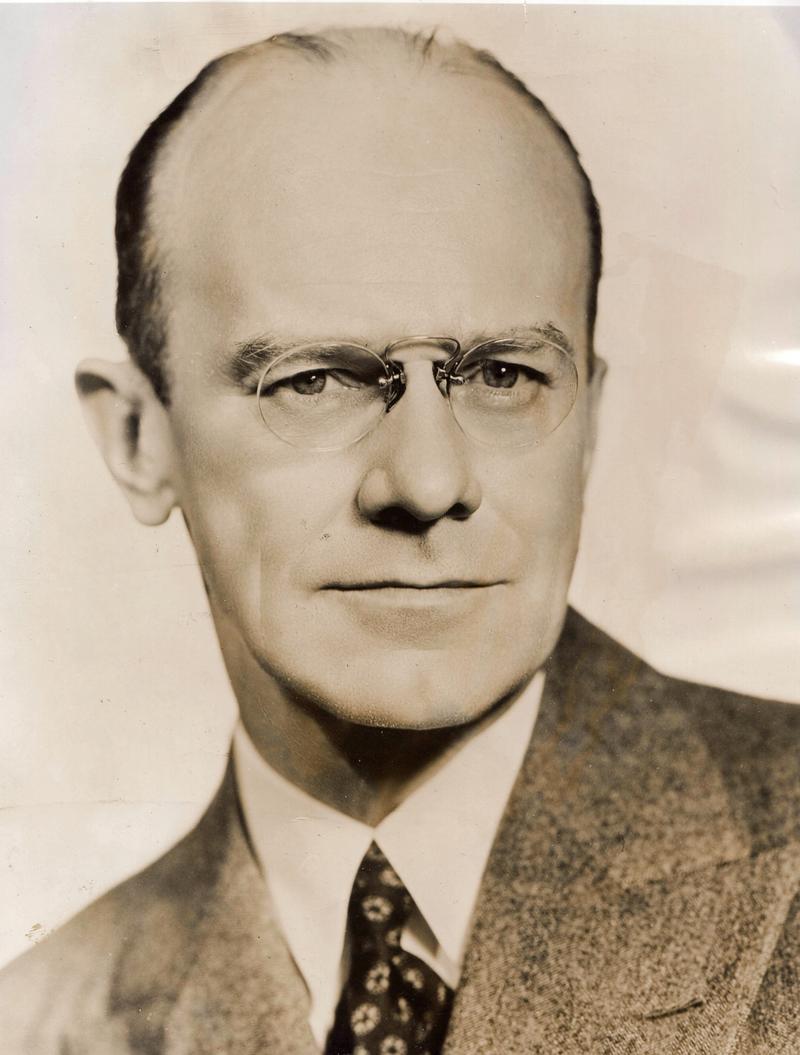 Summary
This episode is from the WNYC archives. It may contain language which is no longer politically or socially appropriate.
WNYC announcer introduces program.

Van Doren introduces White, who speaks about his book, "Fire in the Ashes," about Europe since the end of WW2. Compares European countries to the US, including pop culture and products. Continues to talk about Marshall Plan and reconstruction in Europe after WW2.

Van Doren introduces Freuchen, who discusses his book, "Vagrant Viking," and his life. He makes the audience laugh a lot by talking about women.

Van Doren introduces Taylor, who talks about his biography of Rodgers and Hammerstein, "Some Enchanted Evening." He acknowledges that they are both in the room.

Van Doren introduces Rodgers and Hammerstein. Recites an unnamed song.

WNYC announcer closes the program.
Audio courtesy of the NYC Municipal Archives WNYC Collection
WNYC archives id: 71181
Municipal archives id: LT2986
Transcript
This is a machine-generated transcript. Text is unformatted and may contain errors.
Your city station brings you the second of this season's Welcome to the mountains transcribed earlier this afternoon at the Grand Ballroom of the hotel after this affair is a mainstay of the city's cultural life I co-sponsored on the nonprofit basis by the New York Herald Tribune I mean American Booksellers Association among our distinguished speakers today I do Miss Taylor greater price M M K at all age what you know is a rate of ten dollars but no editor of The New York Herald Tribune I am mistress of ceremonies for this book and author luncheon with Bandar. I was praised picked up today. It's clear I don't quite. Sit for the right with a Far East correspondent analytical being produced and excited when I was just trying I was crisis in how we would get past some of the I'm going to China it was a book of the month. Now it was written a perceptive stimulating account of Europe some still find that in the Ashes it too has been chosen by the look of the Month Club and has had some pretty big your reviews everywhere. These two books represent the fifty years of Mr White's mind since he graduated from Harvard on the newsboys scholarship five a cap and magna cum laude. Sheldon fellowship gave him his first role and the chance to become to become acquainted with England France and a little easier. Than freelancing maybe his way to China for a new John dramas government in its retreat to the mountains and became correspondent of Time magazine. During the seven years that he spent in the Orient he lived according to his belief that the only way to study a country is to travel become part of it to endure its local. Food to speak its language to work for him. Again and again you risked his life on a comeback mission in the China Burma India theater when the army and I met all the he was a civilian. Like Chinaman lived in houses of bamboo and mud with them younger red poverty and battalion malaria and shout the defeat of his complaint. Having mastered the language he became a translator in Jhankaar shacks Ministry of Information and finally stood on the decks of the U.S.S. Missouri to walk the Japanese scientists around. The. Current prime years of inspection Europe with parents as a very busy years as chief your C.N.N. correspondent for the overseas new agency and then for the record I remain numerous magazine articles around. This command of an idea and his curiosity have led him to be practically a one man correspondence course rushing to cover with deception and background in England France Germany Spain the Low Countries it left this largely of Poland and Hungary and now as a result of those five busy years comes his second book. In the US. A midi study has been happening in Europe since the war. The vagueness of the struggles of the Potsdam conference the Truman plan to support the burden of Greece and taking a burden which Britain was about to lay down. The Marshall Plan and both plans into deadly he feels and then phenomenally successful the burden on the general players rises and courageous command the twenty seven billions of dollars United States has expended across the Atlantic in economic data. And what has happened with the growing independence that has come about in Europe as with help Europe has begun to change from what seemed a model illness to gradual recovery. But the man now Craig not. Things that we have succeeded in doing and what we have failed to do. The picture with the bike so clearly and persuasively presenting a picture of the world we have tried to build still seek to build one in which men can live in political debate with continuing of great comfort and great opportunity. I present to you the fire in the ashes a provocative read a book which on almost every page eliminates today's events the adult life. I. Carry that we can all hear me. I want to speak today. If I may about Europe and America and how America looks from Europe and how we affect the Europeans I'd better do it today because after a few months home I'm sure it's all going to become so complicated and detail I won't be able to do it now. We are a very funny people when you watch us from outside. Because we are much more than the people we are a source of energy we Americans are the most restless the most ferment being the most permanently changing people in the entire world and no matter where you go anywhere in the world in Asia or in Europe from the smallest village in southern Italy to the biggest capital you find no one can live without waking up in the morning to ask a lot of the Americans doing was I thinking about which way are they moving us and pressing us well I want to sort of divide. These energies up for you of that so you can understand what's happening in Europe and how the Europeans think about us to kind of this energy. To put on the do it one of those is the things that you people read in just fact is written by fellows like me that's the dollar form of the energy the treaties the armies the battles. The great projects launched in the great project one and you can never really understand you can't understand why they succeed or fails unless you realize something else about American energy as a second form of it which I've never found a word. It's a social energy we have the most sub for us of the most corrosive the most disturbing people in the world wherever we go away and wherever we settle we change people we change them all the way up from the ground you travel through England and wherever there's an American base wherever the facts into life of a kernel of Lady dresses a little American boy in a snow suit by in six months you'll come back in your prime English mother's addressing the little boys and snowsuits to you find the French newsstands covered with American comic books that just crept in They'd rather read Liz I want to know the Dick Tracy than to read any of their own comic books you go down to my saying you've got a kind of yeah you're fine French sailors playing jukeboxes and working pinball machine. You find in every kitchen in Europe American Squire X. Coca-Cola spread in nine different languages. You can walk down the street in English village and you'll hear somebody thinking a song and you suddenly realize something this is a Mr Hamel Steinbeck you're just recognize the whistle and the words may not even be right. But we just don't change things we don't little we don't want the little bits of musical comedy and little bits of the house where around we change ideas and this disturbs the Europeans very much sometimes we Kanes ideas on a vast scale. You all know I suppose about the Schumann plan which is one of the most brilliant ideas ever conceived in which we wisely as Americans supported this plan to make of all the industries of Europe one huge pool of free trade when Europeans got down to working on that they found that they were just simply hog tied caught in the barbed wire of their old cartels and their old feudal restrictions on business they had to import two lawyers from Washington who wrote into the basic treaty which is made and is making the new Europe the basic provisions of the American antitrust laws we change them and that's going to be an European life. Where you can find that these ideas and these dreams of America right down to the lowest level I was in Italy several years ago and went down that Christ after ability and I wanted to do a dispatch sixty miles farther beyond where Christ stop so I want a little village called RAGO place in there and that like a place like that one of the most beautiful homes stuff in castles in the entire world that's where the men are Lord lives and on this hill that Crouch just on that slope the peasant villages so flee mighty dead rats. Six thousand people in the room call evil ugly and the people up in the one stop and Castle are very much worried because the people down the village about communists so I spoke to the people in the castle and went out to speak to the people in the village and there was a mechanic there was a Communist Party leader he was a real screwball and his mechanic shop he had all these communist posters and had all the communist cliches and after he got through hearing that book he said I want to show you something and he hauled out a blueprint that he had made this was his secret device to stop the atomic bomb from going off. And I asked him what he'd done with that and he said he'd sent it the President Truman but he never received a reply and I ask him now Gee a good communist like you why do you send that to present Kerman why not the style and he said but everybody knows if you want to make money you have to do it in America now. This is the way an American idea translates down. And we've been eroding and changing and eating away with the all these fresh after devout own culture at the Europeans for well nigh fifty years in the way this American influence has paved the way for the things our diplomats as diplomats have done and the way it's made it more difficult for them because of the resentment any penetration any form of subversion The rather than the people who are being subverted now then we come to the second form of this American energy which is the formal form what you do when you elect the congressman and he votes in Congress to get something done and he's got to go back and face you two years handsome boy these congressmen come to Paris in plane load you get fifty in a week all trying to find out what's what's been done with their money and pounding on the desk to get more things done and there is another kind of restlessness brilliant sometimes magnificently creative restlessness. We do things we come into diplomacy not to write notes not to make treaties we come into diplomacy to change things and Europe is a place where we have been changing the way of life for five hundred years so much so that we have almost created and are creating a revolution in Europe. Are we Americans are funny people. I remember in the early days of the Marshall Plan when everybody thought it was hopeless you're calling money down a rat hole all these economists and our technicians sitting around smoking pipes and discussing now what do we do with Greece Oh we'll do this with great when we do a turkey we'll make turkey work this way and another big famine in India can we handle that with the friends we've got here in Paris that we have to ask Congress to put more money for that and you go around to every country and each country every one of these corps of Americans who is changing that country has already become a sort of Executive Director to speak to the people in Germany now we're going to build up that core production that's that we're going to get some redo the steel plants we're going to get the export going to put them on an on a business basis we've kept doing these things. And as I say with brilliant success. But one of the curious things that strikes me when I come home to find everyone here thinking that we have been to use a course word that we have been dull we haven't been dealt in Europe I think in Europe we won and the Russians lost. We've created a society which is expanding which is fluid we have first now. Nations with a thousand years of hate Germany and France to sign contracts to act there's one with nothing more interesting in the world than to go into the human plan headquarters and see a German and a Frenchman sitting side by side now working for the same super national government chuckling and slapping slapping their knees as they explained to me in American correspondent how the Germans tried to cheat the French on their railway rights and the French tried to cheat the Germans on their L.A. rights there are new things happening that we created Now then what bothered me coming home now. Is that. We may not be able to make the most of the triumphs we have won I don't know what you call this kind of period we live in whether you call it cold war or permanent truce or stalemate but whatever it is I don't think any one of us are going to have to face for another ten years the kind of crises we faced in the past ten years the days of the Berlin blockade over I don't think the Russians are ever going to try to pull off a coup like the Korean thing again we've bought something with the sacrifices that we've made and I wonder now whether we're going to be able to use these things. We can almost destroy some of the things we started by the same American restlessness the same American desire to have a specific objective and world step by step and they by day to that objective. We've now been worried for months by the progress of the European army in Europe this is a massive thing it means of the Germans and the French that Frenchmen who've been invaded and occupied by the Germans must give up their freedom and sovereignty let their sons be recruited and commanded by German generals. That villages where Germans of people a must see their sons sent up to serve on the German officers and they're coming around to it it took us as you know seven years to get from the Articles of Confederation to the Constitution of the United States. They've been working on that for three years only three years in Europe and we insist we press that they must do it now this month or next month or the spring or before this congressional session it's part of that same executive restlessness that won the great victory that won the great victories and part of that danger that we make. Destroy our victories but to greater pressure upon people who are slowly and awkwardly moving our way I don't want to leave you on a note of unrelieved optimism but I would say that. For now from here on out it looks pretty good looks good in Europe looks good here provided that we can continue to maintain here at home in America that same kind of fermenting restless open society that same source of social and the D. which will erode and change in prepare the way for the next great diplomatic and executive courses we may have to make a decade hence Thank you. Thank you Mr. Our next speaker today is key to fighting. May not be an actual Viking but it comes as near it probably has any man living today unfortunately for us he is an articulate one. Is a richer pound of his life things happen to him from the beginning. For couple of years for instance during his boyhood in. Paintings and his legs and arms that he would have to. Use growing pains the doctors said it was only many he was making that it was discovered he had survived and those. At the age of twenty he experienced his first winter in the Arctic as a member of the media were allowed to go expeditions. Left alone in an observation post on the island ice he spent the four dark winter months in an ice house three by five which grew steadily small up as the ice on the floor and walls group because. There was no radio Kha