Soderbergh's 'The Library' Takes the Blood out of a School Shooting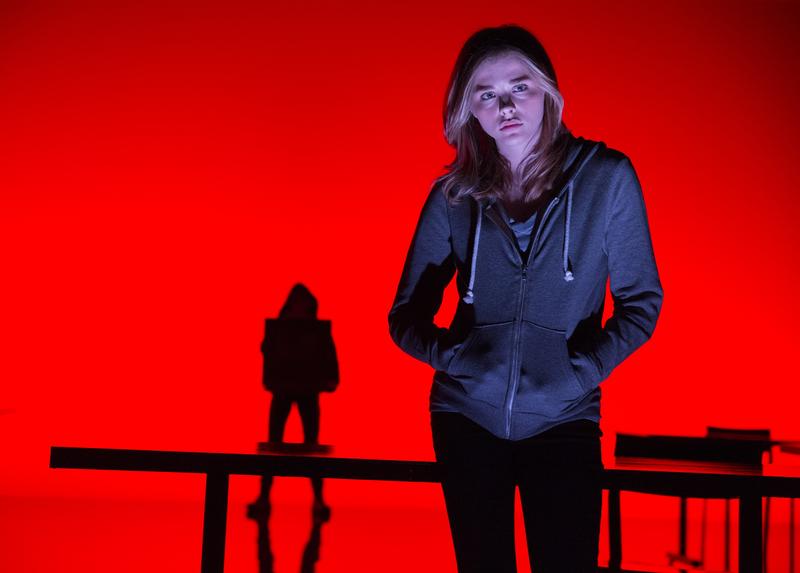 When we first meet high school sophomore Caitlin Gabriel (played by Chloë Grace Moretz), she is stretched out on a table like a corpse. But she is not dead — she is the badly-wounded victim of a school shooting, being worked on by surgeons.
In fact, in The Library, written by Scott Z. Burns and directed by filmmaker Steven Soderbergh in his New York theater debut, she is a victim in more ways than one. Not only has she been shot, but another teenager (Daryl Sabara) claims Caitlin betrayed the whereabouts of a group of her classmates to the shooter. All of them are killed.
She is instantly a pariah — among her friends, in her community and around the country, thanks to the media.
Caitlin, however, says she didn't do it. And because Moretz gives a grounded performance that nails the particulars of wronged teenage-hood — a mix of vulnerability, anger and certainty — we believe her. 
That's too bad, because without any doubt surrounding Caitlin's character, we are left with something that has the flavor of a police procedural, hyper-focused on the who, where and why. The play becomes almost solely about whether Caitlin will convince those around her she's innocent before her wounds become mortal. It's like a talky action film with a teenage heroine; the Hunger Games without, well, the games. Or the blood.
The play is almost about something else: about how people hold on to whatever version of a story is easiest for them to believe, or about how no one narrative can ever capture the messiness of a tragedy. There are a few beautiful insights that capture what it means to be a human being swept up in events you can't control. But at the end, it veers away from complexity. It's as if Burns gives up on us and decides that an audience can't handle ambiguity — instead, he hammers his points home, intellectually.
But the script's weaknesses don't necessarily damn the production. Soderbergh's taut direction gives the story a thriller's pace, and plenty of air to let Moretz' performance (and those of her parents, Jennifer Westfeldt and Michael O'Keefe) breathe and ripen. He never lets the story fall into sentimentality or burst into outright cynicism. His economy keeps the tale almost believable and his polish keeps it fun. He's helped by Riccardo Hernandez's spare, elegant set and David Lander's lighting design, which infuses the stage with rich, colored light that feels like gravitas. 
The Library is about an important subject, but the play itself doesn't resonate. Instead, it keeps us at arm's length, asking us to use our brains instead of our hearts, to consider the character's wounds from a chilly distance, instead of encouraging us to stand with them and witness. 
The Library is at  the Public Theater through April 27.