The Takeaway
Examining the Deep Divisions of the Israeli-Palestinian Conflict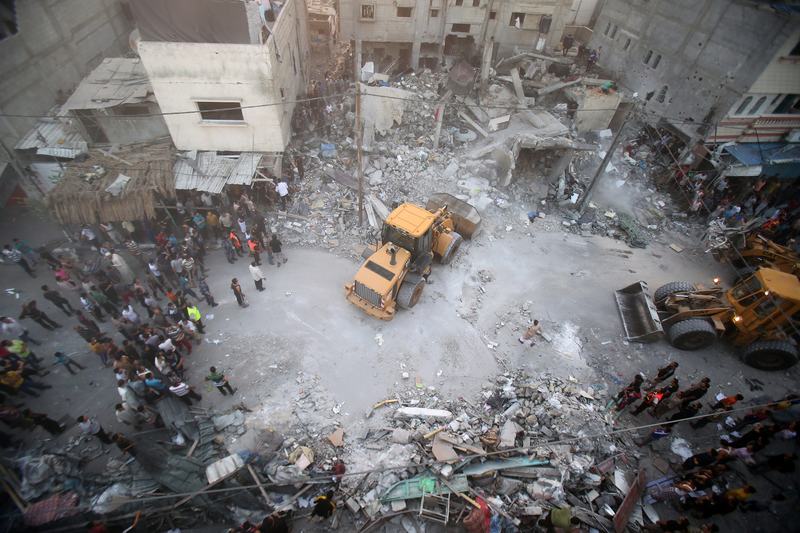 After nine days of deadly rocket and missile exchanges, Israel consented to a "humanitarian cease-fire" in Gaza yesterday.
Just two hours into the start of the cease-fire, three mortar shells were launched into Israel from Gaza. Meanwhile, the Israeli military said it had stopped an attempt by militants to infiltrate a kibbutz through an underground tunnel.
A senior Israeli military official says that it is increasingly likely that Israel will order a ground invasion into Gaza.
The humanitarian cease-fire was announced not long after four Palestinian children were killed during Israeli airstrikes on Wednesday. The children died while playing on a beach near Gaza City. As many as 200 have died from the recent assaults, including one Israeli.
But this brief pause in conflict is just that—a tiny breath of fresh air in a region that has been beset by violence, death, and upheaval for centuries.
Gaza, a region on the eastern coast of the Mediterranean Sea, bordering Egypt and Israel, is one of the most densely packed places on Earth, and lies at the center of this current conflict. Today, about 1.2 million of Gaza's 1.7 million Palestinian residents are refugees.
What has perpetuated this disagreement in the region for so long? Peter Beinart is a columnist for the Israeli newspaper Haaretz and author of "The Crisis of Zionism." He is also a professor of journalism and political science at the City University of New York and recently returned from Israel. He found general support for Israeli military actions in Gaza, and anger at the constant shower of rockets flying into Israel from Gaza.
We also get a Palestinian perspective from Rashid Khalidi, Edward Said Professor of Arab Studies at Columbia University and and author of most recently of "Brokers of Deceit." Khalidi explains what it's like on the ground in Gaza today, and the complexity of the ongoing refugee crisis.