The Takeaway
Debate Tension, Preserving Native Languages, Turning Data into Sound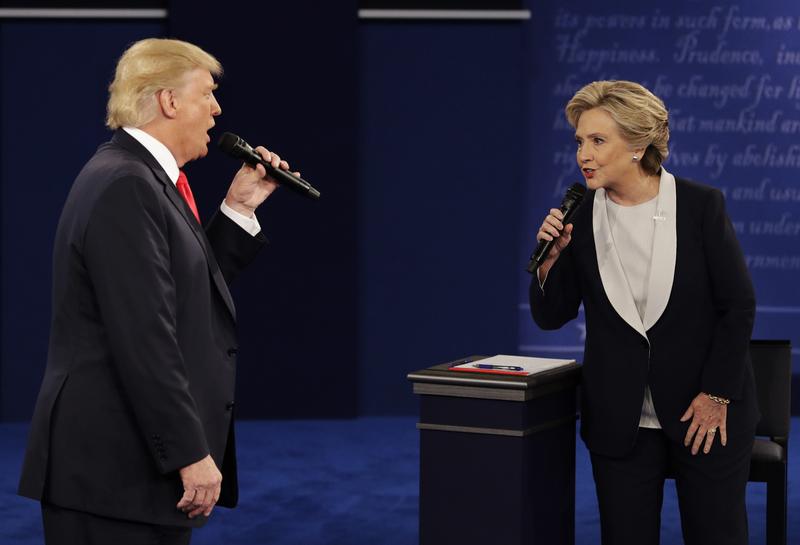 Coming up on today's show:
On Sunday, Hillary Clinton and Donald Trump participated in a heated presidential debate hosted by Washington University in St Louis, Missouri. How do Republican women feel about Donald Trump's debate performance and the leaked Access Hollywood video tape? Kim Alfano, a Republican strategist and CEO of Alfano Communications, and Lee Snover, a Republican and former Trump delegate from Easton, Pennsylvania, weigh in.
With less than a month before the election, Trump's sexually aggressive and demeaning words about women have put his candidacy — and party — in jeopardy. Caitlin Huey-Burns, national political reporter with RealClearPolitics, discusses the plausibility of removing Trump from the ticket, and how this political fallout might affect down-ballot GOP candidates. Michael Ramlet, founder and CEO Morning Consult, discusses the latest polls after this weekend's video release and last night's debate.
In Haiti, more than 1,000 people have died at the hands of Hurricane Matthew, and the country is now in a national state of mourning. Tens of thousands of homes have been destroyed and humanitarian workers say there's an urgent need for assistance. M.J. Fievre, a Haitian-born writer, educator, and author of "A Sky, the Color of Chaos: A Memoir," discusses this crisis.
Over 200 indigenous languages are spoken across the U.S. and Canada, but few are taught in schools. As a result, some languages run the risk of extinction. David Baxter, member of the Ojibway Nation and president of Ogoki Learning Inc, created a Native language learning app as a solution. He weighs in today on The Takeaway.
How do you transform socio-economic realities into sound? Musician Brian Foo, an application developer for New York Public Library Labs, is experimenting with data sonification by mapping things like coastal loss and household income through simple sounds.