Studio 360
"All You Need Is a Loaded Gun": Black Panther Party Funk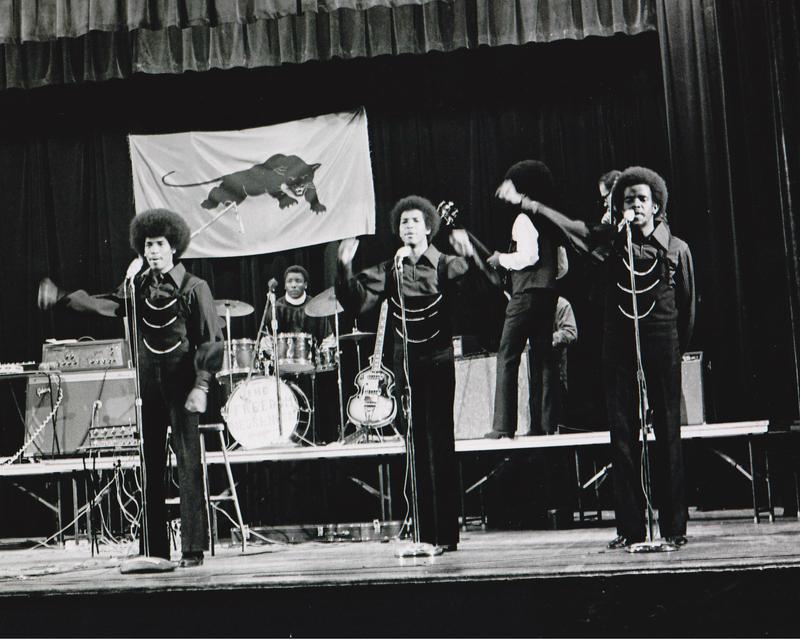 The heyday of soul and classic R&B is full of socially conscious empowerment anthems: "R-E-S-P-E-C-T," "People Get Ready," "Say it Loud, I'm Black and I'm Proud." But the stars didn't get involved in radical politics. (James Brown, rather infamously, supported Richard Nixon and performed at his inaugural ball.) So when Emory Douglas, the Black Panther Party's Minister of Culture, heard Bill Calhoun and his friends singing harmony, he had an idea: a revolutionary black power singing group, complete with dance routines and costumes. 
The band was called the Lumpen, from Karl Marx's lumpenproletariat. That may be the least funky band name ever, but Calhoun knew how to put on a show. As bandleader Billy King, he had been gigging up and down California. He had a regular show at a club in San Francisco when the Watts riots and smaller Bay Area uprisings broke out. "The reaction of the club owner," Calhoun recalled, "when he started talking about 'them niggers' — it hit me that, yes I am Billy King, yes I am the MC, but I'm also one of 'them niggers.' That changed things for me."
Calhoun wrote some original songs, but time was tight. "I wasn't able to write quickly enough to keep up with demand." So the band would take hits and rewrite the lyrics to fit the revolution the Panthers were striving for. "Instead of saying 'Dance to the music,' it was, 'Power to the people!'" remembers James Mott, one of the Lumpen members. They took Curtis Mayfield's "People Get Ready," which says "You don't need a ticket, you just get on board," and changed the phrase to "You don't need a ticket, you need a loaded gun."
Finally, they went into a studio and made their one and only recording, "Free Bobby Now" — listen to the song below. (Bobby Seale, the Black Panther Party's co-founder, was serving four years on a charge of contempt of court.) "I made pancakes, I sold papers, I did all kinds of things, but that was our singular contribution," Calhoun said, to spread the message beyond the true believers. "If you won't come to a rally, I'll sing it to you, how's that?"
But as legal problems and battles with law enforcement derailed the Panthers, Calhoun learned he was about to become a father, and he left the band and the Party. With only one small-issue single to their name, the Lumpen faded from memory, becoming a rumor to collectors. Decades later, a grad student named Rickey Vincent chased that rumor to the Huey Newton papers at Stanford University, where he found a homemade recording of a 1970 performance at Merritt College in Oakland. His new book Party Music is a history of the band. 
Even if the Lumpen didn't bring about the end of racial oppression, Vincent finds their story inspiring. He compares the Lumpen to the Last Poets, a political vocal and rhythm group considered the godfathers of hip-hop. "These people did not get radio airplay," Vincent explains, "but they sold pretty well. They helped create a discourse." Had they been able to record an album, Vincent believes, it would have changed the game. "The Lumpen would have thrown out a signal to the rhythm and blues industry: 'You're on watch. You can play your bubblegum pop, but there's another level to what people are ready for.'"
Special thanks to Chris Bishop from GarageHangover.com for the digitized version of The Lumpen's "No More," which was the B-side for their song "Free Bobby Now."
Bonus Track: The Lumpen, "Free Bobby Now"
Music Playlist
Stand Up and Be Counted

Artist: W Irvine

Album: Black & Proud: The Soul of the Black Panther Era, Vol. 1

Label: Trikont

Free Bobby Now

Artist: The Lumpen

Album: Listen Whitey! Sounds of Black Power 1967-74

Label: Light In the Attic

Say It Loud (I'm Black and I'm Proud)

Artist: James Brown

Album: Say It Loud - I'm Black And I'm Proud

Label: Universal Motown Records Group

Power for the People

Artist: Curtis Mayfield

Album: Curtis 

Label: Rhino

People Get Ready

Artist: Curtis Mayfield

Album: People Get Ready: Curtis Mayfield Story

Label: Rhino

People Get Ready

Artist: The Lumpen

No More

Artist: The Lumpen