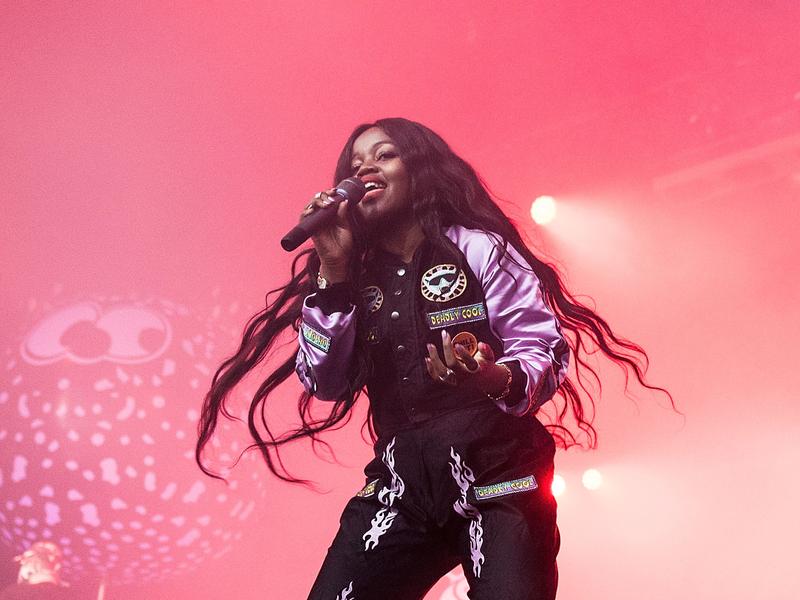 Every year, the SXSW Music Festival serves a daunting, days-long feast of sounds from around the world. And once again, NPR Music's Austin 100 is here to distill it all down to a digestible meal of music discovery.
Picked from a playlist that spanned more than a hundred hours, these 100 songs represent a broad and exciting cross-section of SXSW's many highlights. Here's how you can listen:
As in previous years, The Austin 100 is just the beginning of NPR Music's SXSW 2017 coverage, so keep coming back to NPR.org/SXSW for full concerts, photos, videos, commentary and, of course, many more recommendations to come. Enjoy the music!
---
The Austin 100 Playlist
Aaron Lee Tasjan, "Little Movies" [MP3]
Nashville, Tennessee
Tasjan's spacey, genre-obliterating Americana positively sparkles.
---
Adam Torres, "I Came To Sing The Song" [MP3]
Austin, Texas
Torres sings high and lonesome ballads with vulnerability and piercing clarity.
---
Agnes Obel, "Familiar" [MP3]

Copenhagen, Denmark
Obel's graceful, immaculate songs can sound both warm and chilling.
---
Aldous Harding, "Horizon" [MP3]
Lyttelton, New Zealand
Harding's haunting folk music moves delicately, but never stops baring its teeth.
---
All Our Exes Live In Texas, "Boundary Road" [MP3]
Sydney, Australia
Four singers whose rich, swooning harmonies elevate their lush folk-pop songs.
---
Allison Crutchfield, "I Don't Ever Wanna Leave California" [MP3]
Philadelphia, Pennsylvania
The former Swearin' singer writes smart, spiky songs about rootlessness and regret.
---
Annabelle Chairlegs, "Watermelon Summer" [MP3]
Austin, Texas
Lindsey Mackin's voice soars and rages over stormy psych-rock jams.
---
Be Charlotte, "Machines That Breathe" [MP3]
Dundee, Scotland
Charlotte Brimner sings brightly charming pop-rock songs with an irresistible brogue.
---
Big Thief, "Masterpiece" [MP3]
Brooklyn, New York
Adrianne Lenker's songs mix blustery energy with sweet nods to a life of friendship and connection.
---
Boogarins, "Elogio Á Instituição Do Cinismo" [MP3]
Goiânia, Brazil
The band's stomping songs meet at a perfect midpoint between psych-rock and Tropicália.
---
Brent Cobb, "Shine On Rainy Day" [MP3]
Ellaville, Georgia
The singer-songwriter's sandy voice is the audio equivalent of sweet tea in the summertime.
---
Calliope Musicals, "Sink Or Swim" [MP3]
Austin, Texas
A vibrant psych-folk band whose shows are spectacles of concentrated celebration.
---
Canyon City, "Paper Airplanes" [MP3]
Nashville, Tennessee
Paul Johnson's warm, bright folk-pop songs feel like letters from a friend.
---
Carson McHone, "Poet" [MP3]
Austin, Texas
McHone straddles the Americana-country line, as rock energy meets slide guitars and deep twang.
---
Charlie Cunningham, "An Opening" [MP3]
London, England
Cunningham's songs have a cavernous quality to them, while still somehow sounding intimate.
---
Charly Bliss, "Ruby" [MP3]
Brooklyn, New York
"Bubblegrunge" is a genre now, and damned if Charly Bliss isn't great at it.
---
Cherry Glazerr, "Nurse Ratched" [MP3]
Los Angeles, California
Clementine Creevy leads a young rock 'n' roll powerhouse with slyness and swagger.
---
Christopher Paul Stelling, "Destitute" [MP3]
Brooklyn, New York
Stelling infuses his dusty folk songs with raw, wiry, beat-up intensity.
---
Close Talker, "Afterthought" [MP3]
Saskatoon, Saskatchewan
Like Rhye's music before it, the band's songs are sexy, oddly unsettling and irresistible.
---
Coco Hames, "I Don't Wanna Go" [MP3]
Memphis, Tennessee
On her solo debut, The Ettes' singer arms sugary pop hooks with garage-rock fangs.
---
Los Angeles, California
Crywolf came up in EDM, but his new project radiates lonesome, Bon Iver-style yearning.
---
Dawg Yawp, "I'll Quit Tomorrow" [MP3]
Cincinnati, Ohio
A sitar gives this folk-rock duo's dreamily pretty songs a bit of added shimmer.
---
De Osos, "Todo El Ruido Entre Nosotros" [MP3]
Mexico City, Mexico
From ambient swells to room-filling squalls, in the space of a single song.
---
Minneapolis, Minnesota
R&B and synth-pop sounds get warped and reshaped until they form something new.
---
Derrick Hart, "you're winning so i quit" [MP3]
Greenfield, Massachusetts
Hart's timeless, vibrant pop-rock songs make the most of their impeccably placed strings.
---
Brooklyn, New York
Reo's voice gets looped and processed until it forms a grand, gorgeous, swirling mass.
---
Eric Biddines, "Peeuurrnn" [MP3]
Palm Beach, Florida
The rapper's twisty, distinct flow lends his songs a sense of playfulness and surprise.
---
Los Angeles, California
Paige Finlay's fizzily insistent pop brims over with a sense of joy worthy of Carly Rae Jepsen.
---
Frances Cone, "Arizona" [MP3]
Brooklyn, New York
The band doesn't stay in one place for long, as slow burns make way for soaring catharsis.
---
Frankie Rose, "Know Me" [MP3]
New York, New York
The singer is an inexhaustible well of sunny, hooky garage-pop.
---
Gaelynn Lea, "Watch The World Unfold" [MP3]
Duluth, Minnesota
Lea's looped violin and intimate vocals form a sound infused with warmth and optimism.
---
Golden Dawn Arkestra, "Stargazer" [MP3]
Saturn, Texas
You can almost hear the costumes and smoke machines in this Sun Ra-style spectacle.
---
Los Angeles, California
Right down to its name, Goon captures the essence of '90s college radio.
---
Berlin, Germany
A scuzzy-sweet garage-pop duo whose simplicity never drowns out all the shiny hooks.
---
Holly Macve, "Heartbreak Blues" [MP3]
Brighton, England
Macve blends the icy cool of Lana Del Rey with the folksy warmth of a yodeling country queen.
---
Bloomington, Indiana
The band distills busy guitars and shadowy mystery into efficient pocket epics.
---
Iron Reagan, "Dying World" [MP3]
Richmond, Virginia
Speedball blasts of rigid, raging metal, complete with solos that shred.
---
Japanese Breakfast, "Everybody Wants To Love You" [MP3]
Philadelphia, Pennsylvania
Beneath all the sweetness and sugar lies something sideways, even vaguely sinister.
---
Oakland, California
Melina Duterte writes whip-smart, brightly spry pop-rock songs, and plays every note herself.
---
Jealous Of The Birds, "Goji Berry Sunset" [MP3]
Portadown, England
Irish singer Naomi Hamilton layers her gorgeous voice to make blissful, hypnotic folk music.
---
Johnny Flynn, "Heart Sunk Hank" [MP3]
London, England
Big on the U.K. folk scene, the singer-actor plays songs that never feel tethered to one era.
---
Julie Byrne, "Follow My Voice" [MP3]
New York, New York
Byrne's dusky voice slows the blood and calms the nerves.
---
L.A. Salami, "Going Mad As The Street Bins" [MP3]
London, England
Lookman Adekunle Salami is a songwriter and poet whose songs burst with big ideas.
---
Le Butcherettes, "Shave The Pride" [MP3]
Guadalajara, Mexico
Teri Gender Bender is riveting onstage, to the point of being a little terrifying.
---
Let's Eat Grandma, "Deep Six Textbook" [MP3]
Norwich, England
Two English teenagers make funny, whimsically unsettling experimental pop.
---
The Lighthouse And The Whaler, "I Want To Feel Alive" [MP3]
Cleveland, Ohio
Agreeably effervescent folk-pop, elevated by forays into orchestral grandiosity.
---
Lillie Mae, "Honky Tonks & Taverns" [MP3]
Nashville, Tennessee
A Jack White-approved singer and multi-instrumentalist whose songs are all verve and nerve.
---
Liniker E Os Caramelows, "Remonta" [MP3]
Araraquara, Brazil
A brooding Brazilian soul band with a chilling sound and a future star in singer Liniker Barros.
---
Living Hour, "Steady Glazed Eyes" [MP3]
Winnipeg, Manitoba
Slowdive just returned, but shoegaze music was already in good hands with Living Hour.
---
LVL UP, "The Closing Door" [MP3]
Purchase, New York
The churning, wordy rumble of Neutral Milk Hotel gets a thoughtful and catchy update.
---
Manu Delago, "A Step (feat. Pete Josef)" [MP3]
London, England
Delago's playing on the Hang (kind of like a muted steel drum) has led him to work with Björk. Solo, his songs are dizzyingly pretty.
---
Marisa Anderson, "He Is Without His Guns" [MP3]
Portland, Oregon
Without flash, Anderson's solo guitar pieces tell a story while establishing a clear sense of place.
---
Meat Wave, "Run You Out" [MP3]
Chicago, Illinois
Meat Wave locates the thread connecting blistering punk to the rafter-shaking legacy of Billy Squier.
---
Middle Kids, "Edge Of Town" [MP3]
Sydney, Australia
A rock band with the chemistry, charm and moxie to sail straight from small clubs to stadiums.
---
Migrant Kids, "Thread" [MP3]
Austin, Texas
Propulsive pop-rock with swirling synths, chugging guitars and real power.
---
Moor Mother, "Deadbeat Protest" [MP3]
Philadelphia, Pennsylvania
Camae Ayewa's industrial/experimental hip-hop is radical and confrontational in every way.
---
Moses Boyd Exodus, "Rye Lane Shuffle" [MP3]
London, England
A drummer, composer and rising star, Boyd takes jazz in surprising, invigorating directions.
---
Nick Hakim, "Bet She Looks Like You" [MP3]
Washington, D.C.
The singer's neo-soul songs seem to seep in from another room — or another era.
---
Nnamdi Ogbonnaya, "dOn't turn me Off (feat. JD AKA ThrashKitten & Mal Devisa)" [MP3]
Chicago, Illinois
With the help of inspired guest collaborators, Ogbonnaya flings joyful ideas in every direction.
---
Montreal, Quebec
The band stirs fuzz, jangle and abrasion into a dream-pop sound that rarely stays in one place for long.
---
Tel Aviv, Israel
Bold in sound, style and subject matter, the singer-producer infuses her electro-pop with tightly coiled fury.
---
Noname, "Diddy Bop (feat. Raury & Cam O'bi)" [MP3]
Chicago, Illinois
The rapper's clever wordplay and breezy-smooth sound only enhance her personal storytelling.
---
Otoboke Beaver, "S'il Vous Plait" [MP3]
Kyoto, Japan
The poppy-but-blistering equivalent of 15 consecutive exclamation points.
---
Outer Spaces, "Words" [MP3]
Baltimore, Maryland
You'll never be happier to get a song stuck in your head for days.
---
Overcoats, "Hold Me Close" [MP3]
New York, New York
Hana Elion and JJ Mitchell weave their beautiful voices together tightly and set them to subtle beats.
---
Philadelphia, Pennsylvania
Palm's songs are jagged and dauntingly complex, but the band's live reputation promises relentless mayhem.
---
Particle Devotion, "Pause Button" [MP3]
New Orleans, Louisiana
Brainy, tenderly conversational verses give way to choruses that burst with ragingly ecstatic energy.
---
Murcia, Spain
Big, churning, infectious rock 'n' roll, fueled by guitars you can feel in your bones.
---
Phoebe Bridgers, "Smoke Signals" [MP3]
Los Angeles, California
A formidable talent whose haunting voice and eye for storytelling detail are genuinely special.
---
Brighton, England
Breathlessly pretty electronic music in which every note sounds conspicuously human.
---
Porter Ray, "Arithmetic (feat. Infinite & Stas THEE Boss)" [MP3]
Seattle, Washington
Aligned with Shabazz Palaces, the rapper sets his own agile rhymes against softly woozy, spaced-out arrangements.
---
Washington, D.C.
Charismatic singer Katie Alice Greer is a rock star, a pop star and a political punk, all rolled up in one.
---
pronoun, "a million other things" [MP3]
Brooklyn, New York
Alyse Vellturo's bedroom recordings exude raw vulnerability, but also notes of defiant optimism.
---
Nashville, Tennessee
A fast-rising, pop-friendly R&B singer whose falsetto is no joke.
---
The Regrettes, "Hot" [MP3]
Eagle Rock, California
The band played with cool confidence when its members were just kids; now that most of them are grown, look out.
---
River Whyless, "Life Crisis" [MP3]
Asheville, North Carolina
Every band member seems to keep busy at all times, giving River Whyless' songs a sense of playful motion.
---
Rolling Blackouts Coastal Fever, "Julie's Place" [MP3]
Melbourne, Australia
Beachy, strummy pop-rock that'll chime and jangle its way straight into your heart.
---
Northampton, Massachusetts
Speedy Ortiz's Sadie Dupuis takes a solo turn, redirecting her sound toward smart, slinky pop.
---
Ithaca, New York
The rapper self-identifies as a nerd, but she also bares her soul and raw nerves.
---
Seckond Chaynce, "Can't Take This From Me" [MP3]
Tampa, Florida
The Christian rapper's intense, rapid-fire delivery is awe-inspiring.
---
Slingshot Dakota, "You" [MP3]
Bethlehem, Pennsylvania
The married couple plays big, blooming, Technicolor pop-rock with grace and joy.
---
Sneaks, "Inside Edition" [MP3]
Washington, D.C.
Eva Moolchan's icy-cool synth-pop plays out in short minimalist bursts.
---
Vienna, Austria
Christopher Taylor's sparse, brooding electronic ballads settle under the skin.
---
Split Single, "Untry Love" [MP3]
Evanston, Illinois
Rock veteran Jason Narducy plays fist-in-the-air anthems worthy of arenas.
---
Sven Helbig, "Abendglühen" [MP3]
Dresden, Germany
The composer's rich, enveloping symphonic pieces are performed by choirs and augmented by electronics.
---
Kittery, Maine
Now, Now's Jess Abbott marries hand-clappy pop-punk sounds to deceptively dark lyrics.
---
Abbotsford, British Columbia
Jamison Isaak's dreamy electronic music reflects on the vulnerability of nature and our own minds.
---
Kettering, England
The band channels the sonic ambition, and the visual manifestations, of '60s and '70s pop.
---
Tkay Maidza, "Simulation" [MP3]
Adelaide, South Australia
The singer and rapper presides over springy pop songs that beg to be fed through car speakers.
---
Brooklyn, New York
Tombs' punishing metal is expansive and inventive, with nods to gothic and industrial music.
---
Totally Mild, "When I'm Tired" [MP3]
Melbourne, Australia
Sweet, harmony-rich, pointedly concise jangle-pop — perfect for very short walks in the sunshine.
---
Madison, Wisconsin
At 19, the rapper and singer already has a distinct, alluring songwriting voice.
---
Tribu Baharú, "Made In Tribu Baharú" [MP3]
Región Caribe, Colombia
It's difficult to overstate the band's unrelentingly, sweat-flingingly joyous energy.
---
Troker, "Principe Charro" [MP3]
Guadalajara, Mexico
Troker's churningly energetic, horn-drenched jazz has a spring in its step and a metalhead's heart.
---
Tunde Olaniran, "Namesake" [MP3]
Flint, Michigan
Olaniran's busily infectious anthems bubble over with intensity and ideas.
---
New York, New York
Singer and multi-instrumentalist Laetitia Tamko fills her songs with spare, thoughtful rumination.
---
Valley Queen, "Stars Align" [MP3]
Los Angeles, California
Natalie Carol presides over ambling Americana jams that positively soar.
---
Toronto, Ontario
The band's zingy, whiz-bang quirkiness provides a nice backdrop for the commanding presence of singer Jasmyn Burke.
---
Will Stratton, "Some Ride" [MP3]
Beacon, New York
For all their finger-picked precision, Stratton's pristine acoustic folk songs are as warm as music gets.
---
Yussef Kamaal, "Lowrider" [MP3]
London, England
Drummer Yussef Dayes and keyboardist Kamaal Williams play bold, futuristic funk that throbs and thrills.
Copyright 2017 NPR. To see more, visit http://www.npr.org/.