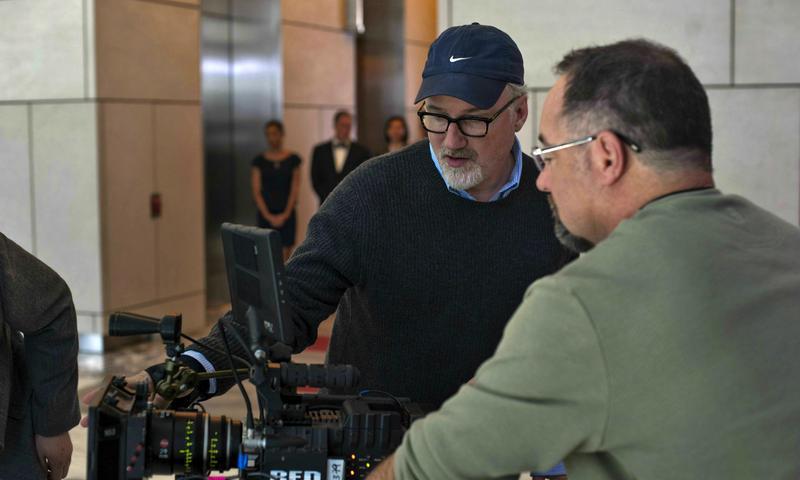 David Fincher had a couple of life-changing moments around the age of seven. He noticed police cars following his school bus home in Marin County, California, and his father had to explain to him that a murderer — the still-unidentified Zodiac killer — had threatened to pick off children from a school bus. ("You could drive us," he remembers thinking.)
But around the same time, Fincher saw a documentary about Butch Cassidy and the Sundance Kid, and realized that movies didn't make themselves. "It had never occurred to me that it took months and months and months," he tells Kurt Andersen. The process and care behind filmmaking got Fincher hooked; the parts about blowing up trains and hanging out with Katherine Ross didn't hurt.
After graduating high school, Fincher got a job at the production company Industrial Light and Magic, and made a name shooting commercials and music videos for major acts like Madonna and The Rolling Stones. His breakout came with the 1995 movie Seven, a serial killer story. Fincher showed off a signature sleight of hand: he left audiences convinced they had been overwhelmed by blood and guts, but the film actually depicts surprisingly little gore. "The movie is challenging your ability to empathize with something you imagine must have happened," he says.
Fincher's latest movie is Gone Girl, based on Gillian Flynn's many-layered mystery novel about a man suspected of murdering his wife. Gone Girl is Fincher's second adaptation of a massive bestseller, after The Girl with the Dragon Tattoo. Withstanding pressure from the books' fans is simple, he thinks: he avoids them. "I don't live in a hermetically sealed world," Fincher says, "but I try."
Fincher is working on another project with Flynn, the HBO series Utopia. Unusually for an auteur of his caliber, Fincher doesn't write his movies, and has no interest in doing so. "Aside from what they will tell you, I'm actually sort of a social person," he says, and the solitude of writing terrifies him. Fincher likes teamwork. "My job is watercolors from three blocks away with ninety people holding the brush through binoculars and a walkie-talkie."
Bonus Track: Kurt's extended conversation with David Fincher
Music Playlist
When I Grow too Old to Dream

Artist: Jimmy Smith

Album: Back At The Chicken Shack

Label: Blue Note Records

Chemical Burn

Artist: Dust Brothers

Album: Fight Club OST

Label: Ryko/WEA

Gone Daddy Gone

Artist: Violent Femmes

Album: Violent Femmes

Label: Rhino/Slash