Out of Sandy Misery Come a Berm and Better Park for the Lower East Side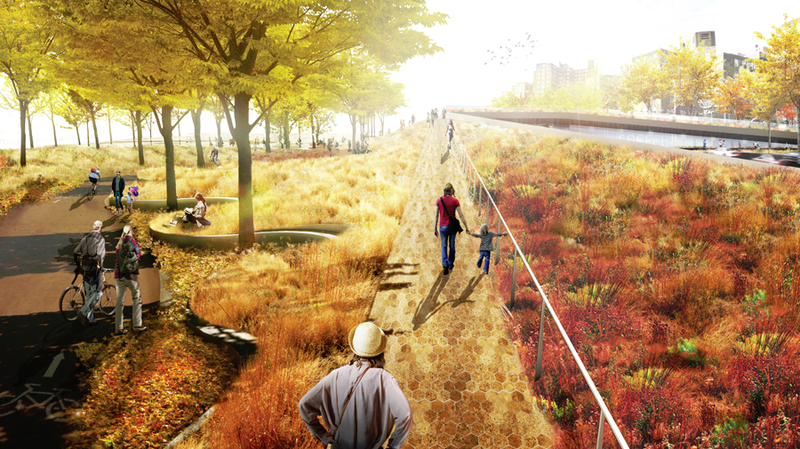 A high-minded international design competition came down to earth Monday when the federal government committed $335 million to build a 19-foot high berm that would stretch 1.5 miles along the FDR Drive on Manhattan's Lower East Side.
The berm was the biggest winner of the Rebuild by Design contest sponsored by the U.S. Department of Housing and Urban Development and the Rockefeller Foundation. It is the first phase of the Big U, a plan for 10-mile system of protections that would extend from 57th Street on Manhattan's West Side down to the Battery and back up the East Side to 42nd Street.
The first phase also calls for doubling the number of pedestrian bridges across the FDR, from four to eight, to make it easier for residents of the New York Housing Authority buildings to cross over and use East River Park. The existing bridges will also be widened and the park itself made more inviting for strolling and spectating.
"This is a Robert Moses-era park," said Jeremy Alain Siegel, the project manager for BIG, or Bjarke Ingels Group, the Danish architecture firm that designed the Big U. "It's a mile and a half of beautiful coastline with great views, but on the other hand it is really disconnected from the NYCHA projects."
The public housing complexes are located on some of the lowest-lying land in the city and suffered extensive damage during Sandy. Thousands of residents lost heat and power for weeks. The size of the award – more than any other single project in the tri-state region that competed for Rebuild for Design funds – indicates a push by HUD Secretary Shaun Donovan and New York City Mayor Bill de Blasio, both Democrats, to strengthen low-income communities in the face of future hurricanes.
Siegel said the funding would be sufficient to build the berm from Montgomery Street on the south (just north of the Manhattan Bridge, near the northern boundary of the hypothetical Seaport City site) to 23rd Street to the north. Siegel said it would be engineered to withstand a 100-year flood in the year 2050, given sea level rise. No time line for the project was announced.
Other Rebuild by Design winners announced Monday in separate press conferences in New York City and New Jersey are:
HOBOKEN, N.J.: $230 MILLION
A combination of flood protections around the outside of the mile-square city (such as flood walls) and drainage measures inside (such as retaining pools and permeable pavings) intended to reduce impact from storm surges as well as heavy rains. (Image by OMA/U.S. Department of Housing and Urban Development.)
THE MEADOWLANDS, N.J.: $150 MILLION
Berms and marsh restoration form the core of a project known as "The New Meadowlands,"  which will also include a bus rapid transit line, recreation zones and more access points to the area. (Image by MIT CAU,ZUS, De Urbanisten/U.S. HUD)
NASSAU COUNTY, LONG ISLAND: $125 MILLION
A series of measures, called "Living with the Bay," such as dikes, marsh islands and improved storm-water management to mitigate storm surge and other hazards for the interior South Shore of Nassau County (Hewlett Bay, Middle Bay, East Bay). (Image by Interboro Team/U.S. HUD)
TOTTENVILLE, STATEN ISLAND: $60 MILLION
A set of "living breakwaters" consisting oyster reefs and other materials to be constructed off the coast of Tottenville on the southern edge of Staten Island, designed by Scape Landscape Architects. (Image by SCAPE/U.S. HUD)
HUNTS POINT, THE BRONX: $20 MILLION
For further planning to make the South Bronx, the hub of the region's food distribution system, more resilient through construction of levees, new piers and an environmentally advanced power generating plant. (PennDesign/OLIN/HUD)