SchoolBook
Testing Debate Takes Stage at Education Summit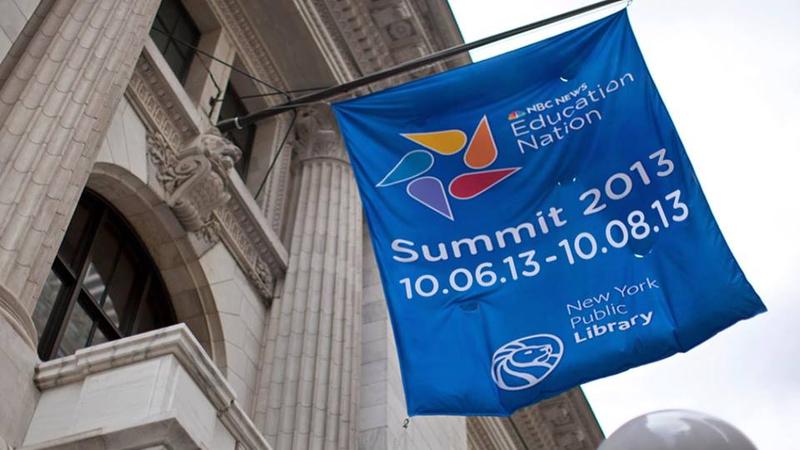 Standardized tests and the rollout of the Common Core learning standards got a moment -- well, a brief 40 minutes -- in the spotlight Monday morning, when Schools Chancellor Dennis Walcott and Randi Weingarten, president of the American Federation of Teachers, staked out positions in this ongoing national debate.
They spoke at a panel discussion titled "A Reality Check on Testing," at the New York Public Library as part of the NBC News Education Nation Summit. 
Weingarten said New York has rushed Common Core implementation, calling it a "debacle," with state tests coming too quickly. New York administered new state tests aligned to the standards  last spring, one of the first states in the country to do so. Student performance wasn't so great: less than a third of students statewide were deemed proficient in math and English.
Weingarten contrasted New York to California where Gov. Jerry Brown has taken a different approach.
"Jerry Brown has said let's make sure teachers are prepared -- just like we prepare doctors, just like business gets prepared when there's a roll out -- and then we'll have the stakes. And New York didn't do that," she said.
Walcott defended New York State's timeline for Common Core standards and tests and New York City's role in preparing educators for the shift.
"We saw our students and our workforce respond in a way that to me was a success," he said. "Now, did they all do well? No. Are we going to do better moving forward? Yes. And to me, as a result of the investment of money and professional development, as a result of the investment and time both with our teachers and our parents and our students, we're having this conversation now."
Walcott and Weingarten were joined by Paul Pastorek, a senior advisor to the PARCC consortium, and Joshua Starr, superintendent of Montgomery County Public Schools.
Starr agreed, he said, that schools around the country needed to act urgently to move student progress forward. But he said that standardized tests have been used to "demonize teachers."
"We have to have different kinds of accountability that are much more research-based that can lead to an elevation of the profession," he said. (Starr, by the way, is on Gotham Schools' list of potential contenders for next chancellor.)
Pastorek, who is also the former State Superintendent of Education in Louisiana, called the idea of tests being used to demoralize teachers "nonsense."
"No one wants to dehumanize," Pastorek said. "But we have to be real about whether kids are advancing or not."
The full three-day conference on national education issues can be seen online here.