The Takeaway
Tensions Run High in St. Louis Over Teen Shooting Death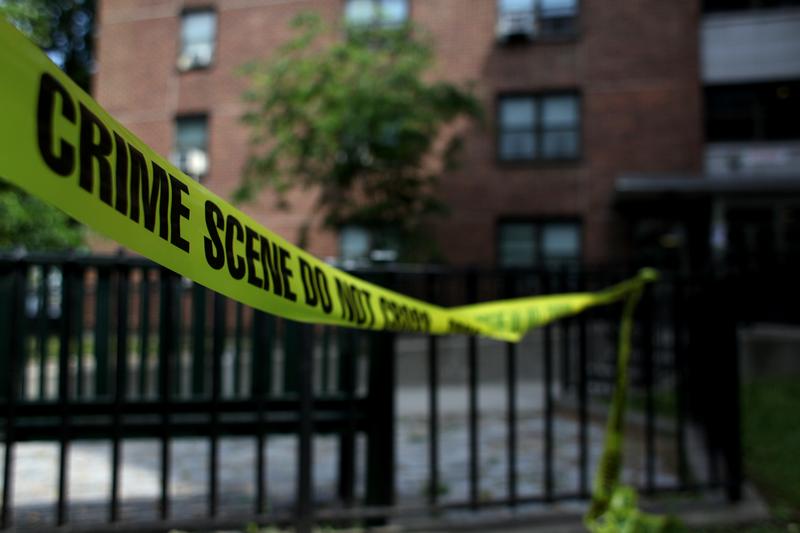 In St. Louis, Missouri, the shooting of an 18-year-old African-American man has sparked protests and anger among the community.
On Saturday, Michael Brown, who was unarmed, was shot and killed by a police officer in Ferguson, a middle-class suburb of St. Louis that is about 60 percent black and 30 percent white. The details surrounding Brown's death remain confusing, and his parents have retained the attorney that represented the family of Trayvon Martin.
"It is our understanding at this point in the investigation, that within the police car, there was a struggle over the officer's weapon," St. Louis County Police Chief Jon Belmar told reporters at a news conference.
Lesley McSpadden, Brown's mother, told local news channel KSDK that her son did not deserve to die.
"My son just turned 18 and graduated high school and he didn't bother nobody," said McSpadden. "You're not God, you don't get to decide when you get to take somebody from here." 
The officer in question, who reportedly has no other incidences of violence on his record, has since been put on paid administrative leave. But local officials and residents are calling for a full investigation, and they emphasize that Brown was unarmed.
About 200 people took to the streets in protest over the weekend—the demonstrations started out peaceful and then turned violent, with crowds looting businesses and setting fire to stores, taunting the police, and vandalizing vehicles.
"Let's just say this, whatever happened there was a young man that was killed," John Gaskin, who serves on the national board of directors for the NAACP in St. Louis County, tells The Takeaway. "This kind of police brutality needs to stop, and it needs to stop right away. Being a 21-year-old you man, being a BMW—black man walking—I realize those risks; that you have to walk a little bit more carefully. You have to be so careful because there are those officers that won't necessarily respond in the most proper manner."
The FBI is now taking over the investigation into Brown's death. 
Rachel Lippman, a reporter for St. Louis Public Radio was at the protests in Missouri over the weekend. She explains what the atmosphere is like in St. Louis today.
"The protests started off like many of the others that had happened over the weekend," says Lippman. "While the protests had been boisterous and they had been loud, they had not turned violent. That changed last night."
Lippman says that after a demonstration on Sunday, a group of protesters began throwing bottles, cans, and rocks at police officers. 
"When the police dropped back for their safety, that's when looting began," she says. "That became fairly widespread throughout a five to ten mile patch throughout north St. Louis County."
According Lippman, the looting started at about 9:00 PM on Sunday evening and continued until the early hours of Monday morning. 
"They want answers," Lippman says of the residents in the St. Louis area. "Whether they will ever accept the story that the St. Louis County Police Department is saying happened, I don't know. They want to know how and why it was that an unarmed teenager—who ... by all accounts ... was just a gentle giant, and would never have wanted to be in any kind of struggle—how he ended up dead."
In addition to outrage over Brown's death, Lippman says that the community is frustrated with the way the police treat African-American residents of Ferguson, saying that this incident "may have just been the boiling point."
The Reverend Al Sharpton is reportedly coming to the St. Louis area to lead a demonstration, and the local St. Louis chapter of the NAACP is also holding an event this evening to discuss how the community can start to heal.
"The parents of Michael Brown have basically said that if these rallies turn into looting, that they don't want any part of it," says Lippman. 
While some are drawing comparisons to the shooting death of Trayvon Martin, Lippman points out that Brown was killed by an officer of the law, while Martin died at the hands of a neighborhood watchman. 
"This was not a civilian, and there's not stand your ground context here," she says. "But certainly it is very much a white-on-black or a racial tension crime."