Tenants Push for Right to Counsel in Housing Court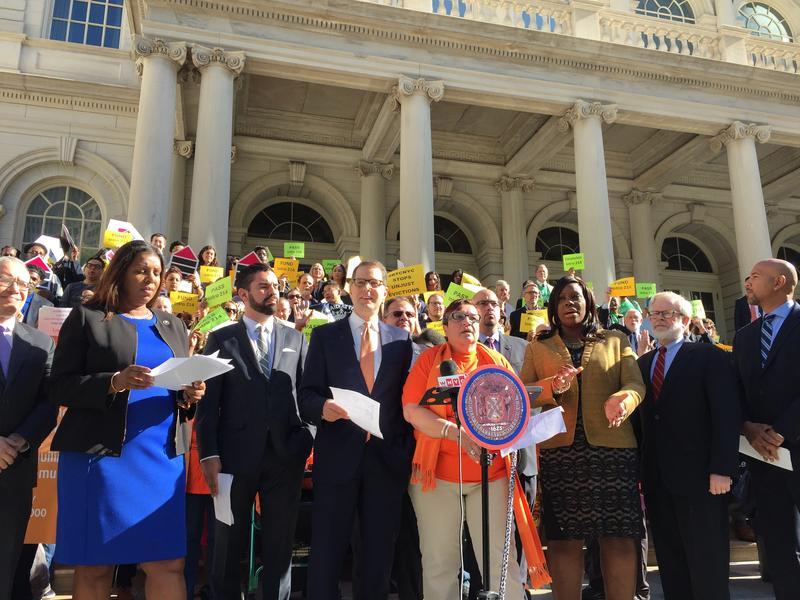 About 150 tenants and lawyers gathered on the steps of City Hall to support a bill before the City Council that would give lawyers to all poor people facing eviction, making New York the first city to guarantee attorneys in housing court.
Leyla Martinez, a single mother and a student at Columbia University was one of almost 80 people who testified during the packed hearing. She said when she fell behind on her $1250 rent, she was evicted.
"I have a full scholarship," Martinez said. "I was in danger of losing my scholarship because I was going to court so many times. I was in court every two weeks trying to fight this case on my own. I was fighting the case for over a year."
She was able to stabilize her housing with the help of an attorney at the Urban Justice Center, Martinez said, but noted that many tenants are not so lucky.
The city has invested substantially in providing lawyers for tenants under Mayor Bill de Blasio, increasing the number of publicly-funded tenant lawyers 10-fold over the last two years. Two years ago, just 1 percent of tenants had lawyers in housing court. Now a quarter of tenants have attorneys, according to a study by the city's Office of Civil Justice. 
The mayor has allocated $62 million for tenant legal services this year. But providing lawyers to every poor tenant would cost far more than that: close to $200 million a year, estimated former Chief Judge Jonathan Lippman. New York City would be the first city in the country to create a guaranteed right to counsel in housing cases. 
The push for lawyers comes against a backdrop of rezoning, rising housing costs, a shrinking pool of rent-stabilized housing and a massive homeless population. Speakers from the courts and the city argued that providing lawyers will help keep vulnerable tenants in their homes, protect affordable units and stem the flow into shelters.
"Providing legal services and rental assistance is much less expensive than the cost of a homeless shelter," Steven Banks, commissioner of the New York City Human Resources Administration, told the council. "And of course, no price can be put on averting the human costs of homelessness."
The savings on shelter costs would largely offset the costs of the new attorneys, according to the Independent Budget Office.
The bill, Intro 214A, was introduced by Council Member Mark Levine more than two years ago, but this was the first hearing. A coalition of housing groups, legal services organizations and unions have pushed the legislation.
The right to counsel in New York's civil courts has slowly been expanding. The city has funded lawyers for New Yorkers facing deportation and for undocumented migrant children navigating the immigration process.