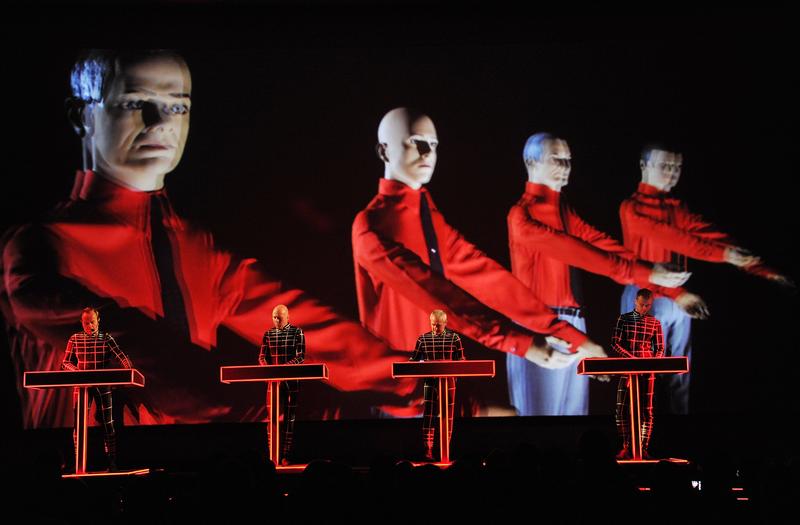 The first time I put on Unravelling, the latest album by the Scottish band We Were Promised Jetpacks, I thought I'd made a mistake: the album begins with a pulsing electronic keyboard that had me momentarily convinced that I'd accidentally put on an old Tangerine Dream record. What made this passing moment remarkable was this: it wasn't the first time that I'd heard echoes of earlier electronic music in a new recording.
There was a mixtape by the Los Angeles, California duo Room8 that I stumbled across last summer that was full of retro electronic sounds. Part of it was even built around Gary Numan's 1979 song "Down In The Park," for example. 
Then came The New Pornographers, whose slightly skewed indie-pop has always leaned in the direction of the late Beatles instead of, say, Pink Floyd. But its latest album, 2014's Brill Bruisers, was full of the sounds of 1970s and early '80s electronics. This got me to thinking about all the early electronic music classics that seem to be inspiring so many younger musicians these days. (ROOM8's Facebook page gives a shout-out to Kraftwerk, and to the old Oberheim and PPG synthesizers.)
So here's a look at ten great albums of electronic music from the 1970s and '80s that are, somewhat surprisingly, having a moment again, in the second decade of the 21st century.
---
Jean-Michel Jarre, Equinoxe (1978)
This was the first album I thought of when hearing that ROOM8 mixtape. Jarre is the son of Maurice Jarre -- the famous film composer behind Lawrence of Arabia, Doctor Zhivago, etc. And in the late 1970s he exploded onto the electronic music scene with two album-length suites of synthesizer music that combined the propulsion of German electronic music with an almost classical sense of development. He performed record-breaking live concerts (a million people in Paris) and sold tens of millions of albums. Not bad for instrumental, long-form electronic music. And as I write this, I see that Sony is about to reissue this record. Talk about having a moment.
---
Manuel Göttsching, E2 E4 (1984)
A member of the German electronic group Ash Ra Tempel, Manuel Göttsching was a key player in the development of what came to be known as kosmische ("cosmic") music in Germany in the 1970s. But this piece, an album-length exercise in repetition and gradual accretion of sound, can be seen as a kind of proto-house music.
---
Tangerine Dream, Stratosfear (1976)
With over a hundred Tangerine Dream records to choose from, I'm gonna go with this "krautrock" classic. Tangerine Dream's trilogy of early studio records for Virgin Records --Phaedra, Rubycon, and Stratosfear -- practically created a new genre of electronic music: often relentlessly rhythmic and full of psychedelic touches, and occasionally opening out into eerie, nocturnal soundscapes. This album's piece "3 A.M. at the Border of the Marsh from Okeefenokee" is a good example.
---
Kraftwerk, Computer World (1981)
Yes, I know -- howls of derision from fans of "Autobahn," the group's first major hit, and a chorus of boos from fans of Trans-Europe Express, the title track of which became the basis for the groundbreaking Afrika Bambaata song "Planet Rock." But listening to the Mark McGuires and Max Coopers of today, I hear more echoes of this hugely popular Kraftwerk album. Though no one has yet captured the subtly subversive and witty way this German band blended electronic blips and twitters into their serenely mechanized musical world. Check out "Pocket Calculator" to see what I mean.
---
Popol Vuh, In the Gardens of Pharao/Aguirre (1971/1975)
This is an early 1980s compilation of two earlier records by a band that became famous through its work with film director Werner Herzog. While the Moog synthesizer is central to the band's sound, they also used piano and lots of acoustic instruments, both Eastern and Western, and tended to be less rhythmically obsessive than their krautrock kin. Their sound would be much imitated in the New Age movement of the 1980s -- a sound that has also made big inroads in recent electronic music circles.
---
Vangelis, Heaven and Hell (1975)
This Greek synth player is best known for his film scores, Chariots of Fire and Blade Runner among them. But his music in the '70s grew out of the progressive rock movement, and this album featured Jon Anderson, the lead singer of the prog rock band Yes, on a single track. (They would do several albums together later.) Heaven And Hell is both electronic and classical-leaning: it includes a choir and has titles that show Vangelis's quasi-symphonic intentions. "Movement 3" became famous as the theme for Carl Sagan's hit TV series Cosmos. Vangelis clearly knew a hit tune when he wrote one: listen to the end of this piece for an early version of what would later become the theme to Chariots of Fire.
---
Klaus Schulze, X (1978)
One of the most important figures in European electronic music in the 1970s and the center of the so-called Berlin School. Schulze, who was briefly in Ash Ra Tempel and Tangerine Dream, made his reputation on the basis of some ambitious, classically-inspired works. X, his tenth record, is a series of musical portraits, at one point riffing on Vivaldi (though the composer Schulze is much more associated with is Wagner) and running to (at the time) two action-packed LPs.
---
Kitaro, Silk Road, Vols. 1 and 2 (1980)
The Japanese star of the New Age movement began as an acolyte of Klaus Schulze and gained attention in Japan for his music for the national broadcaster NHK's television series on the fabled trade route known as the Silk Road. This compilation of music for that series really broke through for him in the U.S. market in the early '80s. For me, Kitaro's sonic attractions wear off pretty quickly, but for others his trademark electronic bell-and-chime sounds are apparently wearing back on again.
---
Brian Eno, Apollo: Atmospheres and Soundtracks (1983)
Eno has always exerted an influence on younger musicians, from his four great "song" albums of the 1970s, which gleefully shattered notions of what "rock" or "pop" or even "song" could mean, to his ambient music of the early '80s. By his own admission, Eno was never a virtuoso synth player. He was a virtuoso at getting sounds that no one else seemed to be able to obtain. He continues to be a profusely name-checked figure among the current crop of electronic music producers.
---
Terry Riley, Descending Moonshine Dervishes (1975)
Felt bad about not having an American on this list, so instead of another German band  (and believe me, there are plenty more) I'll go with the man whose "In C" began the musical movement known as Minimalism. Inspired by Indian classical music and tape technology, Riley's swirling electronic keyboard improvisations have influenced rock musicians since the early 1970s. The Who's "Baba O'Riley" (the song most people call "Teenage Wasteland") is named for and inspired by Terry Riley. Dan Deacon is a more recent fan, and an even younger generation of EDM producers have absorbed Riley's influence through Deacon and a host of other secondary sources.