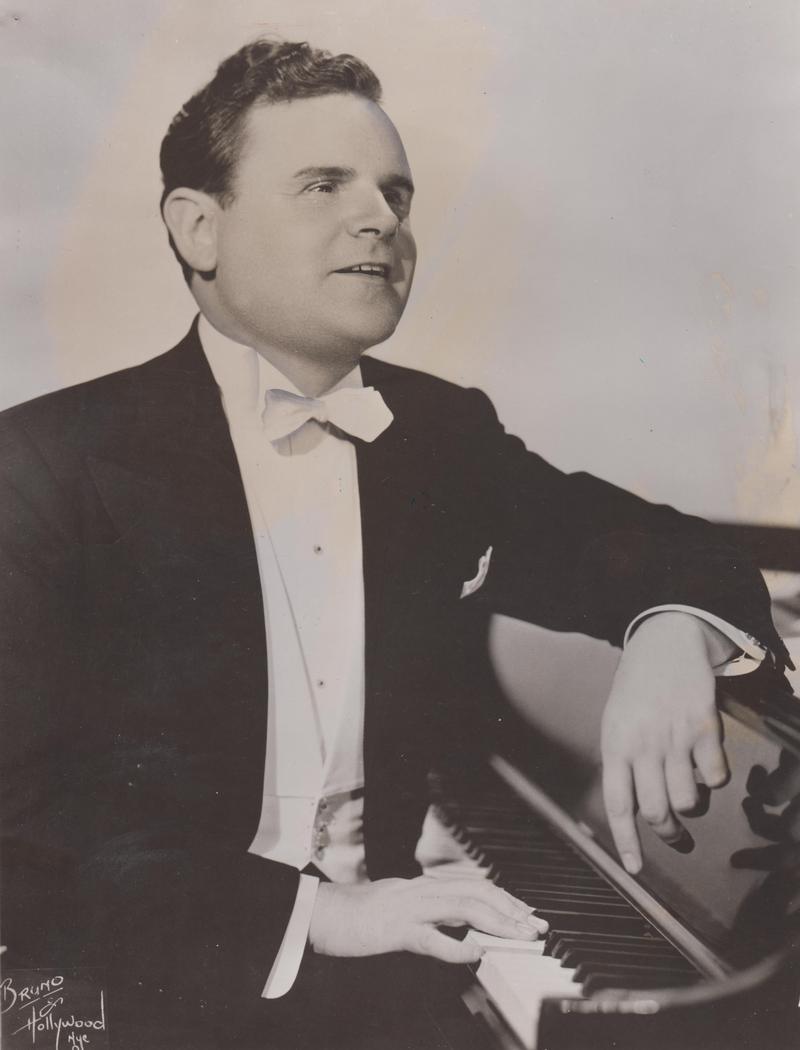 From the September, 1943 WQXR Program Guide:
Alec Templeton is one of the few great artists who is equally at home in the realm of the popular as he is among the classics. His thorough musicianship has won for him an outstanding place on the air and in the concert hall, and we know that his thoughts on the music of today will be stimulating. When we asked Mr. Templeton the other day what we should say about him in this introduction, he said, "Say I am a devoted listener to WQXR." We say so proudly.
It goes without saying that to the serious musician Johann Sebastian Bach is the veritable God of music. In fact, the reverence with which musicians approach him may account in some measure for their seeming forgetfulness that he was first and foremost a human being-- and not a stodgy one, either!
True, much of Bach's writing was for the church--a fact which applies not only to his original works, but also to innumerable old chorales and hymns which he rearranged. However, it must not be forgotten that he also wrote in the dance form. From his pen poured the popular dances of his time--the Minuet, the Sarabande, the Bourrée, the Gigue; and he embellished them in exactly the same manner as a Goodman or Dorsey does today. I believe the modern swing pianist is just beginning to realize this. Hence the complete disappearance of the old-style "jazz," which is now considered "corny," and the development in its place of the highly individual styles of a Teddy Wilson or an Art Tatum. I actually attribute the very excellent modern style of swing piano playing to a certain Johann Sebastian Bach! If you question this statement, analyze the flowing rhythmic movement of a Bach prelude, or a little cadenza in the form of an improvisation of the modern swing pianist. Any doubt about the similarity will immediately be dispelled.
Yes, Bach is a modern. A present-day band-arranger gives free rein to the performer--and so did Bach. He never bothered to write down each note in a composition. He wrote the figuration with harmonizing chord--but the embellishment he left to the discretion of the artist. That--in passing--is undoubtedly the reason for the many and varied Bach editions.
Bach's exciting musicianship is a constant source of wonder and also provides another reason for classifying him as a modern. Sometimes I think he must have peered into the future, and had a peep at the mechanics of our present day piano! How else account for the sustained right hand melodies in his music--certainly quite impossible effects to obtain on the instruments in use during his life-time.
Bach was a genius who heard not one melody at a time, but several. Thus, when he scored for orchestra, each and every part was vitally important. Change one note, and you ruin the entire form of the music, for each part is a melody unto itself. And here again we can see the close relationship to the present. The small orchestra used by Bach in writing accompaniments for arias from his Cantate, can be compared with the small piece "outfit" in a swing band. The voice, of course, has the melody. But the orchestra is not merely an accompaniment. It may be scored for violin, oboe, flute, and harpsichord, and it is well-nigh impossible not to be fully aware of what each is doing.
In the same way, when you listen to Bing Crosby accompanied, say, by a trumpet, a trombone, a clarinet and a piano, you know that each of those fellows is improvising his own melody ("lick" in the vernacular) around the harmonization of the tune. Fortunately for us, Bach put his melodies down on paper. The fellows who play with Crosby are not likely to do that, but--fortunately again--we do have the recording machine.
Finally, there is the matter of tempo to link Johann Sebastian directly to the modern. All popular music, as you know, must be played in strictest tempo. And so it is with Bach. In playing his Suites, all the Brandenburg and piano concerti, in fact, everything he wrote--the tempi
must be followed faithfully. Dull, you say? Not at all. It is my contention that Bach in strict tempo can be very expressive. One of the best examples of that is the exquisite chorale prelude, "Jesu, Joy of Man's Desiring," which can sound, with retard and too much rubato, really cheap and maudlin. There is always a hidden metronome in Bach's music, and keeping to it assures the listener greater enjoyment.
When I started my series of "Modernized Masters," beginning with "Bach Goes to Town," I did it with more in mind than the idea of humor in music. I felt that the gay Bach would not accuse me of desecration, but would be interested in the element of swing. Moreover, with the swing eliminated, the improvisation could actually have been one of his own.
Bach in German means brook--and what an appropriate name for this musical giant! I have endeavored to point out that to this day, with its ultra-modern music, he is still fathomless, and that his advanced ideas in all music are something to be marveled at. I am certain that he is an unending source of inspiration to the performer, writer, and arranger of popular music. Sometimes, indeed, he seems to be more than a mere inspiration. One very blatant example of how a current song hit sounds like him: --the song "This Can't be Love," from the show, "Boys from Syracuse." This ditty is identical to the first bars of one of Bach's smaller organ preludes.
For me, other composers may come and go, but Bach--like his name--goes on forever.